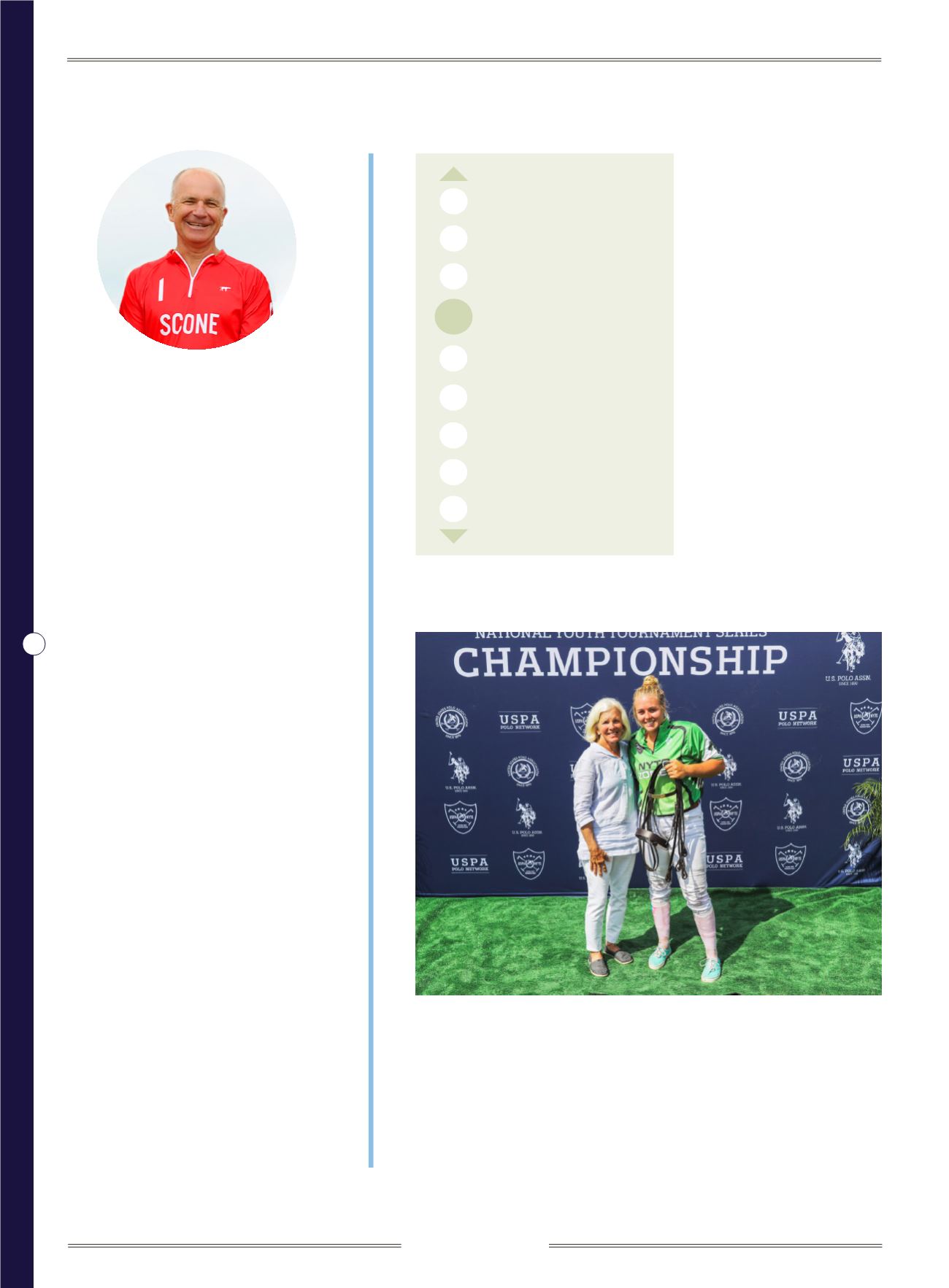 David Paradice started playing polo 10 years
ago with his hometown polo club Scone Polo
and has now played up to 26-goal level
I grew up riding Katie Horse, on our small
family farm, and have always loved riding.
Initially, I was doing everything while
learning the ropes – transporting my horses,
grooming, bandaging and tacking up, and
a friend held the ponies for me between
chukkas. Then, about eight years ago,
Jim Gilmore called me to take over as
patron from James Packer at Ellerston.
I love the dynamics of team sports and
tough exercise. A few years ago I road a
mountain bike from Mexico to Canada up
the continental divide with my son, doing
10 hours per day for 38 days. I used to play
a lot of rugby and polo gives me the same
level of physical fitness. There is no other
sport where a person who is past his prime
can contribute and play with the best players
in the world, and there is nothing better
than the pressure leading into a big game;
the tired feeling of playing a hard game;
and then winning a tough game against nice
people and getting a cup from the Queen.
My most memorable polo game was
probably winning the Queen's cup.
I always try to give back to the community
what I spend on polo. I also can't stand being
taken advantage of in any way, especially
financially. If I see this is happening, I just
won't deal with that person again. I don't
have many polo skills but I do have a radar
for being ripped off in polo – something
I have learnt from business. In my business
I have a philosophy of respect and gratitude;
take no short cuts and always do the right
thing. The same goes for polo.
H O O K E D O N P O L O
P O N Y L I N E S
WWW. I M A G E S O F P O LO. C O M ; U N I T E D STAT E S P O LO A S S O C I AT I O N
U S P O L O A S S N
R A N K E D 4 T H
L A R G E S T S P O R T S
L I C E N S O R
USPA Global Licensing Inc.
(USPAGL) announced that US Polo
Assn, the official brand of the
United States Polo Association
(USPA), was listed as the fourth
largest global sports licensor and
magazine's prestigious list of top
150 global licensors. The brand
jumped six spots in the overall
rankings thanks to a record year
in 2018 on all fronts. US Polo Assn
reached $1.7B in retail sales,
achieved double-digit growth, and
expanded its footprint to include
166 countries and 1,100 US Polo
Assn retail stores worldwide.
#36
US Polo Assn ($1.7B)
M A L I A B R Y A N
Hurlingham
magazine would like to correct that it was Malia Bryan, not Mia
Novillo Astrada, who subbed for team Tonkawa in the US Open winter season
2019, where she shared the field with some of the best players in the world, along
with Eduardo Heguy's coaching. Bryan grew up in a polo-playing family and has
always loved the horse aspect of polo and has become invested in working with
developing green horses. Her perfect polo game is one where her horses perform
their best, her team works together and she does a good job for the team.