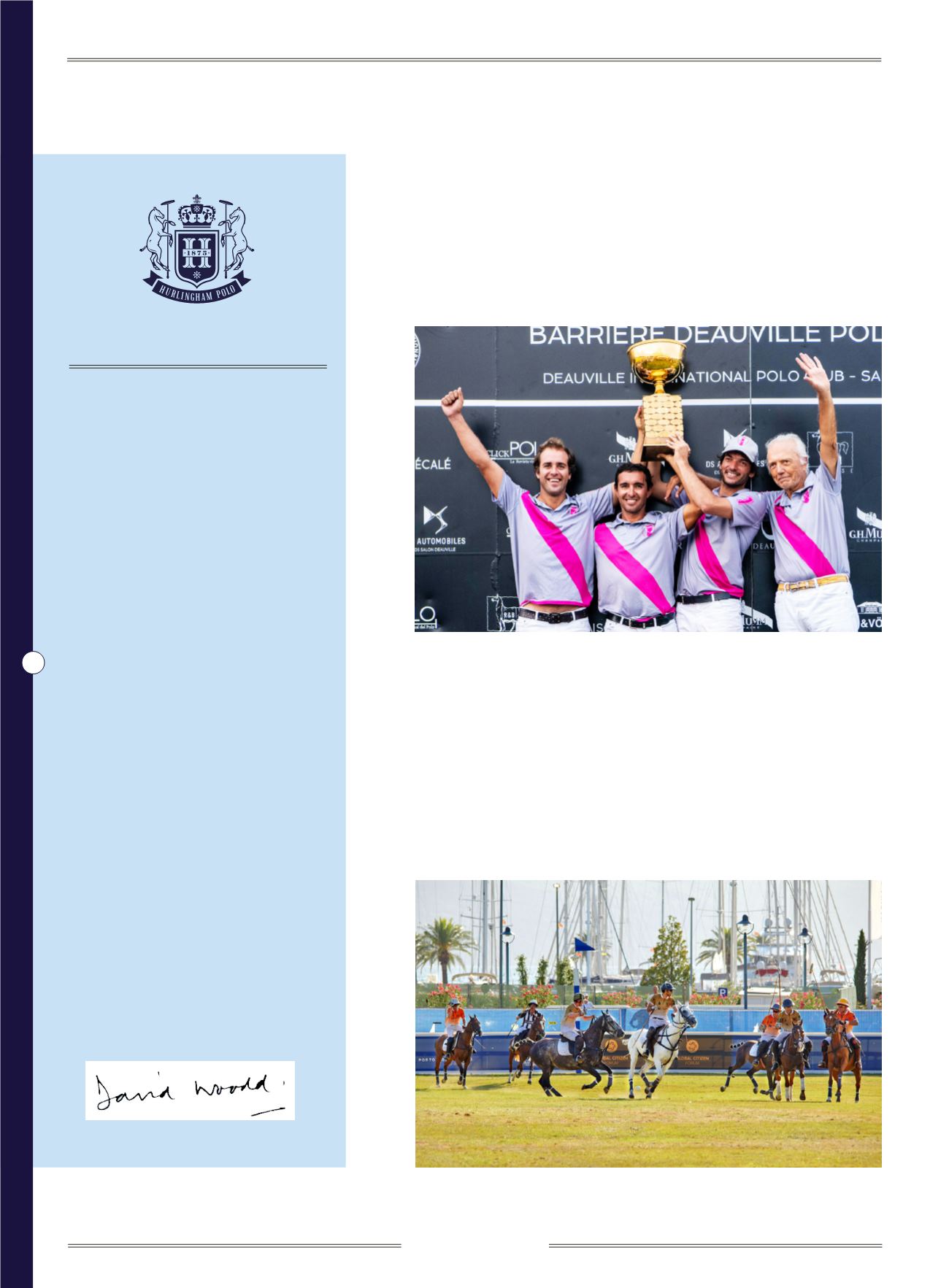 C H I E F E X E C U T I V E
It was a huge shock to all those involved with
the HPA and Cowdray when Robert Graham
died unexpectedly, shortly after the high-goal
season had ended. A talented player who
was 6 goals for many years, he was a major
contributor to polo at Cowdray and to the
HPA as chief umpire. He was a gentleman
and diplomat on and off the field and was
instrumental in building up the professional
umpire group, as well as supporting the
introduction of various rules to make the
game more entertaining to watch.
Various Frasers England teams have been
in action. At the Beaufort, a young England
team were glad there was not another chukka
as Pakistan were getting into their stride.
The picture was similar at Cirencester the
next week when our Women's team did well
to hold off repeated attacks from Argentina
early on and then score in the last minute
In the Coronation Cup against Argentina,
the score was not so close. With three of the
best of Argentina's young players, led and fed
by Facundo Pieres from the back, the opening
chukka was a dramatic opening salvo of goals.
The England players regrouped and fought
back and the crowd was provided with a
display of polo and horsepower that is rarely
seen outside Palermo. As a country we were
privileged to play not only the best country
in the world, but probably the best 27-goal
team that could be fielded.
P O N Y L I N E S
D E A U V I L L E G O L D C U P
More than 2,000 spectators watched Edouard Carmignac and his team Talandracas
win the Deauville Polo Cup for the sixth time on 25 August. 
Led by the formidable
players of the Argentine Open, Fran Elizalde and Alejandro Muzzio, Team Barrière
found themselves behind by four goals to one at the end of the first chukka. The team,
titled by Martin Aguerre (winner of the Copa Camara 2018) had a sharp reaction in the
second half and brought the score to 5-6, but the glimmer of hope didn't last through
to the end, and ultimately Talandracas (pictured below) came out on top.
P O L O I N T H E P O R T
Between 1 and 3 August, Montenegro's first-ever polo tournament was held at
Porto Montenegro, seeing international visitors join Tivat locals to enjoy world-
class sport set against the beautiful marina backdrop. Playing on the pop-up polo
field on polo ponies imported to Montenegro for the event, the Porto Montenegro
team (Charlie Wooldridge, James McCarthy and Jamie Morrison) defeated Global
Citizen with a score of 9-7, while teams Boadicea and Universal Capital Bank
finished with a score of 5-3 in the semi-finals. Organised by the Global Citizen
Forum, the tournament enabled many spectators, young and old, to experience
the thrill of polo for the first time.
portomontenegro.com
J U ST I N E J A C Q U E M OT ; P M O N T 2 0 1 1