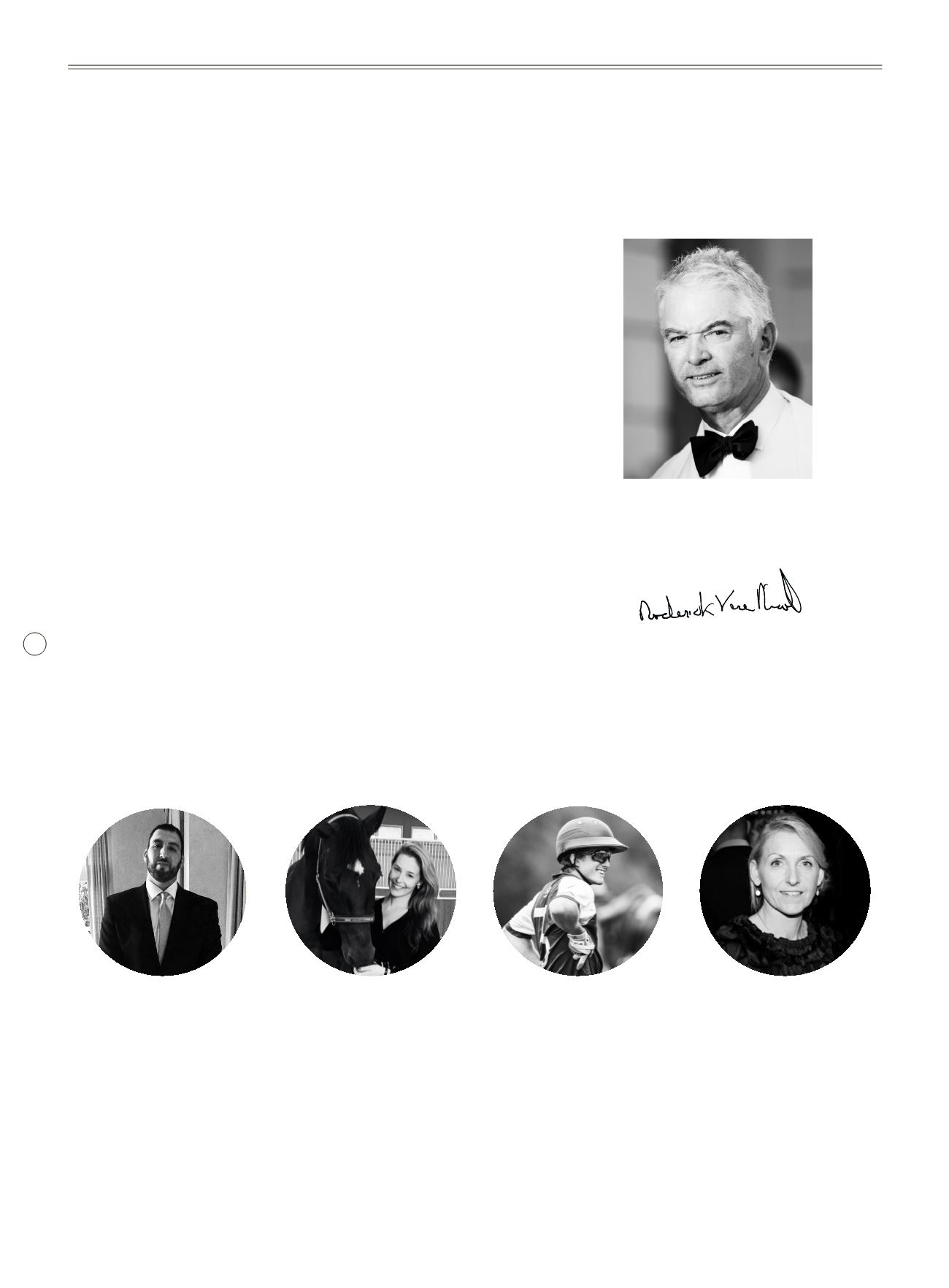 H U R L I N G H A M
R O D E R I C K V E R E N I C O L L
S A R A H H E S E LT I N E is the
founder of thegaitpost.com. Her love
of polo stems from snapping her
12-year-old son's polo matches,
as well as those of his heroes
throughout the High-Goal season.
A keen equestrian, eventing is her
first love, but the world of polo has
certainly challenged her allegiances.
R I C H A R D L E P O E R , the Earl
of Tyrone, is a 5th generation polo
player and captain of the Irish Polo
Team. He learned to play with the
Berkeley Branch of The Pony Club
aged eight and now plays off an
outdoor 5-goal handicap. Four
years ago he founded Curraghmore
whiskey on his family's estate.
is an American freelance writer
from Brooklyn, New York. He writes
on a wide array of topics, including
sports, history and culture.
A graduate of Hofstra University,
he has also worked as a PR and
joshuam
casper.wordpress.com
J E M I M A W I L S O N is the editor
of Hurlingham Polo magazine and
style editor at Show Media London,
writing about style, watches and
Brummell
The Times Luxx
Boat
International
equestrian and rides the Household
Cavalry horses in Hyde Park.
What a great summer of polo we have had in England on and off the field. The
most exciting part was watching the Castagnola brothers play. Have a look
at Ones to Watch in Talk, and in Action – they feature in the Gold Cup, the
Coronation Cup and in Sotogrande.
As Nick Wiles prepares to take over the chairmanship of the HPA later in
the autumn, he lays out an agenda and what he hopes to achieve in the next five
In Features, we look at the HPA 1875 clothing range. If you happened to be
on London's Oxford Street or on the Tube in July, you may have seen advertisements
Elsewhere, polo player the Earl of Tyrone describes how he is starting a whiskey
tradition and prolonging his family's illustrious legacy at Curraghmore House
As a teenager in the 1970s, I used to play on Washington's National Mall.
In Archive, we look back on how it all started and look forward to celebrating
100 years of polo there in 2020.
Hurlingham is sent to 10,000 players around the world free of charge. We rely
on advertising to pay for the magazine. I would like to ask you all to have a look at
the advertisers and if you need any of their services or products, reach out to them.
For all the latest polo news and action, visit
hurlinghampolo.com
T H E A R T O F P O LO ; WWW. I M A G E S O F P O LO. C O M