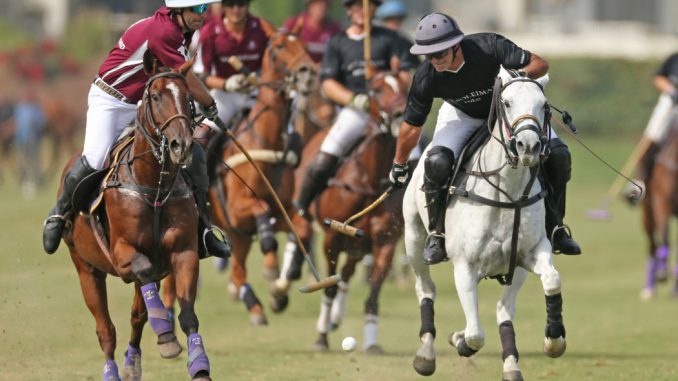 Santa Barbara Polo & Racquet Club
2019 Bella Vista Designs USPA Regional Presidents Cup
With six teams entered in the 2019 Bella Vista Designs USPA Regional Presidents Cup, the competition is tough. Two teams remain undefeated in the tournament but nobody is guaranteed a spot in the final.
Sunday morning started of with a match up between Sarah Magness's Dundas Polo team and John Bickford's Spindrift team. Magness was replaced by her son, Cable, holding a -1 handicap allowing Dundas to start with one goal on handicap. The first chukker was scoreless as both teams were playing very defensive polo. The game stayed very close as the score remained within one with Dundas leading most of the game. In the final chukker when it looked like Dundas would take home the victory, Spindrift's Juan Curbelo scored a goal to push the game into overtime with only a few seconds remaining. Spindrift's young player Piers Bossom scored the winning goal to finish the game 11-10.
The noontime game was between two teams with winning records: Klentner Ranch/Llamado, and Sapa/Gipsy. Klentner Ranch took an early lead, however Sapa/Gipsy took a commanding lead in the second half. A notable player from the game is Sapa/Gipsy's Santi Wulff scoring 7 goals in the game helping his team win 11-8. Sapa/Gipsey will move on in the tournament undefeated.
The featured match of the weekend was between bensoleimani.com/JC Polo and Navona/Sandalford. Bensoleimani.com took a two goal lead in the first chukker with three goals from Santi Von Wernich. Navona made a comeback in the third chukker to take the lead thanks to two goals by Warwick Prendiville. However, the lead didn't last long because bensoleimani.com came out swinging in the fourth chukker. Goals from every player on the team helped them take a commanding lead. Bensoleimani.com finished the game 13-7. Santi Von Wernich spoke about his experience, "It was a fun game. It is always a great time playing here in Santa Barbara."