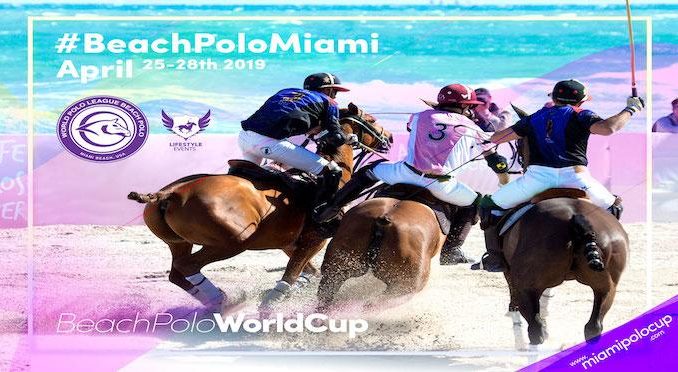 U.S. Polo Assn. Captures World Polo League Beach Polo Miami Beach Cup
U.S. Polo Assn. rallied in the final chukker to capture the World Polo League Beach Polo Miami Beach Cup Sunday at Collins Park.
U.S. Polo Assn. champion team players Juancito Bollini, Carlitos Gracida and Grant Ganzi with WPL Commissioner Dale Smicklas.
By Sharon Robb
U.S. Polo Assn. (Grant Ganzi, 3, Juancito Bollini, 4, Carlitos Gracida, 5) scored five goals in the final chukker to defeat Flexjet (Melissa Ganzi, 1, Alejandro Novillo Astrada, 8, Wes Finlayson, 4), 9.5-8.
Wes Finlayson of Flexjet tries to work the ball past Juancito Bollini of U.S. Polo Assn.
U.S. Polo Assn. was the youngest team in the eight-team tournament with Ganzi, 21; Bollini, 23; and Gracida, 27.
Grant Ganzi earned the Winning Team Captain Award. Melissa Ganzi was named Best Playing Female Player.
Carlitos Gracida of U.S. Polo Assn. on his way to scoring one of his team-high four goals.
"This win definitely falls in the top five for me, probably the second biggest win," Ganzi said of his second WPL tournament victory. His Grand Champions team won the Founders Cup earlier this season. "The Founders Cup has been the biggest win for me. "I was grateful and happy for that one."
U.S. Polo Assn. got off to a slow start trailing 6.5-3.5 at halftime. After shutting out Flexjet, 1-0, in the third chukker, U.S. Polo Assn. still trailed 6-4.5.
Grant Ganzi of U.S. Polo Assn. works the near side with Alejandro Novillo Astrada of Flexjet defending.
U.S. Polo Assn. started to control the momentum in the fourth and final chukker with a 5.5-2 chukker. Ganzi and Bollini each had two goals and Gracida added one in the final chukker.
Ganzi started off the rally when he scooped up a Gracida missed shot and scored on a backhander to trail 6-5.5. Novillo Astrada then beat his defender to extend Flexjet's lead, 7-5-5.5
Carlitos Gracida of U.S. Polo Assn. hooks Wes Finlayson of Flexjet.
Bollini came right back with an open backhand goal to cut the lead to one, 7-6.5. With 2:04 left, Bollini then converted a 25-yard penalty to overtake the lead, 7.5-7.
Flexjet moved back into the lead when Finlayson leaned into his shot to score and then tumbled off his horse landing on his knees for an 8-7.5 advantage. Gracida then scored off Ganzi's goalpost rebound for an 8.5-8 lead. Ganzi scored an insurance goal and then cleared out Flexjet's final scoring opportunity with 30 seconds left.
"We were frustrated in the beginning," Grant said. "We had a game plan and it wasn't working and we tried to adapt and that wasn't working either.
A large barge displaying World Polo League season highlights floated back and forth during Sunday's action.
"We tried to work for each other and make good plays, our problem was getting the ball near the goal. In the end we started making good plays like we did the last two days.
"It was a great win," Ganzi said. "It's fun to be on the same field with two of my best friends. It's a great feeling. It makes it a little more fun."
Gracida had a game-high four goals, Bollini had three and Ganzi had two. The team got .5 on handicap. Finlayson led Flexjet with four goals, Astrada had three and Ganzi added one.
APHA Best Playing Pony Turquoise played by Alejandro Novillo Astrada of Flexjet.
The American Polo Horse Association Best Playing Pony was Turquoise, a mare played by Astrada in the fourth chukker.
The World Polo League Best Playing Pony was Chimp, played by Grant Ganzi in the first and fourth chukkers.
WPL Best Playing Pony Chimp played by Grant Ganzi.
In the subsidiary Speedart Cup, Peroni (Sarah Siegel Magness, 0, Jesse Bray, 6, Jason Crowder, 7) knocked off Speedart Motorsports (Marc Ganzi, 2, Nic Roldan, 8, Tito Gaudenzi, 3), 11-5. Roldan earned MVP Pro Player honors. Bray had a game-high six goals and Crowder had five. Roldan had three goals.
The Setai (Rommy Gianni, 2, Juan Cruz Greguoli, 5, Pedro Soria, 6) won the Barbados Cup with a 7-5 victory over Italkraft (Diego Urrutia, 0, Pablo Spinacci, 7, Juan Bollini, 6). Soria led scoring with four goals.
In the opening game, World Polo League (Vincenzo Sangaline, Gussie Busch, 2, Kris Kampsen, 9) defeated Fiji (Sebastian Schneberger, 2, Santos Bollini, 2, Pablo Dorignac, 7), 11-8, for third place in Barbados Cup subsidiary play. Sebastian Schneberger was named MVP Patron. Kampsen scored a game-high six goals.
Leading scorer Pedro Soria of The Setai leans out of his saddle to battle Juan Bollini of Italkraft for the ball.
In the Neiman Marcus Cup, a charity game between Give Back For Special Equestrians (Jeremy Shockey, Ines Rivero, Tito Gaudenzi) and Museum of Polo Hall of Fame (Marc Ganzi, Sterling Jones, Louis Aguirre), Jones scored the winning goal for a 1-0 victory for the Museum of Polo Hall of Fame.
Actor Sterling Jones scored the winning goal for Museum of Polo Hall of Fame in the Neiman Marcus Cup.
One of the highlights for new fans to the sport was their interaction with the players and horses throughout the tournament. Before and after the games, players would high-five fans along the fence banners and chat with fans, allow them to pet the horses and take selfies.
On Sunday, in addition to watching the live games on the corner Jumbotron, a large barge floated back and forth on the ocean behind the playing field for five hours playing highlights from the inaugural World Polo League, the only 26-goal polo played outside of Argentina. The WPL will resume in January 2020 at Grand Champions Polo Club and Valiente Polo Farm in Wellington.
Fans and beach goers lined the fences to get their first glimpse of beach polo.
WPL Commissioner Dale Smicklas, who attended the tournament that featured several WPL players, was among awards presenters.
"This event couldn't have been more significant for Miami and couldn't have been more significant to the future of the World Polo League," Smicklas said. "My hat is off to Tito Gaudenzi for organizing this magnificant event and the Ganzi family, specifically Melissa, for her input in making this week happen."
A packed VIP tent enjoyed final day action of beach polo with a variety of food and refreshments.
Smicklas and tournament players were impressed with the speed of play and surface which he said was the best he had seen in polo.
Added Ganzi, "The footing is what made the tournament be that fast. Playing 16 chukkers a day and the footing was still great."
Kris Kampsen of WPL scores one of his six goals in his team's 11-8 win over Fiji for third place in Barbados Cup play.
Give Back for Special Equestrians is a Florida-based nonprofit 501C3 and all-volunteer charity, whose mission is to provide therapeutic horseback riding and equine-assisted scholarships for those suffering from physical, mental and emotional difficulties so they can experience the many benefits of therapeutic and equine-assisted horseback riding.
Jesse Bray scored a game-high six goals for Speedart Cup winner Peroni.
The American Polo Horse Association was created in 2006 by the legendary Polo Hall of Famer Sunny Hale to recognize polo ponies in America and encourages events that showcase them and hard-working dedication of grooms.
Swiss polo visionary Reto Gaudenzi, the founder of the Snow Polo World Cup in St. Moritz and several other tournaments, created the Beach Polo World Cup in 2005, one year after beach polo was introduced in Dubai, and hosted the South Beach event through 2008.
Barbados Cup winner The Setai players Rommy Gianni, Juan Cruz Greguoli and Pedro Soria.
Gaudenzi's son, Tito Gaudenzi of Lifestyle Companies, resurrected the event last year successfully along with WPL co-founders Melissa and Marc Ganzi. Wellington-based Grand Champions is host polo club.
Speedart Cup winner Peroni players Jason Crowder, Sarah Siegel Magness and Jesse Bray.
Last year's winner was La Martina (Riley Ganzi, Jesse Bray, Juan Bollini), 5-4.5 over Macallan (Sarah Siegel Magness, Marc Ganzi, Nic Roldan) in the La Martina Cup final.
Gaudenzi's Lifestyle Companies is one of the leaders in organizing top events around the world including Switzerland, Germany, France, Azerbaijan and Russia.
Luxury cars from Speedart Motorsports were on display throughout the tournament.
Grand Champions and Santa Rita Polo Farm is the largest and most unique polo facility in Wellington with 120 stalls in five self-contained barns, exercise track, five climate-controlled tack rooms, vet room, staff quarters, guest house and three polo fields with state-of-the-art underground irrigation including one field for stick-and-ball with plans to build more polo fields in the future.
World Polo League Beach Polo awards table.
Grand Champions Polo Club and Santa Rita Polo Farm caters to men, women and youth polo players at all levels and ages. Its' expert staff can customize a complete playing experience including horses, pros and certified umpires in addition to lessons and practice sessions as part of its' Polo On Demand program, created by Grand Champions President Melissa Ganzi when the club first opened in 2007.
Players, WPL Commissioner Dale Smicklas and Josh Cohen of ESPN West Palm say that's a wrap until the 2020 WPL season.
Photos by Candace Ferreira
The Polo School, a stand-alone USPA-sanctioned polo club, is dedicated to teaching polo to all ages, particularly grass roots youth. Its mission is to provide individuals opportunities in polo at every economic and ability level. Scholarships are available. The Polo School operates in Wellington January through May and September through November. Headed by Director of Operations Juan Bollini, The Polo School has nurtured several men and women polo players now playing in the pro and amateur ranks since its inception.
WPL Beach Polo Miami Beach Results
Friday 4/26 Opening Day
Game 1: Peroni 6, Setai 4
Game 2: Flexjet 13, Fiji 8
Game 3: U.S. Polo Assn. 7.5, Italkraft 5
Game 4: Speedart Motorsports 8, World Polo League 4
Saturday 4/27 Day Two
Game 1: Italkraft 6, World Polo League 4
Game 2: The Setai 11, Fiji 8
Game 3: Flexjet 8, Peroni 7 (OT)
Game 4: U.S. Polo Assn. 9.5, Speedart Motorsports 9
Sunday 4/28 Day Three
Game 1: World Polo League 11, Fiji 8
Game 2: Barbados Cup, The Setai 7, Italkraft 5
Game 3: Neiman Marcus Cup, Museum of Polo Hall of Fame 1, Give Back For Special Equestrians 0
Game 4: Speedart Cup, Peroni 11, Speedart Motorsports 5
Game 5: WPL Beach Polo Miami Beach Cup, U.S. Polo Assn. 9.5, Flexjet 8