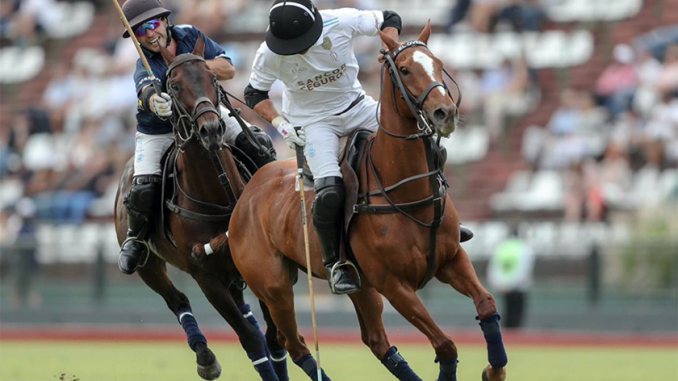 La Dolfina Advances to the 126th Abierto Argentino de Polo Final
The first semi-final in the 126th Abierto Argentino de Polo featured the 100th game in the Triple Crown for La Dolfina using their line-up of Adolfo Cambiaso, David Stirling, Pablo MacDonough and Juan Martin Nero, with the four 10-goalers wearing special edition jerseys to mark the occasion. Living up to the hype, La Dolfina dominated La Dolfina Polo Ranch 15-6 to advance to next weekend's final in Palermo.
In one of the strongest defensive showings of the tournament, La Dolfina swarmed La Dolfina Polo Ranch, providing few opportunities for their opponent around goal. The organized team effort highlighted by the defence of Juan Martin Nero continually gave the possession back to La Dolfina begin their attack. Despite the pressure of their defence, La Dolfina kept La Dolfina Polo Ranch off the penalty line, leaving the ball in open play where they thrived. Assisting on seven of their 10 field goals, La Dolfina ran away with the game, securing their place in the final with the 15-6 victory.
An opening chukka displayed La Dolfina Polo Ranch's active play offensively and defensively that gave them an undefeated 3-0 record entering the game. Holding La Dolfina to just one goal, La Dolfina Polo Ranch's Alejo Taranco matched the goal to end the first chukka tied at 1-1. That was where the even play ended as La Dolfina increased the intensity and dominated possession for the remainder of the half. A run of seven straight goals for La Dolfina saw equal contributions from Cambiaso, MacDonough and Nero, who all scored at least two goals during the stretch. La Dolfina Polo Ranch was held scoreless in the second, third and fourth chukkas, managing just two shots at goal, while La Dolfina amassed 10 shots to push their advantage to a commanding 8-1 lead at halftime.
Beginning the second half where they left off, La Dolfina overwhelmed La Dolfina Polo Ranch in every aspect of the game, outscoring their opponent 4-0 in the fifth chukka, led by the performance of Stirling, who joined his teammates on the scoreboard with his first and second goals of the game. Cambiaso's sixth goal of the game, a Penalty 2 conversion, completed an impressive run of 12 unanswered goals, bringing the lead to 13-1 and leaving La Dolfina Polo Ranch with no hopes of a comeback. With their sights set on the final, La Dolfina sat back in the final two chukkas, allowing La Dolfina Polo Ranch to score the final four goals of the game, but their lead was never threatened to finish with the 15-6 victory. With the triumph, La Dolfina awaits the winner of tomorrow's second semi-final between Ellerstina and Las Monjitas.