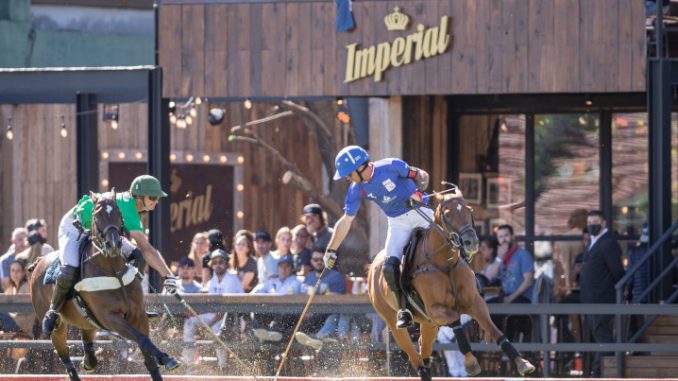 La Natividad Monjitas Captures Crucial Victory Over RS Murus Sanctus
With their sights set on challenging Ellerstina and La Dolfina in the 127th Abierto Argentino de Polo, RS Murus Sanctus and La Natividad Monjitas battled to remain undefeated, with the latter capturing the 12-11 victory thanks to the 10-goal performance from Camilo Castagnola. Earlier in the day, La Dolfina Saudi Polo Team defeated La Irenita II 24-9, dominating from the opening throw-in on Field 2 at Palermo.
Following up his 15-goal performance with 12 goals on Sunday, Adolfo Cambiaso continued to show pinpoint accuracy from the penalty line, converting 8 of his 10 attempts. Displaying an organized passing attack, La Dolfina produced 27 shots at goal compared to just 11 for La Irenita II, resulting in too few opportunities for La Irenita II to mount a challenge in the match. Accurate 59% shooting and assists on 10 of their 16 field goals secured the dominant 15-goal victory for La Dolfina.
Cambiaso raced out of the gate, scoring the first two goals of the game on a field goal and safety conversion before La Irenita II gained any significant possession. Pressured, Cambiaso transitioned to the pass, setting up consecutive goals for David Stirling to give La Dolfina the 4-0 lead at the conclusion of the first chukka. Outshooting La Irenita II 9-1 over the opening two chukkas, La Dolfina extended their lead to seven after Juan Martin Nero came forward to score twice, leaving La Irenita II facing a large deficit. Ending the drought, La Irenita II's Tomas Fernandez Llorente converted a penalty 2, beginning a strong stretch for his team in the remainder of the half. Outscoring La Dolfina 5-3 in the third and fourth chukkas behind two goals each from Fernandez Llorente and Pedro Falabella, La Irenita II ended the half trailing 10-5.
Pulling closer within four goals after Fernandez Llorente's third goal, La Irenita II was gaining momentum, but that was the closest they would come in the match as foul trouble allowed La Dolfina to reorganize and dominated the final four chukkas. Cambiaso scored six of La Dolfina's next eight goals, all from the penalty line to extend the lead to ten and end La Irenita II's challenge. Protecting their own goal, La Dolfina executed accurate passes to continue their attack, assisting on five consecutive goals. Rotating all four players forward, La Dolfina couldn't be stopped, cruising to the 24-9 victory.
All eyes turned to the second game between 36-goal La Natividad Monjitas and 35-goal RS Murus Sanctus, with the two teams fighting to keep their undefeated record alive. La Natividad Monjitas won the open play battle, holding RS Murus Sanctus to just three field goals through the first seven chukkas. Despite committing just seven fouls, La Natividad Monjitas sent RS Murus Sanctus to the penalty line six times, including two additional safeties, allowing RS Murus Sanctus to keep pace in the game. Ultimately, holding RS Murus Sanctus scoreless in the fifth, sixth and seventh chukkas resulted in La Natividad Monjitas building a large enough lead to withstand the late RS Murus Sanctus comeback and capture the thrilling 12-11 victory.
RS Murus Sanctus applied pressure early, receiving a penalty 3 inside the first two minutes that was converted by Sapo Caset. After the lead increased to two, Camilo Castagnola was on the receiving end of passes from Polito Pieres on consecutive plays to tie the score at 2-2. A defensive second chukka saw only a penalty 2 conversion from Caset, leaving little separating the two teams. Camilo Castagnola and Pieres continued to work well at the front of the game, pushing La Natividad Monjitas into the lead, but it was short lived after a swift response saw two goals from Caset to finish the third chukka. In a fitting end to the half, La Natividad and RS Murus Sanctus remained tied at 7-7 with Camilo Castagnola leading all players with six goals.
Defense altered the momentum of the game in La Natividad Monjitas' favour, slowing the normally potent RS Murus Sanctus attack. Castagnola's seventh and eighth goals proved to be the only offense in the fifth and sixth chukkas, edging his team into the narrow two-goal lead. Held off the scoreboard for the third consecutive chukka, RS Murus Sanctus struggled to break through the La Natividad Monjitas defense that was headlined by Ignatius Du Plessis. Another defensive chukka saw zero goals until the final seconds when Pieres scored a crucial goal, extending La Natividad Monjitas' lead to three and leaving one chukka between them and victory. Inside the first minute, Castagnola's penalty 2 conversion seemed to secure the victory, but RS Murus Sanctus responded with a quick attack that left the outcome in doubt. Quiet throughout the game, Facundo Sola scored his first goal with only a minute remaining and despite scoring his second just 45 seconds later, it left RS Murus Sanctus a goal short in the 12-11 defeat.
Photo credit: Matías Callejo / Prensa AAP
To see the best plays of the game, click HERE , where you can download a video from ESPN.