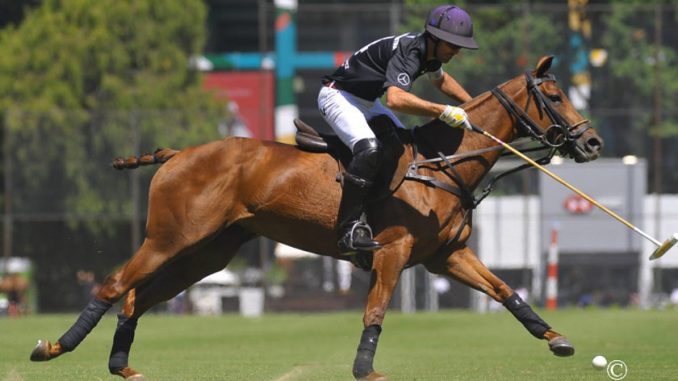 Ellerstina and Las Monjitas Remain Undefeated to Set Up Semi-Final Match
The eighth day of play in the 2018 Abierto Argentino de Polo saw Ellerstina and Las Monjitas continue their strong play to set up Sunday's semi-final clash with a spot in the final on the line. Ellerstina defeated La Canada Angiocor 20-5, while Las Monjitas used a strong opening half to defeat La Albertina 16-11 at Palermo.
The opening game of the day saw Ellerstina easily handle La Canada through an exceptional defense that held La Canada to just five goals. Outshooting their opponents 29-8, Ellerstina's Facundo Pieres provided a passing masterclass, setting up seven goals while also scoring five of his own. The accurate passing attack of Ellerstina provided the open space for uncontested runs to goal in a balanced attack that never saw consecutive goals from the same player, as La Canada was unable to slow all four Ellerstina players in the defeat.
The opening chukka set the tone for the game with Gonzalito and Facundo Pieres scoring early goals, while holding their opponent to zero shots. La Canada responded with some fight of their own in the following chukka, led by Ezequiel Martinez Ferrario, who scored two goals including an impressive neckshot from distance to keep his team within three goals. La Canada continued to battle with Ellerstina throughout the rest of the first half, keeping the quartet of 10-goalers off the scoreboard in the third chukka but that was short-lived when Ellerstina exploded for five goals in the fourth chukka thanks to Facundo Pieres who set up three goals on consecutive plays to give Ellerstina the 10-2 lead.
The beginning of the second half saw missed opportunities prevent both teams from making a run with the fifth and sixth chukkas producing a combined two field goals on nine shots. Any doubt of the outcome was put to rest after a 5-0 seventh chukka in favour of Ellerstina with Facundo Pieres setting up two more goals during the stretch. A frustrated La Canada side committed three fouls in the final chukka, allowing Ellerstina to push their lead to fifteen on three penalty goals in the 20-5 victory.
The second game of the day saw Las Monjitas produce a dominant first half, holding La Albertina to just one shot on goal, while converting 9 of 11 from the field to build a large lead. The proficient defense of Las Monjitas saw Santiago Toccalino and Hilario Ulloa work tirelessly to limit the chances for La Albertina, while Facundo Sola and Sapo Caset combined to score 13 of their team's 16 goals in the victory.
Scoring two goals inside the first minute and twenty seconds in the game, Caset led a Las Monjitas attack that overwhelmed La Albertina throughout the opening half. Finding themselves in a quick four-goal deficit after the opening chukka, penalty conversions for Ignacio Toccalino and Alfredo Cappella brought La Albertina back within three goals, but their offense sputtered after that point, allowing Las Monjitas to take control of the game. Ulloa's active defense led to a goal of his own along with setting up two others as Las Monjitas stretched their lead to six by halftime.
Needing to put together a strong second half, La Albertina began to work their way back into the game behind the duo of Cappella and Nic Roldan, with Roldan scoring three unanswered goals during a 5-2 run in favour of La Albertina. With their lead cut in half, Las Monjitas tightened up their defence, preventing La Albertina from getting any closer, holding their opponents to just two shots over the final two chukkas. Despite efficient 75% shooting from La Albertina, their inability to create offense proved to be a deciding factor against a Las Monjitas team that also shot an efficient 65% with more than double the shot opportunities. With the victory, Las Monjitas will face Ellerstina to decide a spot in the final.