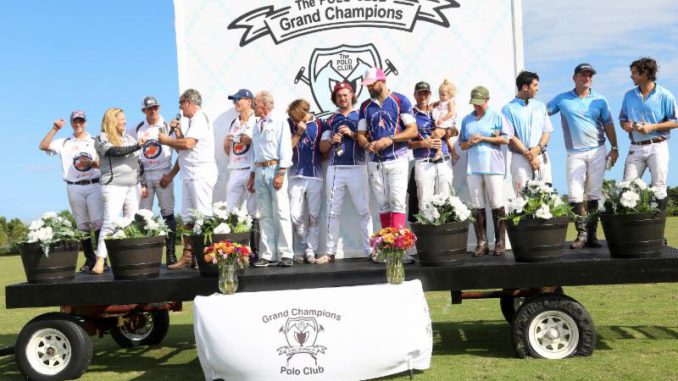 Aspen Valley Polo Club Wins Pedro Morrison Memorial; Carlitos Gracida Named MVP
Aspen Valley Polo Club won the Pedro Morrison Memorial in front of family and friends on Sunday at Grand Champions Polo Club.
By Sharon Robb
St. Moritz, American Polo Horse and Aspen Valley Polo Club players during awards ceremony.
In the second game of a doubleheader that featured Casablanca winning the USPA National 20-Goal title in the opener, Aspen Valley Polo Club (Morgan Van Overbroek, James Rogerson, Mariano Gracida, Carlitos Gracida) defeated St. Moritz (Reto Gaudenzi/Daniel Crasemann, Tony Calle, Jeff Hall, Marc Ganzi), 3-1, in the final.
In the other two-chukker round robin games, St. Moritz defeated American Polo Horse (Sebastien Le Page, Santos Bollini, Pablo Dorignac, Tito Gracida), 4-1, and Aspen Valley Polo Club defeated American Polo Horse, 4-2.
Carlitos Gracida, 27, was named Most Valuable Player. The most dominant player for Aspen Valley Polo Club, scored four goals in four chukkers.
Carlitos Gracida of AVPC works the ball with Tito Gaudenzi of American Polo Horse defending.
"For me to play with Mariano was priceless," Gracida said. "As we get older and our careers advance, you don't know who is going to get what job. Sometimes you play together and sometimes you don't. So for me any time we get to play together is very important for me. It's fun to win with people who come just for the weekend and everyone is happy."
Tuesday, a 5-year-old dark bay mare, was selected American Polo Horse Association Best Playing Pony. She was played by Pablo Dorignac and was bred and is owned by Santa Rita Polo Farm.
The American Polo Horse Association was created in 2006 by Hall of Famer Sunny Hale to recognize polo ponies in America and encourages events that showcase them and hard-working dedication of grooms.
Mariano Gracida of AVPC and Santos Bollini of American Polo Horse battle for the ball.
It was the second tournament victory for Van Overbroek and Mariano Gracida in three days. The pair were members of St. Moritz, winners of the inaugural Reto's Birthday Cup. The Belgian-born Van Overbroek was MVP in Friday's game.
"It was absolutely amazing to play with such legendary names of a polo family, it was incredible," said Van Overbroek, referring to brothers Carlitos and Mariano Gracida, the sons of Hall of Famer and former 10-goaler Carlos Gracida.
"I cannot believe that I won the first day and now I won the second tournament," she said. "It is a dream that I could not even dream of. I would love to come back if I am invited. I would jump on a plane and come back as soon as I can."
Pablo Dorignac of American Polo Horse tries to get away from defender James Rogerson of AVPC.
Van Overbroek is now preparing for her season in Argentina, where she organizes one of the biggest women's tournaments in March and then returns to Switzerland in April for ten tournaments.
The tournament is named in honor of Pedro Morrison, born in Spain and University of Miami alum, died Dec. 11, 2003 in Wellington at age 49. He was an avid polo player, patron of The Sympatico Polo team and helped develop Wellington into a thriving community.
Reto Gaudenzi of St. Moritz being interviewed by Jan-Eric Franck before the game.
Morrison was active in several local and area charities and businesses and touched countless lives. He remains an inspiration. His work on behalf of the YMCA of the Palm Beaches continues on through Polo with Pedro. The tournament is played in honor of Morrison in a casual, laid-back and fun atmosphere and is a celebration of his life among his friends every year.
Last year's Pedro Morrison Memorial  was rained out. In the 2016 final, Flexjet defeated Audi 7-6 in overtime.
Mariano Gracida of AVPC defends Tito Gaudenzi of American Polo Horse.
With the sixth and final medium goal tournament in the books, Grand Champions ended one of its most successful fall medium goal seasons. Casablanca (MVP Mariano Gracida, Juancito Bollini, Julio Gracida, Grant Ganzi) won the season-opening Tackeria Invitational; Sebucan (Pablo Pulido, Juancito Bollini, MVP Whistle Uys, Carlitos Gracida) won the US Trust Cup; Sebucan (MVP Pablo Pulido, Whistle Uys, Mariano Gracida, Julio Gracida) won the Fall Classic; and Sebucan (Pablo Pulido, Pablo Dorignac, Whistle Uys, MVP Julio Gracida) won the Fall Plates Tournament; and Whitehall Ranch (Bill Lane, Sugar Erskine, Pablo Dorignac, Whistle Uys) won the Polo Gear Challenge Cup.
Tony Calle of St. Moritz goes for the hook on Pablo Dorignac of American Polo Horse.
World-reknown polo announcer Jan-Erik Franck is calling the action during the fall season, St. Regis World Snow Polo Championship in Aspen in December and winter season featuring the World Polo League at Grand Champions. Franck, popular among fans, makes it both entertaining and educational. He has been a polo announcer at various tournaments around the world for more than 20 years. Franck is also a polo player, HPA instructor, La Martina ambassador and polo columnist. He was recently the featured cover story in POLO+10 magazine.
Grand Champions is one of the few USPA-sanctioned clubs that offers fall polo. The fall season was a good tuneup for the winter season for players and green horses. The winter season features the debut of the highly-anticipated 26-goal World Polo League at Grand Champions and Valiente Polo Farm featuring 10-goalers Adolfo Cambiaso, Pablo MacDonough, Pelon Sterling and Juan Martin Nero.
Tito Gaudenzi of American Polo Horse goes for the big neck shot downfield.
The season-ending marquis event is this weekend's doubleheader featuring the Legends of Polo Carlos Gracida Memorial and International Cup on Thanksgiving weekend.
This year's Nov. 24 International Cup  will feature defending champion Team USA against Azerbaijan. This year the U.S. team will put its six-year winning streak on the line against Azerbaijan, known as the Land of Fire and Ice, and one of the most improved polo teams in the world. Recently, Azerbaijan finished runner-up to Italy in the FIP European Championship.
Last year Team USA ( Grant Ganzi, Carlitos Gracida, Julio Arellano, Mike Azzaro) defeated Brazil, 9-7, to capture the sixth annual International Cup event. Arellano was named Most Valuable Player for the third consecutive year. Since 2012, Team USA has defeated England, Chile, Mexico, South Africa and Uruguay in International Cup history.
Pablo Dorignac of American Polo Horse is double teamed by Marc Ganzi and Jeff Hall of St. Moritz.
The well-organized fall tournaments attract players from all over the United States and world including Azerbaijan, Argentina, Brazil, Canada, Chile, Ecuador, England, France, India, Mexico, New Zealand, Nigeria and South Africa.
The Grand Champions Fall Invitational League is geared toward improving a player's polo skills at every level. Roster lineups change from tournament to tournament with evenly-matched teams featuring pro and amateur players.
Club owners Marc and Melissa Ganzi, both accomplished players, take pride in teaching and sharing the exciting sport of polo with anyone interested in learning.
Brothers Mariano and Carlitos Gracida got the opportunity to play together for AVPC.
The fall league featured: stick-and-ball sessions during the week; two medium tournament games every weekend; ambulance and USPA umpires for all tournament games; world-class polo fields; club-sponsored social events every weekend for all players; and top-of-the-line trophies for all teams every weekend.
Wellington-based ChukkerTV live streamed most of the fall season. ChukkerTV's state-of-the art technology features team challenges and instant replay which made their debut at Grand Champions in January, 2014.
Grand Champions and Santa Rita Polo Farm hosts polo tournaments ranging from six to 26-goal during the winter season in addition to special events at its well-manicured fields during the fall, winter and spring seasons.
Best Playing Pony Tuesday played by Pablo Dorignac.
Photos by Sheryel Aschfort
Grand Champions Polo Club and Santa Rita Polo Farm cater to men, women and youth polo players at all levels. Its' expert staff can customize a complete playing experience including horses, pros and certified umpires in addition to lessons and practice sessions as part of its' Polo On Demand program at the turnkey facility.
The Polo School, a 501c3 organization and stand-alone USPA club, is thriving at Grand Champions and Santa Rita Polo Farm. It is dedicated to teaching polo to all ages, particularly grass roots youth. Its mission is to provide individuals opportunities in polo at every economic and ability level. Scholarships are available. The Polo School operates in Wellington January through June and September through November.