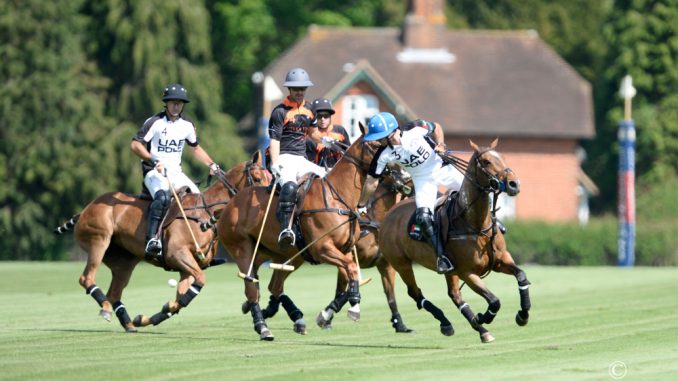 Park Place and UAE are day one's winners
The 2019 edition of the Cartier Queen's Cup got underway today. Twelve teams have entered this 22-goal tournament and will be competing at top speed over the next three weeks in a bid to reach the final on Sunday 16 June, historically played in the presence of HM The Queen, on Sunday 16 June.
Park Place 9 – 8 Monterosso Polo Team – Castle Ground, Flemish Farm
Last year's finalists, Andrey Borodin's Park Place started this year's high-goal campaign on a victorious note, but narrowly winning their opening game by a goal. Alessandro Bazzoni's Monterosso were very much in contention in the first half, thanks to some great play from Ignacio Toccalino and Joaquin Pittaluga – they were leading 2-1 at the end of the first chukka. The momentum changed in the second half though. Juan Britos, leading goal scorer in this tournament last year, and Park Place team-mate Hilario Ulloa, one of three 10-goalers competing in this year's tournament, applied the pressure in the fourth. This partnership raised Park Place's tally up to 7 goals, while Monterosso failed to find the flags. Two further goals from Britos and Ulloa in the fifth, to only one in reply from Toccalino, seemed to ensure Park Place's dominance. Although at this level of the game things can change quickly as was the case here. The sixth chukka saw no goals from Park Place but three from Zavaleta and Pittaluga. Sadly, Pittaluga's last minute 60-yard penalty went wide, denying us all a sudden-death seventh chukka. However there was some great polo from both teams and we look forward to seeing them deliver plenty more running chukkas in the weeks to come.
UAE Polo 14 – 7 Casa La Vista Ibiza – Duke's Ground, Smith's Lawn
This second game was a much more clear-cut affair. Some great team-work, including off the stick of the young Lucas Monteverde Jnr, delivered a convincing victory for HH Sheikha Maitha's UAE team (rec 1 goal on handicap). They defeated Hilali Noordeen's Casa La Vista Ibiza, who had led 3-1 after the first chukka. Santiago Toccalino, the brother of Monterosso's Ignacio, and team-mate Guillermo Caset were on good form, consistently firing through goals for UAE Polo throughout the six chukkas. Ten-goaler Pablo MacDonough produced some signature big hits to goal for Casa La vista Ibiza but it was nowhere near enough to stop the Sheikha's team from securing an impressive win.
Tomorrow's matches
12noon La Bamba de Areco v Talandracas at Coworth Park
3pm La Indiana v King Power at Les Lions (SL6 2JB)