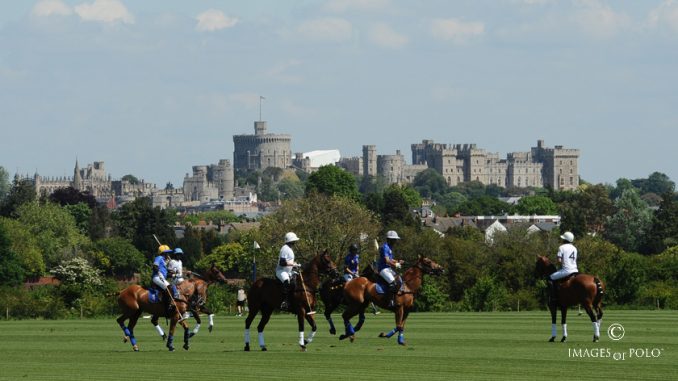 Eight teams prepare for knockout battle in Cartier Queen's Cup
Fitting for what has been an impressive 22-goal tournament so far, the final league matches of the 2019 Cartier Queen's Cup were equally thrilling. La Indiana, last year's winners, only secured their automatic quarter-final place thanks to Rodrigo Andrade and a golden goal on Saturday. Dubai's Castagnola brothers, still only in their teens, matched the more experienced Andrade and Facundo Pieres, goal for goal for six chukkas, forcing this match into extra time. Rashid Albwardy's Dubai team now play Hilali Noordeen's still-to-win Casa La Vista Ibiza in a knockout match on Wednesday 5 June.
Huges Carmignac's Talandracas earned their automatic quarter-final slot by coming from behind – they were 4-0 down at the end of the first – to beat Andrey Borodin's Park Place on The Queen's Ground, earning them the Richard Watt Cup in the process too. The combination of Fran Elizalde, Julian de Lusarreta and Alejandro Muzzio is working well for Talandracas. Park Place, last year's finalists, now play Spencer McCarthy's Emlor, the other team yet to win a match in this tournament, for a guaranteed quarter-final spot.
Jean Francois Decaux – back in the saddle from injury for La Bamba de Areco's final league match – delivered a convincing 14-7 win over Casa La Vista Ibiza. This was La Bamba's first win of the tournament and so they now play Murus Sanctus at Manor Farm in Sussex on Tuesday afternoon.
HH Sheikha Maitha's UAE Polo reached the quarters the hard way. They may have won their game over Alessandro Bazzoni's Monterosso 14-12 but this just saw them head straight into a penalty shoot-out as they had won 2 games and lost 1. Guillermo (Sapo) Caset was the goal scorer on Sunday evening, winning over Park Place's Juan Britos. Monterosso meanwhile will now play David Paradise's Scone Polo, who won their first match of the tournament on Friday.
Just a few minutes earlier on Sunday, Top Srivaddhanaprabha's VS King Power had won their penalty shootout to secure another automatic quarter-final place. Their win over Corinne Ricard's Murus Sanctus had put them on 2 wins / 1 loss and so set up a penalty scenario with Dubai. Juan Martin Zubia's sharp shooting won this for VS King Power.
Knockout matches
Tuesday 4 June 5pm Murus Sanctus v La Bamba de Areco at Manor Farm
Wednesday 5 June 12noon Monterosso v Scone Polo – ground TBC
3pm Park Place v Emlor – ground TBC
5pm Dubai v Casa La Vista Ibiza – ground TBC