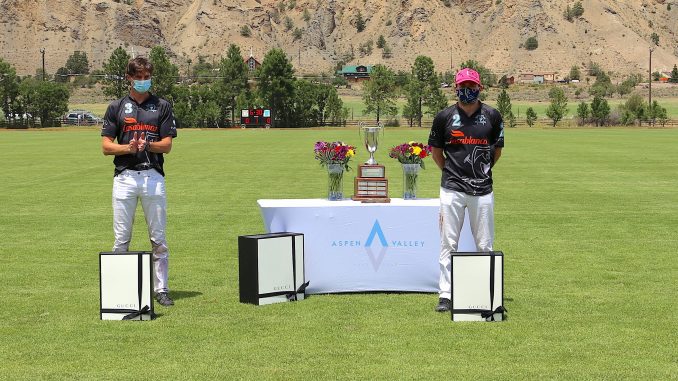 Casablanca Triumphs Over La Indiana
in Craig Sakin Memorial Final
In the Craig Sakin Memorial final at McClure River Ranch, Casablanca (Lauren Sherry, Grant Ganzi, 3, Juancito Bollini, 4, and Juan Martin Nero) bested La Indiana (Michael Bickford, 2 Michael Payne, Nic Roldan, 8, and Nacho Badiola, 5) by a score of 9 to 7.
After scoring all his team's 9 goals against Spindrift on Friday, Nic Roldan was hot off the mark in chukker one of the final. Within the first minute of play, he hooked Grant Ganzi and put the ball through the posts. Casablanca went on the offensive and Juan Martin Nero took his team into an early lead with two goals, including one at the horn.
In the second chukker, Roldan roared back with two goals of his own, while Bickford scored a third to put La Indiana into the lead for the only time in the game. Casablanca played a strong defense in the third chukker and kept their opponent off the goal, while Grant Ganzi scored on a penalty to end the half in a 4-4 tie.
Casablanca took the lead in the fourth after a goal by Juancito Bollini, and after a right of way violation by Roldan, Ganzi scored on the penalty shot to put Casablanca ahead by two. The fifth chukker saw Casablanca take a decisive lead, with their powerful defense again keeping La Indiana from scoring. At the 3:22 mark, Roldan's stirrup leather broke, nearly unseating him, but after a brief time out he was back in the saddle. Juan Martin Nero and Ganzi both scored, and nearing the end of the chukker, Juancito Bollini made a strong run downfield and knocked one in to end the period at 9-5 in Casablanca's favor.
La Indiana played an intense last chukker, effectively defending against Casablanca and scoring three goals, including an impressive 150-yard center field penalty shot by Roldan, but couldn't make up the margin, losing by 7 to 9.
Craig Sakin Memorial MVP Juan Martin Nero
Juan Martin Nero was named the Most Valuable Player, while Pontiac, an 8-year old by mare owned and played by Michael Bickford was named Best Playing Pony.
In the day's second match, the Just for the Fun of It tournament, Spindrift (Marc Ganzi, 2, John Bickford, 1, Polito Pieres, 10, and Stewart Armstrong, 3) shut out The Island House (Alex Gooding, 2, Peter Holowesko, Toro Ruiz, 7, and Jared Zenni, 6) by 10 to 9.
Aspen Valley Polo Club Best Playing Pony, Pontiac, owned and played by Michael Bickford
Island House got off to a difficult start, failing to get past Spindrift to the goal in the first two chukkers, while Marc Ganzi scored three of this team's four goals. In a fast third chukker, Toro Ruiz again showed what he's made of, scoring two goals, along with Jared Zenni's one, to end the half with Island House trailing by two with a score of 3 to 5.
Island House fought hard in the fourth, with Ruiz scoring on a penalty and then on a shot from the left corner to tie up the score at 5 all. In more back and forth in the fifth chukker, Ganzi tapped in a penalty shot to once again tie the score. Island House drew ahead briefly when Ruiz scored with a picture-perfect neck shot from 70 yards.
Just For the Fun Of It winners Spindrift's Marc Ganzi, John Bickford, Polito Pieres, Stewart Armstrong
Two penalties put Spindrift back in the lead and in the final chukker it looked like anybody's game. Alex Gooding tied it up again at 9-9, but a penalty shot to the open goal by Ganzi put it in the bag for Spindrift.
Toro Ruiz won the Gibson Goal of the Day with his spectacular neck shot in the fifth chukker.
Earlier in the day, in the Just for the Love of It tournament, La Elina (Melissa Ganzi, Bobby Gerry, Pablo MacDonough, and Juan Bollini) took down Los Amigos Red (Alejandra Foster, Larry Austin, Horacio Heguy, and Nacho Novillo Astrada) by a score of 9 to 7. The ladies dominated the scoring, with Ganzi ending the game with 6 goals and Foster with 4.
In Just for the Joy of It, La Karina (Brian Boyd, Carlitos Gracida, Tincho Merlos, and Jimmy Seward) bested Los Amigos Blue (Paul Foster, Gussie Busch, Alejandro Novillo Astrada, and Pablo Spinacci) by a score of 9 to 8. Pablo Spinacci and Jimmy Seward were the high scorers of the game, with four goals each.
The Craig Sakin Memorial is the third of ten grass tournaments and three arena tournaments being staged at AVPC in what is expected to be a successful season.
The tournament is named in honor of Sakin, who passed away on Feb. 11, 2014 at age 52. The former president of the Homeowners' Association of Sopris Mountain Ranch, was instrumental in helping Marc and Melissa Ganzi secure their first polo field. In 2015, some of Sakin's ashes were released over the polo field.
Sakin was a private equity investor and turnaround specialist. His personal interests included horses and the outdoors. Sakin owned Sugar Frosted Cat, a mare ranked by the National Reined Cow Horse Association, and Idocus, a Dutch Warm Blood stallion that competed in the 2004 Summer Olympic Games in dressage and represented the U.S. in the World Cup. He was an avid and skilled hunter and skier, pursuing his passions around the world.
By: Rebecca Baldridge
Photos by: Nick Tininenko and Candace Ferreira for ChukkerTV