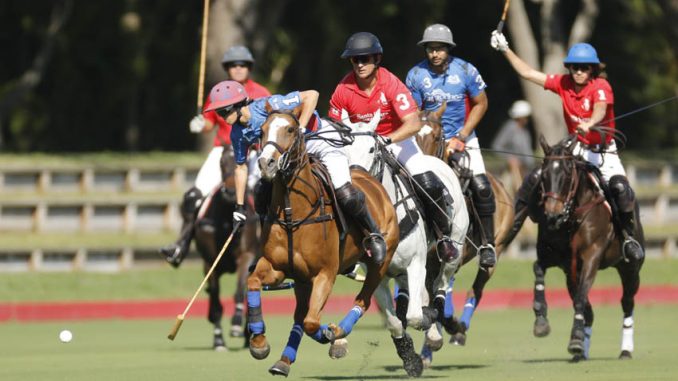 Joaquin Avendaño – © David Lominska

Sayyu Dantata, Gringo Colombres – © David Lominska
Dutta Corp and Patagones Remain Undefeated in 2019 Joe Barry Cup
After the first week of play in the 2019 Joe Barry Cup, Dutta Corp and Patagones have separated themselves as the top two teams, with both holding a 2-0 record after victories over SD Farms and Santa Clara.
Led by Gringo Colombres, who ranks second in the tournament with 11 goals, Dutta Corp has been an offensive force in the tournament, averaging 17.0 goals per game. In their opening game of the tournament, the duo of Colombres and Lucas Diaz Alberdi dominated possession and utilized a two-man game that proved to be too much for Santa Clara to contain. Combining for 11 field goals on perfect 100% shooting, the duo for Dutta Corp made a statement to the other three teams in the tournament that they were the team to beat. A high-pressure defence left little time and space for the Luis Escobar led Santa Clara and a potent counter-attack finished with the accuracy needed to run away with the double-digit victory.
Patagones proved to be a team to watch as well in a strong 11-7 victory over SD Farms, where an organized defensive effort provided difficulties for their opponents. The young Avendano brothers, Joaquin and Benjamin, have made their impact felt early in the tourmament, executing numerous ride-offs, while Benjamin Avendano has also contributed offensively with five goals in two games. However it has been Santiago Toccalino that has been a standout player, leading Patagones with five goals in the opening game and working seamlessly with Tomas Garcia del Rio to display a formidable back line. SD Farms was held to just 1 for 7 shooting in the opening half, finishing with just three field goals as they were unable to create effective opportunities against the stout Patagones defense.
The defensive effort for Patagones carried over into their second game of the tournament, where they overwhelmed Santa Clara in the 14-9 victory, in a tightly marked game that saw a combined 20 fouls between the two teams. It was Toccalino who once again carried the offensive load, scoring seven goals to take the tournament lead in scoring with 12 goals through two games. The chemistry of Garcia del Rio and Toccalino was evident in a dominant 4-0 third chukka that saw Garcia del Rio set up Toccalino with multiple passes for uncontested runs to goal. Although Santa Clara attempted to make a comeback in the second half, with all four players contributing one goal, their indiscipline proved to be their downfall, with eight second half fouls giving Patagones the extra possessions they needed to claim the victory.
The most exciting game of the tournament was played in front of the grandstand on field #1, with Dutta Corp narrowly edging SD Farms 13-12 after a shot from Jesse Bray was just after the final horn and sailed just wide. Dutta Corp played a fast, possession heavy style to score 10 goals in the opening half. Colombres was proving to be the key player, including a three-goal second chukka, by executing a running attack that the defense of SD Farms was unable to contain. SD Farms fought back in the second half behind the strong play of patron Sayyu Dantata, and a passing attack that forced Dutta Corp into a different style of play. Two goals for Bray in the final two chukkas left the score tied, but it was Colombres who forced a turnover in front of the SD Farms goal and ran it through the goal posts to send his team to victory.
Colombres received his second consecutive MVP award on Field #1 at the International Polo Club Palm Beach and also walked away with the Best Playing Pony "Coquita". The two remaining undefeated teams, Dutta Corp and Patagones, will collide on Wednesday when play resumes in the Joe Barry Cup, while SD Farms and Santa Clara will be looking for their first wins when they go head-to-head on Thursday.