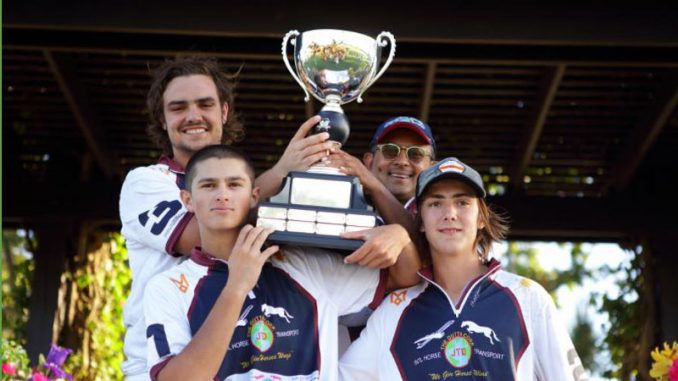 Dutta Corp Captures Grand Champions Top Pony 8-Goal League Title; Timmy Dutta Named Most Valuable Player
Dutta Corp won its fourth tournament of the winter polo season Saturday at Patagones.
By Sharon Robb
After winning three 20-goal tournaments in January and February, Dutta Corp (Timmy Dutta, 2, Nico Diaz Alberdi, 1, Lucas Diaz Alberdi, 5, Tim Dutta, 0) defeated Patagones (Anita Avendano, 0, Joaquin Avendano, Santi Wulff, 5, Gonzalo Avendano, 1), 11-9, to win the Grand Champions Top Pony 8-Goal League title for the first time in the team's history.
Timmy Dutta, 17, was named Most Valuable Player after scoring 10 goals for the second time in his young career. He also scored 10 goals in the Polo Gear Challenge Cup beating Nic Roldan's single game scoring record.
Timmy Dutta of Dutta Corp attempts to hook Santi Wulff of Patagones on his near side.
"This is amazing," Dutta said. "Last year in the 8-goal we had the same team and lost in the semifinals. We had never gotten to the finals. This year while we were practicing we said we wanted to win this and I wanted to win with my father.
"Family is important and it's the same for Patagones as well," Dutta said. "It is amazing to play polo with your family. The Alberdis are just as much as my brothers, they are blood to me. I am very lucky to play with them and have this amazing team and organization. We have great chemistry together as a team."
Lucas Diaz Alberdi of Dutta Corp hits toward goal with Santi Wulff of Patagones defending.
Julie, a 10-year old American thoroughbred mare played by Santi Wulff, was selected Best Playing Pony.
Dutta Corp is enjoying its most successful seasons since its start at Grand Champions Polo Club. Timmy Dutta and Lucas Diaz Alberdi along with Gringo Colombres and Kris Kampsen won the Herbie Pennell Cup, Joe Barry Cup and Ylvisaker Cup.
Joaquin Avendano of Patagones reaches to hook Timmy Dutta of Dutta Corp.
"It really was a dream," Dutta said. "A first-year team in the high goal winning three tournaments is a dream. I know players who have played a few years in high goal and haven't won one. To make a team you are all friends with where it's more of a family organization really brought us to a different level of chemistry.
"To win under my father's team Dutta Corp is amazing," Dutta said. "I dreamed about this just winning one. To win all three is amazing."
Timmy Dutta of Dutta Corp outraces Joaquin Avendano of Patagones.
Dutta also kept his promise to shave his head if Dutta Corp won the three 20-goal tournaments. In October, 2018, when the team was formed, Dutta told his teammates if the team won all three tournaments, he would shave his head. Dutta and Gringo Colombres are now watching their hair slowly grow back.
"It was 100 percent worth it even though obviously my hair was one of the most important things to me," Dutta said. "
Joaquin Avendano of Patagones works the ball downfield with Tim Dutta of Dutta Corp defending.
In addition to Dutta's 10 goals, Lucas Diaz Alberdi added one goal. For Patagones, Wulff scored a team-high seven goals and Joaquin Avendano added two goals.
The final was a real family affair with fathers and sons, husband and wife and brothers.
After two close opening chukkers with Patagones leading, 3-2, after the first and Dutta Corp leading, 5-4, after the second, Dutta Corp took an 8-5 lead behind Dutta's three goals and never trailed for the rest of the game.
Timmy Dutta gets a big hug from mom Susie Dutta after being named Most Valuable Player.
"Coming in the first chukker we were a little bit sleepy," Dutta said. "We weren't on and they scored three goals right away. We had to get our game face on. In the second chukker it showed what we came to do. I was on some of my best horses and we made great plays.
Santi Wulff of Patagones driving to goal with Lucas Diaz Alberdi of Dutta Corp on his hip.
"Today's game was about playing smart," Dutta said. "It was a lot about horsepower as well but when we got the ball we wanted to make a really good play–a high percentage play, finishing the plays, making the goals, going with the ball, man first and then the ball–playing strong as a team. Each of us had to play 100 percent and we did that, I think it showed."
In addition to Dutta Corp and Patagones, other teams that competed in the 8-goal league were Beverly Equestrian, Horseware, Smithfield and WPL. It was the second consecutive year Patagones finished runner-up.
Gonzalo Avendano of Patagones works the near side shot.
Dutta Corp plans to play another 8-goal tournament, $50,000 National 12-goal and the entire May spring season at Grand Champions.
During the winter polo season, Grand Champions, the nation's largest and innovative USPA-sanctioned polo club, is hosting 24 tournaments: 6, 8, 12, 20, and 0 to 40 goals, WCT Finals, women's weekly league play and 26-goal World Polo League tournaments at both Grand Champions, Valiente Polo Farm and several other fields in the area.
Best Playing Pony Julie, a 10-year-old American thoroughbred mare played by Santi Wulff of Patagones.
Grand Champions tournaments attract a large international field of players from all corners of the world including India, Mexico, New Zealand, Chile, Costa Rica, Argentina, Canada, Ecuador, Brazil, Switzerland, France, Germany, Uruguay, Azerbaijan, Australia, South Africa, Nigeria, Venezuela and England.
Anita Avendano of Patagones, the only woman in the final and her son Inaki relax with friends and family after the game.
Season highlights for 2019 are the Sterling Cup, March 1-31 $50,000 National 12-Goal Tournament, March 1-16 John T. Oxley Memorial and March 3-24 $100,000 World Cup Tournament, a unique 0-40-goal, winner-take-all single-elimination tournament and inaugural World Polo League.
Grand Champions and Santa Rita Polo Farm is the largest and most unique polo facility in Wellington with 120 stalls in five self-contained barns, exercise track, five climate-controlled tack rooms, vet room, staff quarters, guest house and three polo fields with state-of-the-art underground irrigation including one field for stick-and-ball with plans to build more polo fields in the future.
Top Pony 8-Goal League finalists Dutta Corp and Patagones' family and friends.
Grand Champions Polo Club and Santa Rita Polo Farm caters to men, women and youth polo players at all levels and ages. Its' expert staff can customize a complete playing experience including horses, pros and certified umpires in addition to lessons and practice sessions as part of its' Polo On Demand program, created by Grand Champions President Melissa Ganzi when the club first opened in 2007.
The Polo School, a stand-alone USPA-sanctioned polo club, is dedicated to teaching polo to all ages, particularly grass roots youth. Its mission is to provide individuals opportunities in polo at every economic and ability level. Scholarships are available. The Polo School operates in Wellington January through June and September through November. Headed by Director of Operations Juan Bollini, The Polo School has nurtured several men and women polo players now playing in the pro and amateur ranks since its inception.
Grand Champions awards table for the Top Pony 8-Goal League Final at Patagones.
Photos by Ramon Casares
| | |
| --- | --- |
| | |
| The coveted Top Pony 8-Goal League trophy. | |
MARCH
Mar. 1-23, Madelon Bourdieu Memorial (6-goal)
Mar. 1-23, Limited Edition 8-Goal Series
Mar. 1-23, Top Pony 12-Goal Series
March 1-31, $50,000 National 12-Goal
Mar. 1-16, John T. Oxley Memorial (20 Goal)
Mar. 3-24, $100,000 World Cup (0-40 goal)
Mar. 6-24, World Polo League, Palm Beach Open, at Grand Champions & Valiente
Mar. 27-Apr. 14, World Polo League, Triple Crown of Polo, at Grand Champions & Valiente
Women's League (6-12 goal), Every Wednesday at Santa Rita Polo FarmAPRIL
Apr. 5-20, Las Acacias (4-8 goal)
Apr. 6-20, National President's Cup
April 2-6: Sunny Hale's Legacy WCT Finals, (8 goals, 16 goals, Open) at Grand Champions.