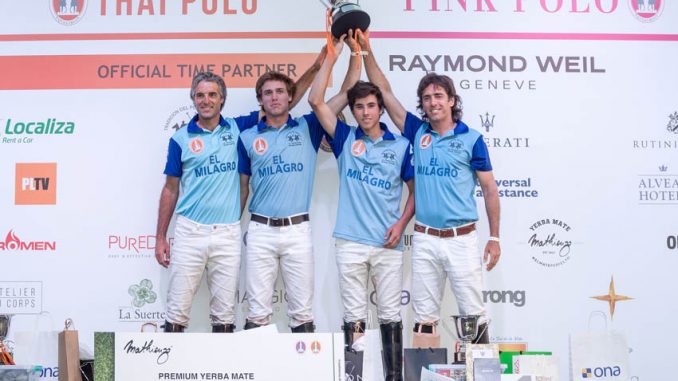 Thai Polo Club 2019 Finals
The finals of the Thai Polo and Pink Polo tournaments were played at the Thai Polo Club in General Rodriguez. A day full of polo and entertainment was enjoyed by players, friends of the club and sponsors.
Thai Polo Club Argentina presented the finals of its Thai Polo and Pink Polo cups. After ten days of exciting matches, the eagerly awaited finals arrived on Friday 8th with the winners of the 2019 season: El Milagro team became the champion of the fourth edition of Thai Polo Cup against Power Horse; in the ladies' tournament it was Thai Polo/Polo Line TV who took the Pink Polo Cup home against Marengo.
The Thai Polo Cup had 16 teams of 12 to 14 handicap goals. Players included patrons from different cities around the world and internationally renowned players like Agustin Merlos, Joaquín Pittaluga, Jerónimo del Carril, Matias Torres Zavaleta, Valentín Novillo Astrada, and many more. The final day started at 10.30 a.m. at field number 2, where Los Druidas played against Nuestra Tierra; and after a long day of definitions at different fields, everything came to an end at 5.00 p.m. when El Milagro met Power Horse.
Results
THAI POLO CUP:
El Milagro 9 (Federico Tomasevich 1 / Fermin Iturrioz 4 / Santiago Solari 6 / Segundo Amador 3) vs Power Horse 5 (Walter Scherb 1 / Francisco Benoit 2 / Octavio Olmedo 5 / Gaston Maiquez 6)
B.GRIMM CUP:
Mumbai 3.5 (Shyam Mehta 0 / Bautista Panelo 3 / Agustin Andrada 4 / Matias Torres Zavaleta 7) vs Los Nocheros 6 (Sebastian Schneberger 1 / Valentin Novillo Astrada 6 / Tomas Panelo 5 / Ramon Cassino 2)
LOCALIZA CUP:
Thai Polo (Gonzalo Tanoira 2 / Carlos Laflut 2 / Julian Sagarna 2 / Raul Laplacette 6) vs La Ensenada (Ernesto Gutierrez 0 / Gaston Bardengo 3 / Justo Mouriño 4 / Jeronimo del Carril 7)
LA MARTINA CUP:
Balanze Capital 5 (Claudio Porcel 1 / Cesar Crespo 4 / Joaquin Pittaluga 8 / Jesus Cobino 1) vs Amadeus 6 (Robert Koffer 0 / Koko Koffer 0 / Santiago Marambio 6 / Bautista Bayugar 8)
For its first time in Argentina, Pink Polo had 8 female teams from 11 to 18 handicap goals, and it included some of the best female polo players in the world such as the Hazel Jackson (10) from Britain and Lia Salvo (9) from Argentina. The tournament was born in Thailand with the charitable aim of helping the fight against breast cancer and in Argentina it was backed by the Avon Foundation, which has been working on raising awareness on the disease since 1955. With pink as its flagship color, the final had lots of details and activities beyond polo including free nail art for all the guests, a spa with facial masks, Thai massages, a shopping circuit (leather bags, hats, knitted goods, jewelry), and even a space with different food trucks.
Results
THAI POLO CUP:
THAI POLO/ POLOLINE TV 5.5 (Millie Hine 4 / Cata Lavinia 1 / Fatima Balzano 6 / Mia Novillo Astrada 6) vs Marengo 4 (Sonia Couling 1 / Mili Sanchez 6 / Lia Salvo 9 / Martina Diaz 1 )
AVON CUP:
Why Not 6 (Hanna Grill 4 / Hazel Jackson 10 / Alice Wood 1 / Peitemal Kimman 1) vs Polo 4 Pro 4 (Ines Arteta 0 / Luisa del Carril 2 / Cande Fernandez Araujo 7 / Mili Fernandez Araujo 8)
UNIVERSAL CUP:
Nipas 7 (Anita Van Der Hoever 1 / Sofia Lorenzo 4 / Jeanine Hugo 5 / Clara Cassino 7) vs Legion Extranjera 5.5 (Azucena Uranga 3 / Elina Braun 3 / Esperanza Uranga 3 / Jazmin Dupont 4)
THAI EMBASSY CUP:
La Tremenda 4 ( Stephanie Haverhals 4 / Dayner Waechter 3 / Emma Boers 5 / Ines Lalor 6) vs Katarzyna Estate 3.5 (Maitena Marre 4 / Paulina Nazarova 2 / Sofia Scuitto 4 / Maru Gimenez 6)
By the end of the day and with the sunset as its backdrop, the teams received their awards, surrounded by friends and family who had been supporting them and enjoying all the activities the club offered. After the awards ceremony the final's host, Federico Levy, together with the representatives of the Avon Foundation conducted the auction of a dress designed exclusively by Kenzo Takada for the launch of the Avon Life Color fragrance in Paris. Once the auction was over and it was already beginning to get dark, the lights of the stunning stage were lit to receive the tribute show of the cuarteto artist Rodrigo Romero. Among toasts and dancing, the day ended with a firework show.
As from the very beginning of the tournaments, the organization was a co-production between Minuto 7 and Licere International PR, who make Thai Polo Club a constantly surprising event and the best plan of the amateur polo season in Argentina. "We are very happy of our growth up year after year. Thai Polo is a tournament that landed in Argentina 6 years ago and it's here to stay, and we believe that the same thing will happen with Pink Polo, which came this year for the first time from Thailand. Seeing the results of our efforts is what motivates us to go for more. Everyone at Thai Polo is very grateful for the participation of all the players and patrons, with whom we grow along not only in polo but in the construction of the essence of Thai Polo Argentina: friendship and fun", commented Minuto 7's Manuel Cereceda.
Thai Polo Club was born in 2014 as a venture of Thai businessman Harald Link, nowadays renowned for its national and international tournaments, in which the jet set of the polo world participates.