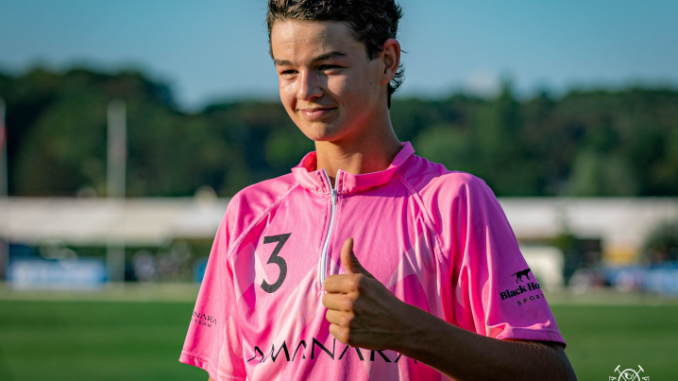 Friday, September 15, 2023
The semi-finals of both the women's and mixed Open de France were so spectacular that we can only look forward to two great finals on Sunday (12 p.m. for the women, 3.30 p.m. for the mixed). Both competitions have taken another step forward this year.
The women will be kicking off Sunday's competition with a clash between two English teams, those of 10-goalers Hazel Jackson and Nina Clarkin.
To access the final, Hazel Jackson, pillar of La Mariposa Polo Team, had to work hard as her team was being lead 4-1 in the second chukker. At this stage of the match, Lia Salvo and her Augustinus Bader team seemed to have the game in hand. Little did they know that the 4 goals were all they would mark today: the Mariposa Polo Team, and above all Hazel Jackson, scored 4 more goals in quick succession to emerge victorious with a 5-4 score. A cruel remontada.
Three outstanding French female players
In the other semi-final, French sisters Pearl and Lucie Venot put up a great fight, more than holding their own against the world's best player, England's Nina Clarkin, who had to fight hard to keep the score at 7-4, the smallest gap realized by TTR Sotheby's since the start of the tournament. Another piece of good news for French polo was the performance of the very young Margaux Guillemin, called in by Nina Clarkin to complete her team. At 14, Margaux is the youngest player in the history of this Women's Open and will be playing in the final in her first appearance at a tournament of this level, having even scored one of her team's seven goals. No doubt some of this talent is due to her genetics: her grandfather, Lionel Macaire, is still the best French player of all time.
Clash of titans
In yesterday's first final at the La Magdeleine club, the home team and their Kazak neighbors went head-to-head. For the first four chukkers, neither team was able to break away from the other; there was never more than a one goal difference with each team taking its turn at the lead. It all came down to the final chukker when Nico Pieres and his two young teammates, Antonio Heguy (20) and Beltran Laulhe (16), gave the all-important boost needed to win by two goals. "The talent of the young generation", laughed Nico Pieres. It's true that my two teammates were more than valuable to me today. I used to be the youngest in my teams, and now I feel old. Well, not that old, despite being 32. But now I'm looking at my son and I'm already thinking about my succession."
Nico, his captain Sébastien Aguettant and his two young warriors will meet a nice team, Amanara, in Sunday's final. Put together by Germany's Nicky Sen, the team played a magnificent semi-final game in Chantilly on Friday. A great moment of polo that would not have been possible without a fine opponent. And Essso, lead by Facundo Sola, fulfilled this role well, even if the final score of 11-7 might suggest otherwise. "No, no," clarifies Nicky Sen, "this game was very balanced, it was a very difficult battle, we were luckier, more successful, converting more goal opportunities. In any case, I'm happy, so happy, to be in the final on Sunday, it is a dream come true. We have been coming here for three or four years with this goal in mind, and now we have achieved it." The team's pillar, Argentinean 7-goaler Santiago Chavanne, who graced the crowd with some incredible actions together with his son, was no less happy: "Chantilly is the most beautiful tournament in Europe at this level, by far. The grounds are magnificent and eighteen teams is something incredible.
Today was complicated: it was a semi-final and we wanted to reach the final at all costs." On Sunday, Santiago and his team will meet Nico Pieres, a winner of the Argentine Open, but the strategy for this final was not yet on the agenda: "We first want to savor this victory and this place in the final, which was our objective. Tomorrow, we'll start working out our strategy for Sunday." One of the strong points of this team is Santiago's understanding with his son Lorenzo, who at 15 years of age is shaping up to be a great player of the new generation: "Yes, we don't need to talk much. Today, we have changed the positions on the field. He used to play up front, but we swapped positions with Benja (Panelo), who was more of an attacking player. Lorenzo played in the middle, hinging the ball to us up front, and he handled this new role wonderfully." This did not prevent the new No.3 from scoring four of his team's twelve goals.
Sunday will be a day of celebration for polo in France with these two finals, as well as the Trophée Castel final, a great 8-goal tournament. A village awaits visitors (free access) with fifteen exhibitors offering polo related gear and art as well as interior design, gifts, cosmetics and a few foodtrucks to enjoy this beautiful day from 11 a.m. There will also be a children's pony game (2 p.m.) followed by a roda (polo on a wheel) competition, and fifty vintage cars from the Rallye de l'Open to admire.
Women's semi-final teams and progressions:
La Mariposa Polo Team : Annalise Phillips (USA 1), Nina Fruehaufn (GER 0), Rebecca Walters (GBR, 5) and Hazel Jackson (GBR 10, 5 goals)
Augustinus Bader : Paloma Lauro (LUX, 0), Anais Rezkallah (FRA 2) , Lia Salvo (ARG 9, 2 goals) and Lucia Heyes (GER 3, 2 goals)
La Mariposa Polo Team : 1-2 / 1-4 / 3-4 / 5-4.
TTR Sotheby's : Margaux Guillemin (FRA 0), Laura Farell (GBR 1, 1 goal), Lucy Coddington (GBR 5, 1 goal) and Nina Clarkin (GBR 10, 5 goals)
Yves Delorme : Marie Louise Haupt (GER, 3), Maike Holty (GER, 4), Pearl Venot (FRA 5, 2 goals) and Lucie Venot (FRA 3, 2 goals)
TTR Sotheby's : 4-0 / 5-2 / 6-2 / 7-4.
Teams and semi-final progressions 23rd Open de France mixed :
Kazak (16) : Sébastien Aguettant (FRA 0), Beltran Laulhe (ARG 3, 2 goals), Antonio Heguy (ARG 5, 3 goals) et Nico Pieres (ARG 8, 6 goals)
La Magedeleine (16) : Alexandre Garese (FRA 0), Elena Venot (FRA 1), Facundo F Llorente (ARG 8, 3 goals) et Tito Ruiz Guiñazu (ARG 7, 5 goals)
Kazak: 2-2 / 5-4 / 7-8 / 9-8 / 11-9.
Amanara (17) : Nicky Sen (ALL 0), Lorenzo Chavanne (ARG 4, 4 goals), Santiago Chavanne (ARG 7, 3 goals), Benjamin Panelo (ARG 6, 5 goals).
Essso (16) : Ian Gallienne (FRA 0), William Harper (GBR 4), Facundo Sola (ARG 7, 6 goals), Javier Guerrero (ARG 5 1 goal).
Amanara : 1-3 / 6-3 / 8-3 / 10-6 / 12-8.