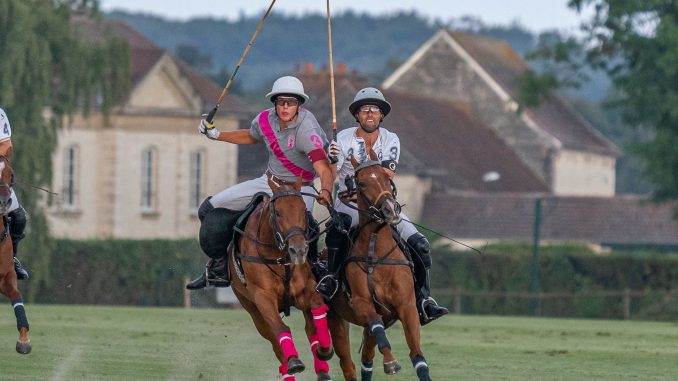 Friday September 16th, 2022
After two breathtaking semi-finals, it will be a high-level final for the 22nd edition of the Engel & Völkers French Open that will take place on Sunday at 15H30. The two finalists are Talandracas, one of the most successful teams in French polo (6 Gold Cups in Deauville, one Queen's Cup in Windsor and one French Open a long time ago) and Los Dragones, dragons who caused a sensation today by eliminating Brittany Polo Club, the great favourite of this Open after their victory three weeks ago at the Gold Cup in Deauville
To reach the final, Talandracas also took out a great team on Thursday: La Magdeleine, winner of this French Open in 2021. It was yet another great classic game that La Magdeleine took on from the start, clearly dominating the first three chukkers before Juan-Martin Zubia and Rufino Bensadon, extremely well supported by Frenchman Hugues Carmignac, woke up and took control of end of the game with a 5-1, La Magdeleine's players being unable to come back. High-level polo that has nothing to envy to what can be seen in Argentina!
Today, the team based at the Chantilly Polo Club, Los Dragones, created a surprise by defeating the fine organisation of the Brittany Polo Club. And with style! Their (not so) secret ingredient? The gifted Argentine Bautista Bayugar, author of 6 of the 7 goals of his team, capable of extraterrestrial recoveries and relaunches and succeeding in raising the level of play of his teammates, in particular of Jota Chavanne who plays a calm and effective game this year. The interventions of Sztarkman father and son were often decisive.
In short, it will be a thrilling Franco-French final, a "Deauville-Chantilly", which promises to be explosive. Los Dragones also know the taste of great victories (Gold Cup 2021, two French Open and the Polo Rider Cup last June) and will not let themselves be impressed by the name and history of their prestigious opponent. It is impossible to predict the outcome as most of the games of this magnificent 2022 edition of the Engel & Völkers French Open have often been played on the edge.
A festive Sunday
Big surprise in the women's tournament where the favourites of Coliflow (the Venot sisters) suffered a second defeat today leaving the places for the final to the English team led by handicap 10 Hazel Jackson (Rouge Absolu) and to the French women cleverly led by the relentless Caroline Anier (DS Auto St Maximin 3F). These ladies will play their final from noon.
The great Hazel Jackson (Rouge Absolu, 10-goaler) and Ambre Ploix (DS Automobile, 3-goaler) will meet again on Sunday for the final of the Open de France for women.
That day, everything is planned to welcome the public in the best conditions (free entry): a village with stands, food-trucks and an oyster bar, arrival of the Rally Open with sixty vintage cars, picnic areas at the edge of the field, demonstration of roda-polo, a young sport in full boom in Argentina (polo on a wheel), polo on shetland ponies, Cossack acrobatics with Mario Luraschi's troop … a day full of festivities and top sport starting at 11.00 at the Chantilly Polo Club.