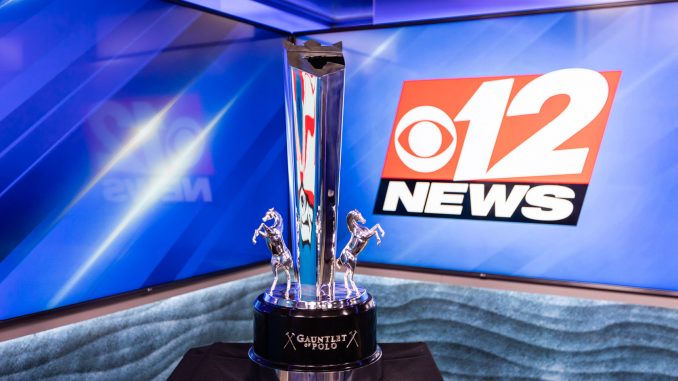 Gauntlet of Polo Trophy unveiled
On Thursday, Global Polo Entertainment and the United States Polo Association unveiled the prestigious GAUNTLET OF POLO™ trophy for the first time ever as it toured West Palm Beach. The tour included several iconic West Palm Beach locations and also included media partners CBS 12, Cox Media Group, Palm Beach County Sports Commission, Modern Luxury and now resides at the Museum of Polo and Hall of Fame in Lake Worth, Florida.
The GAUNTLET OF POLO™ trophy designed by Thomas Lyte features three horses representing the three events — the C.V. Whitney Cup, USPA Gold Cup® and U.S. Open Polo Championship® — guarding a tower that supports the Gauntlet logo with an inlaid onyx polo horse head to recognize the sport's equine partner.
As Team Pilot heads into the U.S. Open Polo Championship final this Sunday, April 21st, against Las Monjitas at the International Polo Club Palm Beach on the U.S. Polo Assn. stadium field in Wellington, FL, polo fans are on the edge of their seat with anticipation. Winning the U.S. Open Polo Championship® on Sunday would also secure Team Pilot's title as GAUNTLET OF POLO™ Champion.