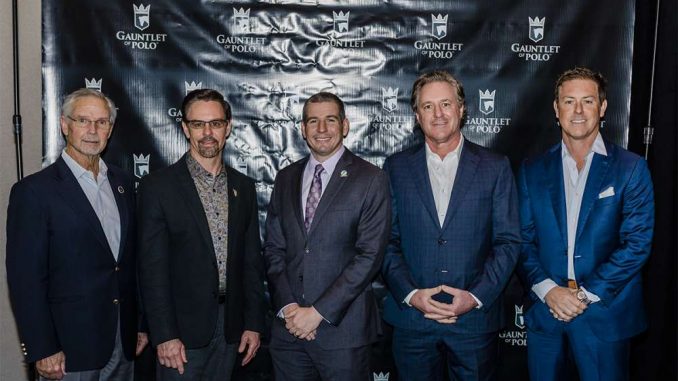 GAUNTLET OF POLO™ GARNERS NATIONAL ATTENTION
On Wednesday, January 16, 2019, a press conference was held at the Hilton West Palm Beach Hotel with over 75 participants in attendance to unveil the tournament series of the GAUNTLET OF POLO™ and the Gauntlet trophy. Members of the regional and national press heard from a panel of four, moderated by USPA Global Licensing CEO Michael Prince: Bob Puetz (United Stated Polo Association), David Cummings (Global Polo Entertainment), Mark Bellissimo (International Polo Club Palm Beach), and George Linley (Palm Beach County Sports Commission). The speakers provided an in-depth overview of the upcoming tournament series and shared details about its impact on Palm Beach County. Interviews were given to CBS News, ESPN, Fox and NBC local affiliates. In addition, polo received tremendous TV coverage on the nightly news on CBS (Channel 12), ESPN and NBC. Links to selected coverage below:
Additionally, Jared Zenni (Daily Racing Form), Agustin "Tincho" Merlos (Tonkawa) and Luis Escobar (Santa Clara) were present to answer questions from USPA Executive Director of Services Carlucho Arellano and the press. Henry Porter (Stable Door Polo) and Stevie Orthwein (Old Hickory Bourbon) also attended along with other players to share their excitement about the upcoming GAUNTLET OF POLO™ tournament series.
The GAUNTLET OF POLO™ trophy was unveiled with three horses to represent the three events guarding a tower that supports the Gauntlet logo with an inlaid onyx polo horse head to recognize the sport's equine partner. Through this prize, future generations of competitors, fans, media, and sponsors will recognize the sacrifice, skill and commitment it takes to have your name inscribed on this trophy and be crowned the Gauntlet Champion.