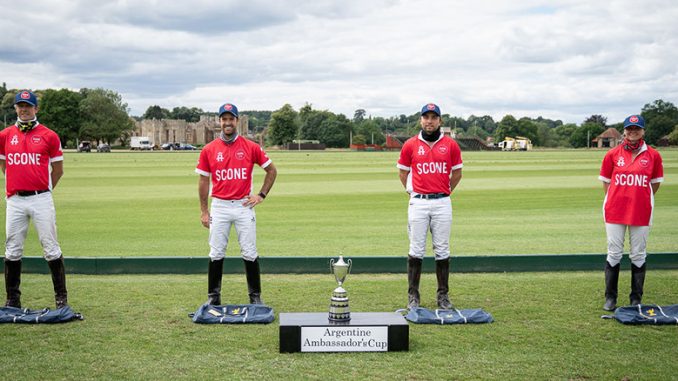 Scone and Thai Polo NW Improve to 2-1 in King Power Gold Cup
The conclusion of the third round in the 2020 King Power Gold Cup resulted in two more teams holding a 2-1 record after Scone defeated Monterosso 11-8, and Thai Polo NW claimed the 13-10 victory over Polo Stud Schockemohle at Cowdray Park Polo Club.
Led by tournament scoring leader Nico Pieres, who added an impressive nine goals to his total, Scone never trailed in their victory over Monterosso, producing an efficient attack from both the field and the penalty line. Held to zero field goals in the opening half, Monterosso built an early deficit that they were unable to overcome in the second half despite a renewed effort on the attack. Ultimately, perfect 6 for 6 penalty shooting from Pieres, along with an organized defensive effort gave Scone the 11-8 victory.
Finding Pieres with a pass, James Harper set up the opening goal of the game to give Scone the early advantage. A penalty 2 conversion extended Scone's lead further as Monterosso was unable to find the goal. Carrying their momentum into the second chukka, Scone scored the first four goals of the match by dominating open play and keeping Monterosso in their own half. Oliver Cudmore and Pieres added a goal each until Monterosso finally broke through on a penalty 4 conversion from Jeronimo del Carril. Managing just one more penalty goal, Monterosso saw their deficit grow due to a stagnant attack with Pieres highlighting an impressive first half with his sixth goal as part of Scone's 7-2 lead.
A different Monterosso team entered the second half, scoring three goals in quick succession, two off the mallet of Ignacio Toccalino to turn a five-goal deficit into just two within a span of minutes. Before the end of the chukka, Harper came forward from the #4 position for his first goal, pushing Scone's lead back to three. Despite holding Scone to zero field goals in the final two chukkas, Monterosso's foul trouble slowed their momentum, allowing Pieres to convert from the penalty line. Perfect 3 for 3 shooting from the 30-yard line over the fifth and sixth chukkas sealed the 11-8 victory for Scone.
Fresh off a victory against Park Place, Thai Polo NW used a consistent offense from the penalty line to defeat Polo Stud Schockemohle for their second win of the tournament. Perfect 5 for 5 penalty shooting from Juan Martin Zubia provided the foundation of Thai Polo NW's offense that played at a quick pace and utilized Ned Hine in the #1 position, where he shot at goal 11 times. Inaccurate shooting from the field and the penalty line for Polo Stud Schockemohle kept them from challenging Thai Polo NW in the 13-10 defeat.
Thai Polo NW and Polo Stud Schockemohle traded goals in the first chukka, leaving the score tied at 2-2, with latter utilizing the duo of Diego Cavanagh and Patrick Maleitzke on the attack. Scoring one penalty goal in each of the first three chukkas, Zubia pushed Thai Polo NW into the lead, while Hine produced in the front of the game adding two goals to push Thai Polo NW's lead to four. Two missed penalty attempts along with inaccurate 1 for 7 shooting to end the half led to Polo Stud Schockemohle's four-goal deficit.
Jack Richardson made his impact on the game in the fourth chukka, scoring one goal and adding two assists as part of a balanced Thai Polo NW attack that overwhelmed Polo Stud Schockemohle. Cavanagh and Maleitzke scored one goal each to end the Thai Polo NW run, but a large five-goal difference on the scoreboard remained with just two chukkas remaining. Foul trouble prevented Polo Stud Schockemohle from closing the gap, conceding two more penalty goals to Zubia. Despite allowing four goals in the final chukka, Thai Polo NW finished with the impressive 13-10 victory.