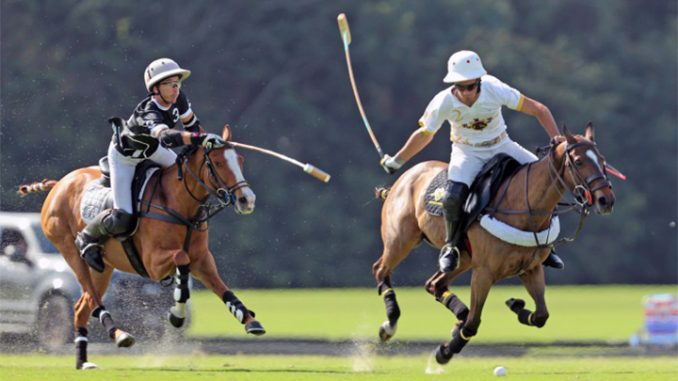 Play continued in the Joe Barry Memorial at International Polo Club Palm Beach on Field 4, as Beverly Polo claimed their first win of the tournament with the 12-10 victory against CK Shack, while Patagones captured the 10-8 win over La Fe to leave all four teams with a 1-1 record.
Faced with a rib injury to Kris Kampsen, 5-goaler Santino Magrini stepped into the competition for CK Shack. Brother to Kristos "Keko" Magrini and son of Matias Magrini, Santino lent his talents on both sides of the ball, finding an offensive rhythm in the fourth chukker on back-to-back goals. Showcasing a well defended game with little space to create plays on either end of the field, the match was ultimately decided by the efficiency of Jorge "Tolito" Fernandez Ocampo Jr.'s strength in penalty shots. Ocampo Jr. shot 71% from the line, converting 5 of 7 attempts. Despite a last chukker push from CK Shack, the power and efficiency of Beverly Polo's team play pushed Beverly Polo to the 12-10 victory.
Coming off an eight-goal performance in Beverly Polo's opening match of the Joe Barry Memorial, Ocampo Jr. found the scoreboard first from an early Penalty 3 shot. Despite missing two consecutive Penalty 4 chances, Matias Magrini finally broke through for Beverly Polo after being awarded a Penalty 1. Regrouping from their previous loss, Beverly Polo dialed in by improving their knock-ins, resulting in two productive team goals with credit to Lucas Diaz Alberdi and Ocampo Jr. Combined with another Penalty 4 from Ocampo Jr., Beverly Polo's strong team chemistry allowed them to take a 4-1 lead. Despite two missed penalty attempts from Ocampo Jr., Beverly Polo withstood a late push from CK Shack that was led by Keko Magrini to hold a 5-3 lead at halftime.
CK Shack's tight coverage on the field resulted in foul trouble and another Ocampo Jr. penalty conversion to open the fourth, however, Santino Magrini's confidence within his new team saw Magrini score back-to-back goals, including a spectacular assist from his father. As CK Shack attempted to claw back into the match, Hilario Figueras utilized his large reach to hit his first of the tournament through the posts on a nearside neckshot, maintaining a two-goal lead for Beverly Polo. Entering the final chukker of play with a two-goal lead, Ocampo Jr. hit another crucial goal from the line to extend Beverly Polo's lead back to three goals, while increasing his tournament goal total to 14. Keko Magrini responded with a dynamic goal from the field, but it was not enough to overcome the deficit as a final goal from Alberdi sealed the 12-10 victory.
Heavy rain began to douse Field 5 at the outset of the second match of the day between Patagones and La Fe. Despite controlling the pace of play early, foul trouble proved to be detrimental for La Fe, committing 14 fouls and sending Patagones to the penalty line on nine occasions. Coming off perfect penalty shooting in his last game, Tomas Garcia del Rio continued his undefended shooting prowess, accounting for all seven of Patagones penalty goals in the 10-8 win that kept their hopes alive for a place in the final.
Beneath a Floridian winter downpour, Lucas Escobar caught Patagones off guard, charging downfield for an opening La Fe breakaway goal. Setting an early offensive tone, Francisco Elizalde followed with a booming neckshot of his own for La Fe's second goal of the chukker. La Fe's strong, tight physical play initiated the first penalty shot of the match being awarded to Patagones and into the strengths of accurate awaiting shooter Tomas Garcia del Rio. Unable to evade more mistakes, La Fe conceded two more penalties to fall behind. With all of Patagones' first four goals coming off penalties, Santiago Wulff found some space for his team's first field goal. Francisco Elizalde fought to bring La Fe back within reach, trailing by just one at halftime.
The story continued to be La Fe's foul trouble as Patagones' Garcia del Rio continued to produce from the penalty line, adding two more penalty goals over the fourth and fifth chukkers to stifle any La Fe comeback attempt. Following a brief injury timeout to Louis Devaleix, Robi Bilbao scored on a nearside tail shot, followed by Escobar knocking in La Fe's only penalty goal of the match, but Patagones maintained their two-goal advantage. Completing his impressive performance with his sixth and seventh penalty goals in the final chukker, Garcia del Rio took advantage of La Fe's foul trouble throughout the game to seal the 10-8 triumph.
Following a four-way 1-1 record tie in match play, the four teams entered a shootout to determine who would advance into the final and it was Beverly Polo and Patagones emerging victorious and claiming their spot in the final on Sunday, January 16 at 3:00pm ET on the U.S. Polo Assn. Field 1.
Photo Credit ©Alex Pacheco