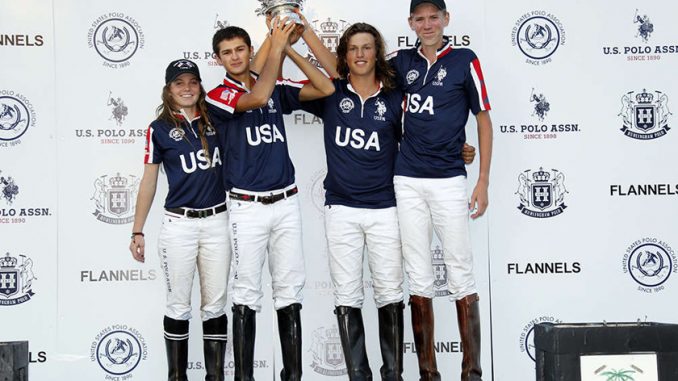 USA hoist the Junior Westchester Cup high for second consecutive year
Hosted in 2018 at the Black Bears Polo Club in Oxfordshire, England, the 2019 edition of the Junior Westchester Cup was contested on American soil on Saturday, April 20, at the International Polo Club Palm Beach in Wellington, Florida. Coached by Jared Sheldon, the USA team comprised of Bayne Bossom, Olivia Uechtritz, Lucas Escobar and Timmy Dutta defended their country's 2018 title, defeating the English team of Ned Hine, Milly Hine, Will Harper and Monte Swain-Grainer 6-4.
An exciting back-and-forth match between USA and England featured an offensive battle between Lucas Escobar and Ned Hine, scoring all the goals for their respective teams in the first half. Foul trouble kept USA off the scoreboard in the opening chukker, resulting in a 1-0 lead for England after Ned Hine converted a Penalty 2.
The possession switching in favor of USA in a dominant second chukker, Escobar's powerful drive produced three unanswered field goals including an impressive neckshot followed by multiple runs to goal, propelling USA into the lead 3-1. USA rallied against an English team determined to reduce the deficit. As the conclusion of the opening half neared, the Brits relentless pressure ultimately led to Ned Hine's first field goal of the game, ending the half 3-2 in favor of USA.
Building on their momentum from the end of the second, England launched an offensive attack downfield leading to a Penalty 2 conversion by Ned Hine to equalize the score 3-all. Continuing their fast pace of play, Harper produced an impressive goal off a steal from midfield to push England into the lead 4-3, only to concede a field goal to Bossom before the end of the chukker. The score remained tied inside the final five minutes until a long pass from Dutta fell perfectly in front of goal, resulting in a Penalty 1 awarded to USA and a slim 5-4 lead for the home team. Gaining the edge they needed from the penalty line, Escobar converted a Penalty 4 to seal the victory for USA as they held off England in the final three minutes of the fourth. Claiming the thrilling 6-4 victory, USA earned their second consecutive Junior Westchester Cup.
"I think sticking to the plan and keeping things simple worked well for us today," USA coach Jared Sheldon reflected. "Playing simple and being disciplined with the man was crucial to our win. We were not tight with the man in the first two chukkers, but once we got that worked out and started opening up our knock ins it all started to click."
Scoring four of the USA's total six goals, Lucas Escobar was named Most Valuable Player.
Best Playing Pony honors were awarded to Timmy Dutta's Diamanté, an 8-year-old Thoroughbred mare he played in the first and fourth chukkers. "It's an honor and a dream to compete in my sport for my country," Dutta said. "My teammates, coach, and the organization have been amazing and we did really well. We came out and showed who we are and I'm really proud."
England's Milly Hine was honored with the Sportsmanship Award, presented by USPA Chairman Chip Campbell.
The only female representative on the USA team, Olivia Uechtritz discussed the experience of representing the United States. "Considering the amount of time the team had to prepare and figure each other and our horses out I think it went really well!" Uechtritz said. "We had one practice together, one mixed practice, and one day of hitting penalties before the game. It was overall an amazing opportunity and such an honor to be a part of. Polo is everything to me so to be out here is just a dream."
USA will seek to secure a second Westchester Cup win on Sunday, April 28 at 3:00pm ET when Geronimo Obregon*, Jared Zenni*, Peke Gonzalez, and Mike Azzaro compete to return the illustrious Westchester Cup to U.S. soil. Fans are encouraged to watch a live broadcast of the Westchester Cup on the USPA Polo Network on uspolo.org, Facebook, Twitter and YouTube.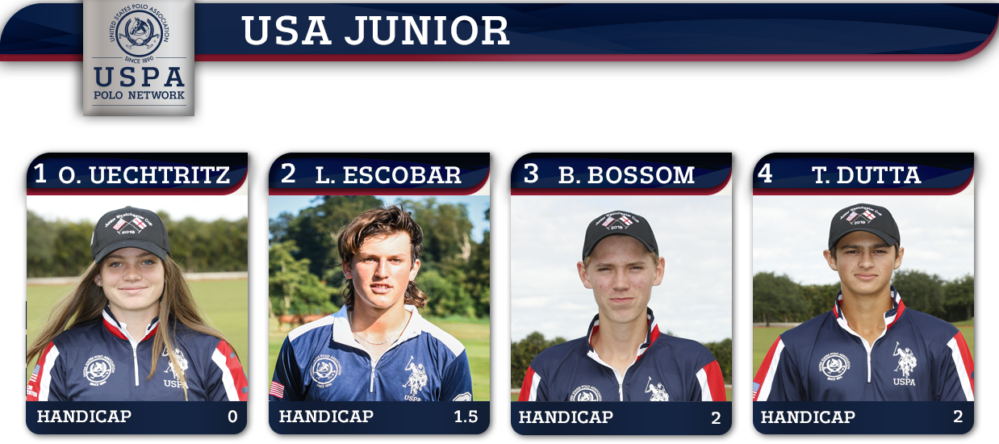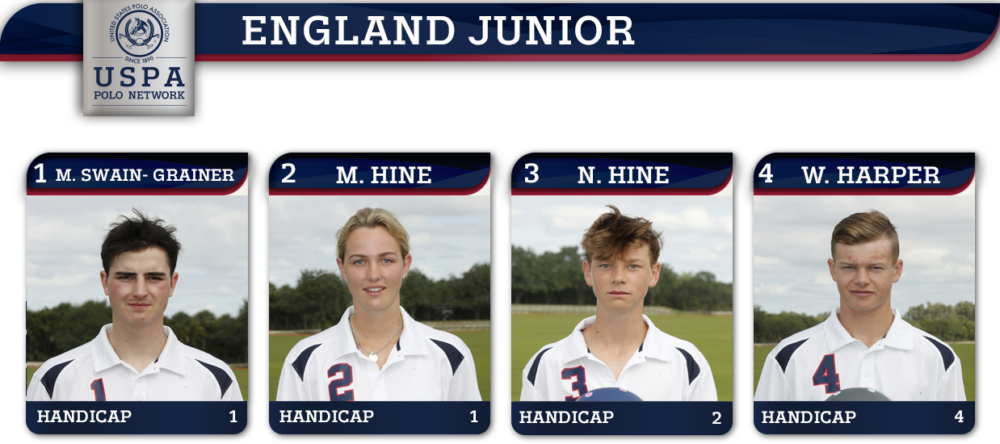 All photos ©David Lominska.