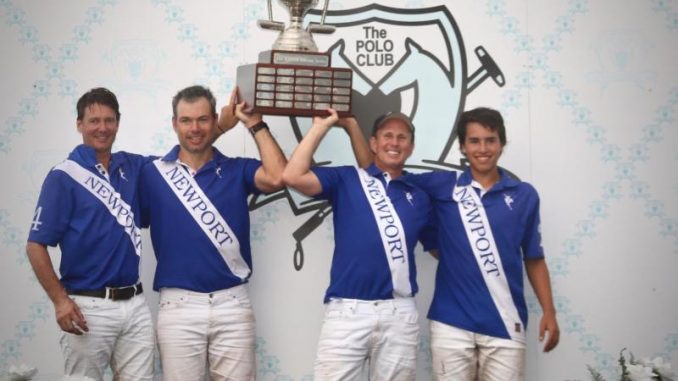 Newport Rallies To Win Limited Edition 12-Goal Tournament At Grand Champions; Michel Dorignac Named MVP
By Sharon Robb
Trailing by as many as four goals in the first half, Newport (Gene Goldstein 1, Tomas Schwencke, 2, Michel Dorignac, 6, Nick Manifold, 3) rallied in the second half for a thrilling 9-8 victory over Colorado (Rob Jornayvaz, 2, Bautista Panelo, 3, Nick Johnson, 3, Robertito Zedda, 4) in the championship final of the Limited Edition 12-Goal Series.
Newport, after trailing and rallying in all four of its games, finished the month-long, eight-team tournament with a 3-1 record.
Newport teammates Nick Manifold and Michel Dorignac work together with Rob Jornayvaz of Colorado defending.
Michel Dorignac was named Most Valuable Player after scoring five goals all on penalty conversions including a 60-yarder in the sixth chukker.
"We knew it was going to be a really tough game against a really strong team," Dorignac said. "We were at a disadvantage because we had a shootout on Thursday and all of a sudden we are in the final and didn't have time to organize a practice so we had to come to the final without a practice."
Nick Johnson of Colorado hits the ball out of the air with Tomas Schwencke of Newport defending.
Creciente, a 9-year-old bay mare played by Robertito Zedda and owned by J5 Equestrian, was selected Best Playing Pony.
Veteran pros Dorignac and Manifold, playing well above his 3-goal handicap, sparked Newport's second-half comeback. It was the first time Goldstein had played with and won a tournament with Manifold.
Nick Manifold leans into his back shot with a little help from his horse.
"It was like having two captains on the field," Goldstein said. "Nick played a huge part in the game. He knows so much of the game. I have been playing against him for 20 years and I finally got to play with him. He made a huge difference."
Newport dug itself out of a hole after being shut out in the opening two chukkers and trailing, 4-0. Behind two goals from Dorignac and one from Goldstein, Newport outscored Colorado, 3-1, in the third chukker and trailed by two at the half, 5-3.
Rob Jornayvaz of Colorado attempts to hook Gene Goldstein of Newport.
"We knew we were going to have a tough beginning and knew we had to be patient," Dorignac said. "We didn't get discouraged. We knew at some point we would have our momentum and we were going to come back."
Newport, dominating the throw-ins, outscored Colorado, 6-3, in the second half. After shutting down Colorado's offense, 4-0, Newport took the lead, 6-5, for the first time when Dorignac converted a 40-yard penalty with 1:34 left in the chukker. Dorignac converted another 30-yard penalty to end the chukker with a 7-5 advantage.
Bautista Panelo of Colorado and Michel Dorignac of Newport battle for possession.
While Colorado tried to claw its way back, outscoring Newport, 2-1, in the fifth chukker, Newport maintained its momentum and one-goal lead, 8-7 going into the final chukker.
With 5:20 left, Dorignac lofted a 60-yard penalty conversion for a 9-7 advantage. Colorado had its share of scoring opportunities including Zedda's goal at the 1:29 mark to trail by one, but two Colorado fouls in the final minute proved costly as Newport held on for the win.
Gene Goldstein of Newport races after the ball ahead of the pack.
Dorignac and Goldstein put the team together at the last minute. Originally, they were not going to play in January.
"We played a practice and then said what are we going to do for the rest of the month," Dorignac said. "Grand Champions did a great job and was flexible about pushing back the dates. That helped us decide to put a team together."
Michel Dorignac of Newport hooks Bautista Panelo of Colorado.
For 17-year-old Tomas Schwencke of Chile, it was his first U.S. tournament victory in his young career. He has been playing polo since he was 8.
"This is a dream come true for me," Schwencke said. "It was amazing we won. In the beginning we weren't finishing the plays. When we were about to get a goal they would turn the play around and run back. But then we started finishing the plays and scoring goals."
Smiles and congratulations all around for the champions.
In addition to Dorignac's five goals, Goldstein scored two goals and Manifold added one.
Michel Dorignac of Newport works the ball downfield ahead of all four Colorado players in closing minutes.
Zedda scored a team-high five goals for Colorado. Panelo had two goals and Jornayvaz had one.
Best Playing Pony Creciente, a 9-year-old bay mare owned by J5 Equestrian.
During the winter polo season, Grand Champions, the nation's largest and innovative USPA-sanctioned polo club, is hosting 25 tournaments: 6, 8, 12, 20, and 0 to 40 goals, WCT Finals and women's weekly league play and 26-goal World Polo League tournaments at both Grand Champions and Valiente Polo Farm.
Grand Champions tournaments attract a large international field of players from all corners of the world including India, Mexico, New Zealand, Chile, Costa Rica, Argentina, Canada, Ecuador, Brazil, Switzerland, France, Germany, Uruguay, Azerbaijan, South Africa, Nigeria, Venezuela and England.
Awards table for the Limited Edition 12-Goal Series Final.
Season highlights for 2019 are the Sterling Cup currently underway with two games scheduled for Sunday at 1 and 4 p.m. at Valiente Polo Farm; March 1-31 $50,000 National 12-Goal Tournament, March 1-16 John T. Oxley Memorial and March 3-24 $100,000 World Cup Tournament, a unique 0-40-goal, winner-take-all single-elimination tournament.
The biggest highlight of the season is the debut of the Feb. 5-April 15 World Polo League, the nation's only 26-goal league featuring some of the world's top players and team sponsors at Grand Champions and Valiente Polo Farm. The WPL will fill the void created when the U.S. Polo Association, the sport's governing body, announced it was lowering high goal polo to 18-22 goals at International Polo Club and would not have 26-goal polo and instead feature the Gauntlet Polo Series with the C.V. Whitney Cup, USPA Gold Cup and U.S. Open.
World Polo League Commissioner Dale Smicklas talks about the upcoming draft and draw party Tuesday at 6:30 p.m. at Valiente Polo Farm.
Photos by Gabrielle Stodd
Grand Champions and Santa Rita Polo Farm is the largest and most unique polo facility in Wellington with 120 stalls in five self-contained barns, exercise track, five climate-controlled tack rooms, vet room, staff quarters, guest house and three polo fields with state-of-the-art underground irrigation including one field for stick-and-ball with plans to build more polo fields in the future.
Grand Champions Polo Club and Santa Rita Polo Farm caters to men, women and youth polo players at all levels and ages. Its' expert staff can customize a complete playing experience including horses, pros and certified umpires in addition to lessons and practice sessions as part of its' Polo On Demand program, created by Grand Champions President Melissa Ganzi when the club first opened.
The Polo School, a stand-alone USPA-sanctioned polo club, is thriving. It is dedicated to teaching polo to all ages, particularly grass roots youth. Its mission is to provide individuals opportunities in polo at every economic and ability level. Scholarships are available. The Polo School operates in Wellington January through June and September through November. Headed by Director of Operations Juan Bollini, The Polo School has nurtured several men and women polo players now playing in the pro and amateur ranks since its inception.