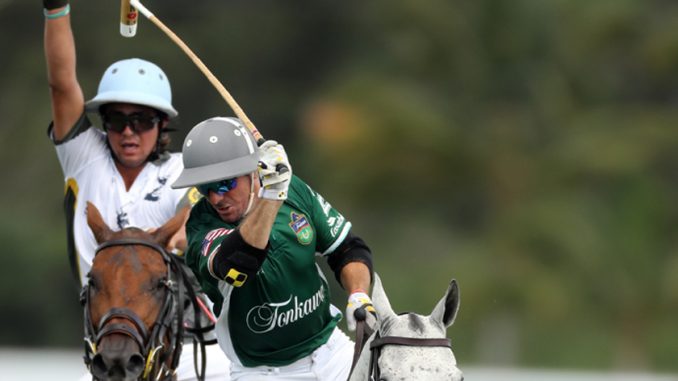 Tonkawa Claims Crucial Victory on Day 11 of CaptiveOne U.S. Open Polo Championship®
With a place in the quarter-finals on the line in the 2019 CaptiveOne U.S. Open Polo Championship®, Tonkawa defeated Stable Door Polo 17-9 in a dominating victory, while Iconica remained undefeated with the 8-7 overtime victory against La Indiana at the International Polo Club Palm Beach.
A fast-paced offense from Tonkawa featured a variety of runs and passes into space, producing a relentless attack that finished with 22 shots in the game, overwhelming the Stable Door Polo defence. With a low foul count, the game was left in open play, which favoured the speed of Tonkawa, with three players claiming three assists each in the victory. In the early stages of the game, both teams struggled to find the mark on their shot attempts to goal, with Tonkawa holding a two-goal lead, despite missing six of their first eight shots. Their accuracy improved before the end of the half, led by a three-goal third chukka from Sapo Caset, while keeping possession away from Stable Door Polo to build a five-goal lead. Combining for five second half goals, Victorino Ruiz Jorba and Santiago Toccalino looked to close the deficit, but Tonkawa maintained their potent attack, with Agustin Merlos and Sterling Giannico contributing to the scoresheet, keeping Tonkawa in a commanding lead. A five-goal fifth chukka sealed the victory, led by four goals from Caset who ultimately finished with an impressive nine goals in the 17-9 victory.
The final game of the day featured a hard-fought defensive battle between Iconica and La Indiana that required overtime with Iconica winning the open play battle and La Indiana generating offense from the penalty line. Both teams received limited chances from the field, but Iconica finished an efficient 7 for 12, while La Indiana managed just 3 for 11 in the defeat. Iconica raced out to a 3-1 lead on perfect shooting in the opening chukker. La Indiana tightened their defence, holding Iconica to just one goal over the next two chukkas while Facundo Obregon brought the game into a 4-4 tie by halftime, thanks to two penalty conversions. A back and forth second half saw the lead change hands three times, with neither team able to separate themselves. Peke Gonzalez and Sebastian Merlos scored a field goal each to give Iconica the slim one-goal in the fifth chukka, but La Indiana responded with back-to-back goals to begin the final chukka to reclaim the lead. With time expiring, Iconica's leading goal scorer Gonzalez added his third goal of the game, sending the game into overtime. Failing to convert either penalty attempt during regulation, Iconica received a penalty 2, with Gonzalez converting the chance to secure the victory for Iconica and keep his team undefeated as they claim the top seed in Bracket II.