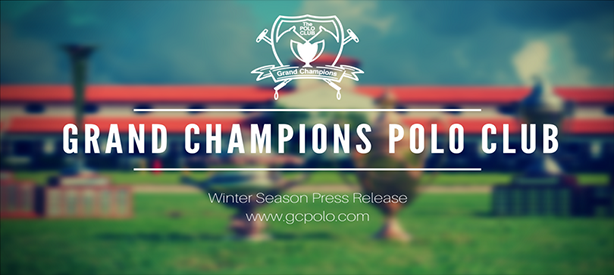 In a thrilling season-opener, Patagones rallied to win its first game of the Limited Edition 12-Goal Series Saturday at windswept Valiente Polo Farm.
By Sharon Robb
Trailing Colorado (Rob Jornayvaz, 2, Bautista Panelo, 3, Robertito Zedda, 4, Nick Johnson, 3) by as many as four goals in the third and fourth chukkers, Patagones (Benjamin Avendano, 3, Tony Calle, 3, Santi Wulff, 5, Santi Avendano, 1) clawed its way back for a 13-12 victory.
The gang is all here, Patagones and Colorado players, umpires, family and friends.
Benjamin Avendano, 20, scored a game-high eight goals including the tying and game-winner and was selected Most Valuable Player.
Dolfina Fausto, a 7-year-old ridden by Robertito Zedda, was named Best Playing Pony.
"We started playing way better offensively in the second half," Avendano said. "We switched up everything. We changed the knock-ins and sent my brother to stop Panelo and slow him down a little because he's really good. I started going more to Robertito Zedda.
Patagones players Santiago Avendano and Tony Calle and Colorado's Rob Jornayvaz poised for the third chukker throw-in.
"We are happy with the win," Avendano said. "And, hopefully Sunday's game will be the same."
Patagones (Joaquin Avendano, 2, Benjamin Avendano, 3, Santiago Toccalino, 8, Tomas Garcia del Rio, 7) will play undefeated Dutta Corp (Timmy Dutta, 2, Lucas Diaz Alberdi, 5, Gringo Colombres, 7, Kris Kampsen, 6) in the Joe Barry Cup final.
Benjamin Avendano of Patagones goes for the near side hook.
Colorado dominated the first half jumping out to a 3-1 lead in the opening chukker with two goals from Zedda and one from Panelo. Colorado maintained its lead in the second chukker at 5-3 and held a 9-5 halftime advantage after outscoring Patagones, 4-2, in the third chukker.
After a few halftime adjustments, Patagones was the dominant team in the second half outscoring Colorado, 8-3, in the final three chukkers. Wulff and Benjamin Avendano combined for the eight second-half goals including three penalty conversions by Avendano.
Bauti Panelo of Colorado goes for the near side back shot with Santi Wulff of Patagones defending.
"I tried to stay calm and breathe," Avendano said referring to his clutch open goal penalty conversions to tie and win the game. "I tried to aim at the flag man behind the goal posts."
Added Calle, "Benjamin is a machine on the field and off the field so I had no doubt he was going to make those penalty shots."
Benjamin Avendano of Patagones avoids the hook of Nick Johnson of Colorado.
New teammate Calle, 24, a Team USPA member, blended in well with the chemistry of Wulff and the Avendano brothers.
"It's a privilege to be out there playing with them, I'm very happy to be a part of this team," Calle said. "I'm very thankful for the opportunity they gave me. It's been fun. I brought my horses and they responded well today so I am pretty happy about that.
Nick Johnson of Colorado hits past Santi Wulff of Patagones.
"In the beginning of the game we were a little disorganized and we paid for it in some of the attacks that they had with four against three of us. After that we were able to catch our man well and be a little more patient with the ball when we had a great shot on goal. The field was beautiful and the ball was going in."
Also scoring for Patagones was Wulff with four goals and Calle added one goal. Zedda led Colorado with a team-high six goals. Jornayvaz had four goals. Panelo and Johnson each had one goal.
"It's a new team and our first game with the horses so it's kind of a gamble, you don't know how the horses are going to be until you start playing them," Wulff said. "I wasn't surprised at coming back. I never doubt our team. We kept pushing and I thought it was going to happen and it did happen.
World Polo League Commissioner Dale Smicklas talks about the inaugural 26-goal league with ChukkerTV's Dale Schwetz during halftime.
"The kids played amazing," Wulff said. "Benji played at an amazing level the whole game. Santi and Tony increased the level of their polo chukker by chukker. It didn't take much time for Tony to blend in with the team. He's been playing really good polo and he's been learning from really good players. It's easy to understand his style.
"I think Benji feels confident, he plays with a lot of intuition and confidence. He asked me to take the penalty and I told him go ahead and take it."
Eight teams, featuring some of the sport's top players is competing in the month-long Limited Edition 12-Goal Series.
Rob Jornayvaz of Colorado works the near side shot with Santi Wulff of Patagones defending.
In last year's January Limited Edition 12-Goal finale, Palm Beach Equine (Nico Escobar, Nick Manifold, Gringo Colombres, Scott Swerdlin) rallied for five goals in the final chukker to knock off defending champion Patagones (Joaquin Avendano, 1, Robi Bilbao, 4, Benjamin Avendano, 2, Santi Wulff, 5) with a thrilling 13-12 victory in a battle of unbeaten teams. It was the second time in three years Palm Beach Equine had won the title.
The much-anticipated league play at Grand Champions Polo Club got under way also with the 6 and 8-goal tournaments at the nation's largest and innovative USPA-sanctioned polo club, nestled in the heart of the world's winter equestrian capital.
Benjamin Avendano of Patagones defends Colorado's Robertito Zedda's shot.
In the Metropolitan 6-goal opener, Bank Mills/Amista Polo (Hope Arellano, 1, Lucas Arellano, 2, Agustin Arellano, 3, Kylie Sheehan, 0) defeated Mayer Ranch (Landon Daniels, 0.5, Clark Mayer, 0.5, Justin Daniels, 2, Brenden Stenzel, 2), 5-4, on Lucas Arellano's winning goal in the fourth chukker.
In the Aspen Valley Cup 8-Goal opener, Altair (Ashley Busch, 0, Keko Magrini, 1, Brandon Phillips, 4, Nick Manifold, 3) defeated Horseware (Jason Wates, 3, Jack Thompson, 0, Tom MacGuiness, 0, Hugo Lloret, 5), 14-10. Phillips scored a game-high seven goals including four penalty conversions.
Throughout the season, Wellington-based ChukkerTV will live stream every Saturday Feature Game and all tournament finals.
Nick Johnson of Colorado reaches back for the ball.
Grand Champions tournaments attract a large international field of players from all corners of the world including India, Mexico, New Zealand, Costa Rica, Argentina, Canada, Ecuador, Brazil, Switzerland, France, Germany, Uruguay, Azerbaijan, South Africa and England.
Season highlights for 2019 are the Jan. 26-Feb. 9 Sterling Cup, March 1-31 $50,000 National 12-Goal Tournament, March 1-16 John T. Oxley Memorial and March 3-24 $100,000 World Cup Tournament, a unique 0-40-goal, winner-take-all single-elimination tournament.
The biggest highlight of the season is the debut of the World Polo League, the nation's only 26-goal league featuring some of the world's top players and team sponsors at Grand Champions and Valiente. The WPL will fill the void created when the U.S. Polo Association, the sport's governing body, announced it was lowering high goal polo to 18-22 goals at International Polo Club Palm Beach for three years and would not have 26-goal polo including the C.V. Whitney Cup, USPA Gold Cup and U.S. Open.
Santi Wulff of Patagones works the ball downfield with defensive help from teammates Santiago Avendano and Tony Calle.
Grand Champions and Santa Rita Polo Farm is the largest and most unique polo facility in Wellington with 120 stalls in five self-contained barns, exercise track, five climate-controlled tack rooms, vet room, staff quarters, guest house and three polo fields with state-of-the-art underground irrigation including one field for stick-and-ball with plans to build more polo fields in the future.
Grand Champions Polo Club and Santa Rita Polo Farm's expert staff can customize a complete playing experience including horses, pros and certified umpires in addition to lessons and practice sessions as part of its' Polo On Demand program, created by Grand Champions President Melissa Ganzi when the club first opened.
Best Playing Pony Dolfina Fausto played by Robertito Zedda of Colorado.
Photos by ChukkerTV
The Polo School, a stand-alone USPA-sanctioned polo club, is thriving at Grand Champions and Santa Rita Polo Farm. It is dedicated to teaching polo to all ages, particularly grass roots youth. Its mission is to provide individuals opportunities in polo at every economic and ability level. Scholarships are available. The Polo School operates in Wellington January through June and September through November. Headed by Director of Operations Juan Bollini, The Polo School has nurtured several men and women polo players now playing in the pro and amateur ranks since its inception.