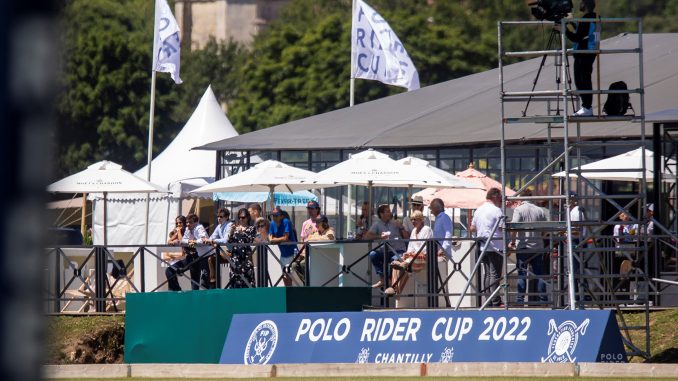 Deauville Int. Polo Club, Araucaria Polo Club, Hong Kong Polo and Hamburger Polo Club reach the Quarterfinals of the POLO RIDER CUP
Deauville International Polo Club, Araucaria Polo Club, Hong Kong Polo Association and Hamburger Polo Club completed the Quarterfinals of the 2022 POLO RIDER CUP
In the opening game of the day, Deauville International Polo Club won Araucaria Polo Club by 6-7 goals in a very close match and both teams secured a spot in the penalty shootout in group C.
Araucaria took the lead in the first chukker by 2-0 goals but Juan José Storni scored four consecutive goals from the field in the second chukker to place Deauville Int. Polo Club in front of the score, 3-4 goals.
The third and fourth chukkers ended with a tie result 5-5 goals, but in the fifth chukker, Pierre-Henri N'Goumou from fault and Ulysse Eisenchteter with an amazing team goal from the field increased the gap by 5-7 goals. Luca Meier narrowed the gap with a field goal at the end of the fifth chukker but the result didn't change and Deauville Int. Polo took the win by 6-7 goals.
At the end of the day, the penalty shootout disputed between Deauville International Polo Club, Araucaria Polo Club and Polo Club Niederweiden from group C resulted into the classification of Deauville International Polo Club and Araucaria Polo Club.
The second match of the day saw the victory of Hamburger Polo Club against BP Polo Malaysia by 7 to 11 and secured a spot for the penalty shootout in group D.
A very intense game in the first chukker ended with 2-2 goals but in the second chukker, Hamburger Polo Club took the lead in the game by 2 – 5 goals.
Just after the start of the third chukker, Daniel Craseman was replaced by as was not feeling good. The chukker ended with a 3 goals lead for the German team. At the end of the match Hamburger Polo Club won by 7 to 11 goals and dispute a place for the quarterfinals in the penalty shootout.
After the penalty shootout for the group D teams, Hong Kong Polo Association and Hamburger Polo Club were classified for the Quarterfinals and BP Malaysia will play the subsidiary cup.
POLO RIDER CUP – DAY 5:
ARAUCARIA POLO CLUB 6 – 7 DEAUVILLE INTERNATIONAL POLO CLUB
Score progression: 2-0 / 3-4 / 4-4 / 5-5 / 6-7 / 6-7
Araucaria Polo Club: Luca Meier 3 (1 goal), Fabian Bolanterio 1 (4 goals), Adrian Laplacette 2 (6 goals) Fabio Meier (1 goal). Total HC: 12
Deauville Int. Polo Club: Ulysse Eisenchteter 1 (0 goal), Patrick Eisenchteter (1 goal), Pierre-Henri N'Goumou 2 (6 goals), Juan José Storni 4 (5 goals). Total HC: 12
Umpires: G. Lucero – R.Silva // H.Iturraspe

BP POLO MALAYSIA 7 – 11 HAMBURGER POLO CLUB
Score progression: 2-2 / 2-5 / 3-7 / 5-10 / 6-11 / 7-11
BP Malaysia: James Beh 0 (0 goal), Victor Louarn 1 (1 goal), Tomas Panelo 4 (8 goals) Garvy Beh 2 (3 goals). Total HC: 12
Hamburger Polo Club: Caesar Crasemann 4 (4 goals), Heinrich Dumrath 7 (4 goals), Ramiro Zavaleta (4 goals), Daniel Crasemann / Hussein Abosaid (0 goals). Total HC: 12
Umpires: R.Silva – G.Villanueva // S.Anca

Fixture and Teams
Check results at http://chukkerapp.com/
The POLO RIDER CUP continues on Monday, June 13
02:00 pm Coronel Suarez Polo Club vs Polo Park Zürich
05:00 pm Berlin Polo vs Las Brisas Poloi Club of Chicago