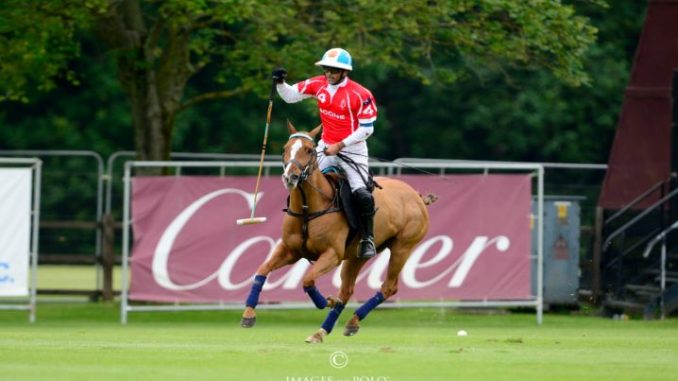 Scone Polo 9 – 7 King Power
Monterosso 12 – 9 White Crane
Rain had forced the Polo Office at Guards Polo Club to move the first Cartier Queen's Cup Quarter-Final on to the Club's Queen's Ground. It was a fitting venue for one of the best games of the tournament so far. Scone Polo won the match but there was nothing between these teams for almost the entire game. All eight players contributed to the play and it was a joy to watch. Jaime Garcia Huidobro was commentating for Guards TV and said in the second chukka that "the blue team [King Power] need to take their chances". This they did time and time again. Hilario Ulloa was brilliantly backed up by Fran Elizalde, delivering some great horse races to goal. Charles Cooney, who has been substituting for the injured Hugo Lewis throughout this competition, was brilliant in defence, riding off more experienced players with great success. Top Srivaddhanaprabh has already impressed in this year's competition with his long runs up the field, but today he was inspired. This led to him scoring the fifth goal of the game in the second chukka, firing through a huge shot and he was at the centre of the action throughout this game.
Such skill was replicated on the opposing side with Isidro Strada covering a lot of ground all the time and young Poroto Cambiaso continuing to impress with his cool and calm attitude in the saddle. This was perfectly highlighted in the sixth when he lost his mallet head but did not want to leave his team a man down so struck the ball with the handle instead! Despite only playing with his team for the first time this season just a few days earlier, David Paradice found himself in several horse races against Top and was very much part of his team's success today. Of course bringing the Scone team together was their number four, Adolfo Cambiaso Senior. It is hard to explain to a non-polo person Adolfo's dominance of the game but today is a good example. He stayed in the background in the early chukkas but when it mattered AC was everywhere. With the scores level (7-7) going into the sixth, Strada converted a 30-yard penalty to give Scone Polo the narrowest of leads. Then, with just a couple of minutes left, Adolfo produced a massive hit to goal from some distance to consolidate Scone Polo's victory. As Jaime said on the TV commentary, "wow".
The second quarter-final today, played on Guards Polo Club's Duke's Ground, was a repeat of the final league match last Wednesday. Monterosso may have again beaten White Crane, but today's game was a million miles away from that earlier league match. This was a game that offered plenty of fast play, with both teams regularly taking the ball to goal, only to be turned in the opposite direction at the last minute.
White Crane (who received 2 goals on handicap) kept themselves in contention for much of match. They led 4-2 after the first chukka thanks to some great play from Nico Pieres and James Harper. The latter had an outstanding game. James is an expert at keeping his team's back door firmly shut and did exactly that today. He was also able to find goals and had brought Jasmine Calvert-Ansari's team, playing in their first Cartier Queen's Cup tournament, very much back into contention halfway through the fifth (10-9) by scoring two goals in quick succession. Andrew Blake Thomas was also strong in defence, making life as difficult as possible for Monterosso.
In reply, Monterosso delivered some wonderful-to-watch, four-man polo. Their consistency allowed them to pull ahead (6-4) at the end of the second and they then led going into every subsequent chukka. Ignacio Toccalino, who has been impressive for Monterosso in this tournament, ensured this match was no exception. His distinctive blue hat seemed to always be in the right place at the right time and with Pelon Stirling playing some lovely open polo, this partnership proved difficult to break down. Add the talented, young American, Mackenzie Weisz, also playing in his first Cartier Queen's Cup tournament, into this mix and Monterosso retained their unbeaten status, successfully pulling away in the final chukka. Last year Monterosso won the subsidiary Cartier Trophy but this year they seem determined to add the Cartier Queen's Cup to their collection.
Images copyright Images of Polo