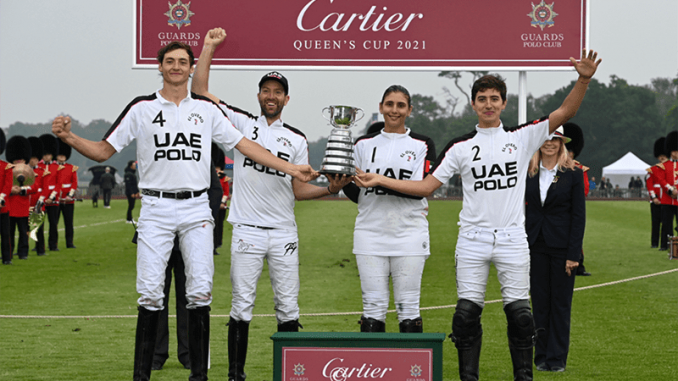 UAE Polo Team Raises the Cartier Queen's Cup
The much-anticipated conclusion to the prestigious Cartier Queen's Cup was held on Sunday on the Queen's Ground at Guards Polo Club between UAE Polo Team and Scone Polo. After 40 games of competition, UAE Polo Team emerged victorious, raising the Cartier Queen's Cup after the 10-6 victory over Scone Polo.
Intriguing storylines were seen on both sides with UAE Polo Team returning to high-goal play, while Adolfo Cambiaso was in search of his first Cartier Queen's Cup title alongside his son Poroto. A back-and-forth opening half left little separating the two teams, but an 8-1 run in favour of UAE Polo Team propelled them to victory. Led by the seven-goal performance of Polito Pieres, UAE Polo Team controlled possession in open play, outshooting Scone Polo 26-15, while holding their opponent's potent offense to just one field goal over the final four chukkas. With Pieres attacking relentlessly, Tomas Beresford played a crucial role in UAE Polo Team's victory, adding two penalty conversions while also collecting three assists. An organized defensive effort led by the likes of Beresford and Tomas Panelo, kept Scone Polo off the penalty line and consistently regained possession to begin the counterattack. Despite both teams shooting just 27% from the field, UAE Polo Team's extra scoring opportunities were the difference in the match in a memorable return to the Cartier Queen's Cup. 

Scone Polo's father-son connection wasted little time to open the scoring as Adolfo Cambiaso hit a pass from a Penalty 5 that was run in by Poroto Cambiaso to give Scone Polo the 1-0 lead. Adding a penalty 3 conversion, Adolfo Cambiaso doubled Scone Polo's lead as they were seemingly in control of the game early, but in the final seconds of the first chukka, UAE Polo Team responded with a goal each from Pieres and Beresford to leave the score tied at 2-2. Another push from Scone Polo resulted in them retaking the two-goal advantage after scoring on consecutive plays. However, UAE Polo Team continued to provide a response, pressuring the Scone Polo defense throughout the rest of the half, holding the 13-2 shot advantage. Inaccurate shooting prevented UAE Polo Team from taking a commanding lead, but they edged ahead by one after two more goals from Pieres put them ahead 5-4 entering halftime.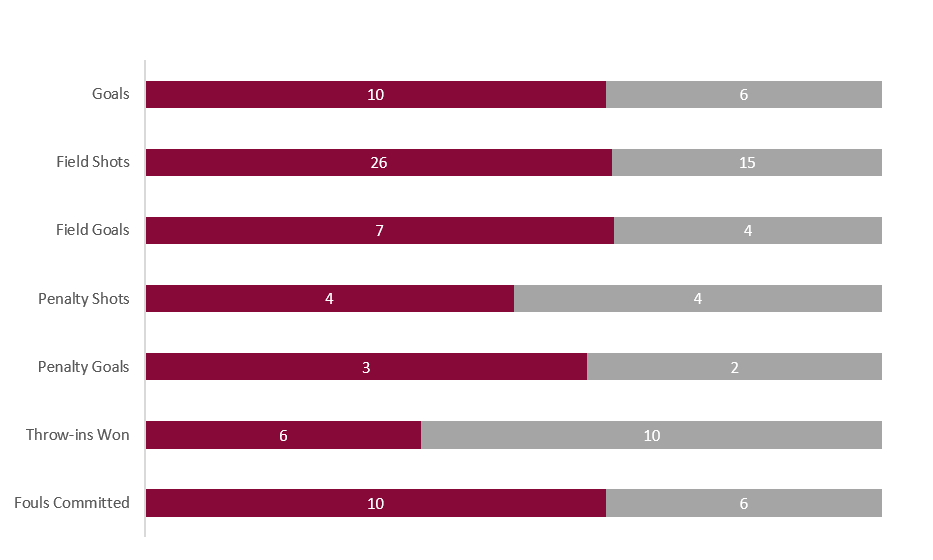 The momentum remained in UAE Polo Team's favour after the break as they continued to dominate possession and leave Scone Polo in their defensive half. Seven more shots at goal, produced two goals, both coming from Pieres and assisted by Beresford as the duo extended the lead to four. The most dangerous Scone Polo player from the field, Poroto Cambiaso scored his second goal to end the run, but it was a brief reprieve as UAE Polo Team completed an 8-1 run that gave them the 9-5 lead with one chukka to play. In desperate need of offense, Scone Polo shot at goal from distance but were unable to find the mark as the clock ticked down and time began to run out. Scoring his seventh goal, Pieres secured the victory for UAE Polo Team as the final bell sounded and they celebrated the 10-6 victory and the 2021 Cartier Queen's Cup title.