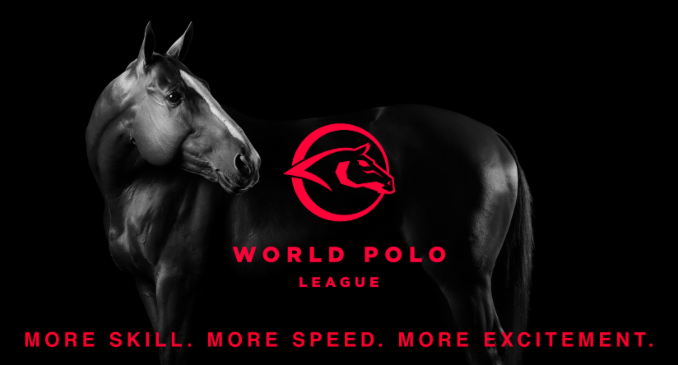 Scone Knocks Off Audi In Overtime; Grand Champions Wins Opener In World Polo League Founders Cup Action; Doubleheader On Saturday
After three days of action, four teams remain undefeated in World Polo League Founders Cup play.
By Sharon Robb
On Thursday, Scone (David Paradise, A, Guillermo Terrera, 8, Alejandro Taranco, 8, Pelon Stirling, 10) improved to 2-0 with a stunning 10-9 overtime victory over Audi (Marc Ganzi, 2, Nic Roldan, 8, Pablo MacDonough, 10, Kris Kampsen, 6) at Valiente Polo Farm in the opening game of a doubleheader.
Pablo MacDonough of Audi retrieves the ball while everyone else is looking behind them.
In the second game, Grand Champions (Grant Ganzi, 2, Juancito Bollini, 4, Rodrigo Andrade, 9, Juan Martin Nero, 10) won its tournament opener with a thrilling 13-12 win over Flexjet (Melissa Ganzi, A, Alfredo Bigatti, 8, Alejandro Novillo Astrada, 8, Pablo Spinacci, 6).
Melissa Ganzi of Flexjet on her way to scoring one of her team-high four goals against Grand Champions.
After a day's rest, World Polo League play resumes Saturday with two games. At 11 a.m. Colorado (1-0) plays Alegria (0-1) at Jan Pamela Field and at 4 p.m. Valiente (1-0) plays host to Black Watch (0-1) at Valiente Polo Farm.
On Sunday, Audi plays Grand Champions in the featured match at Grand Champions Polo Club at 4 p.m.
In Thursday's opener, Argentine 8-goaler Guillermo Terrera scored the winning goal in overtime at 7:06 to enable Scone to remain unbeaten. Terrera finished with three goals.
David Paradise of Scone defends Marc Ganzi of Audi while he waits for a pass from Nic Roldan.
"We had a few chances in the goal mouth that they saved," Alejandro Taranco said. "At the end there was the throw-in. Pelon picked up the ball, hit it and it bounced on all three players, Terrera picked it up and put it in. It was a simple play."
Stirling led Scone with a team-high five goals. Taranco added one goal and Scone picked up one goal on handicap.
Pelon Stirling of Scone leans into his shot with Pablo MacDonough of Audi on his hip.
"We were always coming from behind," Taranco said. "We would tie, go ahead, go behind. We didn't play our best game but it was good enough to win. This was a big win for us. It's great for David and this team."
Penalties played a key role in the lack of flow and rhythm throughout the game. The fifth chukker alone took 17 minutes to play.
Audi's Marc Ganzi works his way to goal with David Paradise of Scone defending.
"It was tight and nobody wanted to leave any space and maybe we were crossing some lines," Taranco said.
The lead changed hands 11 times and was tied seven during regulation. Scone started off with a 2-1 lead to open the first chukker and Audi bounced back outscoring Scone, 3-0, to lead 4-2 after the second chukker. Audi maintained the lead at halftime, 5-4.
Alejandro Taranco of Scone reaches to hook Marc Ganzi of Audi.
The teams traded leads throughout the second half before ending the final three chukkers, 5-5, 7-7 and 9-9. With 2:52 minutes left in regulation, MacDonough converted a 40-yard penalty to put Audi in the lead, 9-8. Less than a minute later, Stirling lofted a 40-yard penalty to tie 9-9.
Stirling went down with 39 seconds left in regulation after getting hit in the throat. Trainers worked on Stirling who was able to return to the game. He was also treated with ice packs after the game in the players' tent.
For Audi, Ganzi and MacDonough each had three goals. Roldan had two and Kampsen added one.
Pablo MacDonough of Audi stretches to hook Guillermo Terrera of Scone.
It was another close game in the second game of the doubleheader at windswept Grand Champions Polo Club.
With the game tied 11-11 going into the sixth chukker, Ganzi scored on a nice run off the throw-in to give Grand Champions the lead, 12-11, at the 7:18 mark. Two minutes later, Andrade added another goal for a 13-11 lead.
Melissa Ganzi scored her game-high fourth goal to come within one goal but Flexjet ran out of time as Nero and Bollini went on the defensive and ran out the clock.
Grant Ganzi of Grand Champions works the ball downfield with Alfredo Bigatti of Flexjet defending.
"All the games have been close because they are all good teams," Grant Ganzi said. "This was a good win but we are far off from making our goal to making the final. We have two really tough games ahead. A win on Sunday is very important. We have to catch up to Scone. They started off 2-0 before we even got on the field."
Grand Champions got balanced scoring. Argentine 10-goaler Nero led with four goals. Ganzi, Bollini and Andrade each had three goals.
Juan Martin Nero of Grand Champions works the ball with Alfredo Bigatti of Flexjet defending.
"I think every team in this league is good," Ganzi said. "The first tournament a lot of teams are getting their horses ready and figuring out how to play with each other. Once the teams start to jell you are going to see games won by one or two goals every game."
Grand Champions has chemistry among its players already. They have all played with each other in various tournaments. Ganzi, Bollini and Nero were members of last year's U.S. Polo Assn semifinalist in the U.S. Open.
Juancito Bollini of Grand Champions goes to hook Pablo Spinacci of Grand Champions.
"It's good to have the same team back from last year plus a strong player like Rodrigo," Ganzi said. "I have played with all these guys separately and playing together with them now is a real privilege."
Melissa Ganzi had a team-high four goals for Flexjet. Bigatti had two goals and Novillo Astrada, playing despite stitches on his lip, added one. Flexjet picked up five goals on handicap.
With prize money on the line starting in the semifinals, eight teams are competing in bracket play to determine the two finalists for the March 3 championship at Grand Champions Field 2 at 4 p.m.
Rodrigo Andrade of Grand Champions and Alfredo Bigatti of Flexjet both go after the ball.
The top four teams in Bracket A are Alegria, Valiente, Black Watch and Colorado. The top four teams in Bracket B are Grand Champions, Scone, Flexjet and Audi. Because they are in the same bracket, there will be no Colorado-Valiente showdown in the final. Only one will advance into the final.
The WPL is being live streamed on ESPN Deportes and ChukkerTV/Horseplay with Gus Whitelaw calling the action. For more information go to www.worldpolo.org.
Rodrigo Andrade of Grand Champions works the near side with three Flexjet players in pursuit.
Co-founded by Grand Champions owners Melissa and Marc Ganzi and Valiente Polo Farm owner Bob Jornayvaz, the World Polo League is the only 26-goal polo in the world outside of Argentina. The WPL is preserving the highest level of polo and its rich, hallowed tradition in the U.S.
The WPL has its own set of simpler fan-friendly rules, including no yellow cards, to improve the flow and action of the game.
Grant Ganzi of Grand Champions leans out of the saddle to retrieve the ball.
The WPL, with 14 tournament-quality fields to play on, also includes the Feb. 19-March 3 Founders Cup, March 6-24 Palm Beach Open and March 27-April 14 Triple Crown of Polo.
The WPL game finals will be held Sundays on Field Two at Grand Champions at 4 p.m. and semifinal games at Valiente Polo Farm, Fields One and Two. Several games will also be held throughout the week at various times. Admission is free along with food and refreshments at the featured games.
Alejandro Novillo Astrada of Flexjet tries to maintain possession with Juancito Bollini of Grand Champions on his hip.
The World Polo League is open to other teams that wish to compete in one or more of the tournaments. Entries are still open and everyone is welcome to play. Games are offered on the flat (Open) and on Handicap.
The World Polo League has attracted a large international field of players from all corners of the world including Australia, Argentina, Brazil, Canada, Costa Rica, Uruguay and U.S.
Juan Martin Nero of Grand Champions controls the ball in the air with Pablo Spinacci of Flexjet defending.
Grand Champions and Valiente are also launching the U.S. National Mixed Doubles Championship, featuring two men and two women with combined handicaps, in March.
In addition to the World Polo League, season highlights for 2019 at Grand Champions are the Sterling Cup, March 1-31 $50,000 National 12-Goal Tournament, March 1-16 John T. Oxley Memorial and March 3-24 $100,000 World Cup Tournament, a unique 0-40-goal, winner-take-all single-elimination tournament.
Grand Champions and Santa Rita Polo Farm is the largest and most unique polo facility in Wellington with 120 stalls in five self-contained barns, exercise track, five climate-controlled tack rooms, vet room, staff quarters, guest house and three polo fields with state-of-the-art underground irrigation including one field for stick-and-ball with plans to build more polo fields in the future.
World Polo League flags flying over windswept Grand Champions Polo Club.
Photos by Gabrielle Stodd