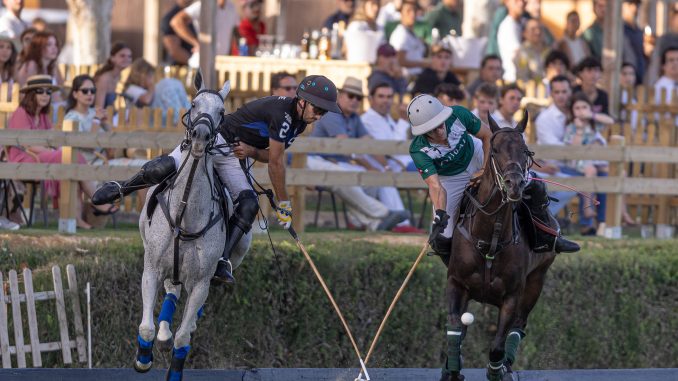 Sainte Mesme secures the final slot in the semifinals of the Terralpa Silver Cup
22 goal Handicap
Thanks to a goal scored by Robert Strom in extra time, Sainte Mesme
beat Dubai 11-10 in a vibrant encounter and joined St. Louis, Park Place and MB
Polo in the semifinals of the Terralpa de Alto Handicap Silver Cup, in the framework of the 52nd
International Polo Tournament Andalusia.
The semi final will be on Wednesday and will be
St. Louis vs. MB Polo, and Park Place vs. Sainte Mesme.
In addition, two matches were held for the Low Handicap: Jeju Polo Team beat
Polothanda, while Essso did the same before La Capilla / Strabrock.
The Terralpa Silver Cup finals are scheduled to be played between Friday
11 and Saturday 12 August.
The detail of the seventh date of the Terralpa Silver Cup was as follows:
HIGH HANDICAP
MATCH #1: SAN LUIS 13-10 KAZAK
SAN LUIS: Luis Aznar 0, Lukin Monteverde 6, Guillermo Caset 9, Santiago Cernadas 7.
Total: 22.
KAZAK: Sébastien Aguettant 0, Nicolas Pieres 8, Francisco Elizalde 8, Patrick Primaël
Paillol 5. Total: 22.
MATCH #2: SAINTE MESME 11-10 DUBAI
SAINTE MESME: Robert Ström 4, Carlos María Ulloa 6, Raúl Laplacette 6, Santiago
Laborde 6. Total: 22.
DUBAI: Camilo Castagnola 10, Rashid Albwardy 2, Bartolomé Castagnola 9, Rufino Laulhé
1. Total: 22.
LOW HANDICAP
MATCH #1: JEJU POLO TEAM 9-4.5 POLOTHANDA
JEJU POLO TEAM: David Ko 0, Santiago Irastorza 5, Alejo Badano 3, Elouan Baradello 0.
Total: 8.
POLOTHANDA: María Curtichs -1, Álvaro Álvarez 1, Estanislao Grahn 3, Tomás Iriarte 4.
Total: 8.
MATCH #2: ESSSO 9-8.5 THE CHAPEL / STRABROCK
ESSSO: Ian Gallienne 0, Cristian Bernal 4, Javier Guerrero 5, Elliot Gallienne -1. Total: 8.
LA CAPILLA / STRABROCK: Kevin Korst 1, Pedro Beca 2, Juan Carlos Gavira 1, Gaetan
Charloux 2. Total: 6.
The Terralpa Silver Cup will continue on Monday, August 7, with the following order of play:
MEDIUM HANDICAP
10:00 h, court 1 of Los Pinos: Jolly Roger vs Amanara
11:00 h, cancha 1 de Ayala Polo Club: ATL Marine & Energy vs John Smith
17:30 h, court 4 of Los Pinos: Almasanta vs Electric Polo
19:00 h, court 3 of Los Pinos: Brunei Polo Team vs Ayala