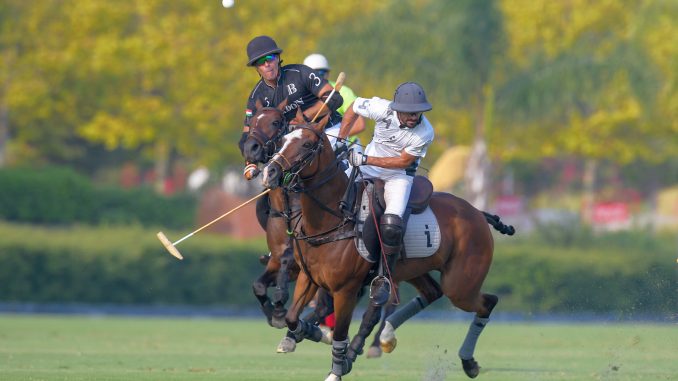 La Indiana Claims Last Spot in Copa de Oro Semi-Finals
The lone quarter-final in the 2019 Copa de Oro at Santa Maria Polo Club decided the last semi-finalist, with La Indiana using a strong final chukka to claim the 9-6 victory over Bardon, advancing to a match-up against undefeated MB Polo on Thursday.
A back and forth match saw the lead change hands multiple times with neither team able to pull away and generate a significant lead. Bardon held the advantage throughout the game in scoring opportunities, generating 19 shots compared to just 13 for La Indiana, but managed to shoot just 21% from the field in what proved to be a deciding factor in the game. Missed opportunities from the penalty line also were a contributing factor in the loss for Bardon, converting just 2 of their 5 attempts, allowing La Indiana to pull away behind the efforts of Gonzalito Pieres, who led all players with four goals and two assists in the narrow victory.
Overcoming early foul trouble, La Indiana took a slim 2-1 lead due to an organized defence that generated turnovers and a counterattack into Bardon territory. A goal each from Pieres and Bautista Urbina were responsible for the La Indiana offense, but Bardon responded in a strong second chukka where they outscored La Indiana 2-0 on two goals off the mallet of Matias Machado. Efficiency for Bardon became an emerging story in the game as they often kept La Indiana in their own end but missed their shot attempts leading to numerous knock-ins for their opponent. Converting just one of their final seven shots from the field, Bardon allowed La Indiana to tie the score after a goal from Pieres ended the half with the teams tied in a low-scoring 3-3 affair.
While the La Indiana offense didn't overpower Bardon, they were able to slowly take advantage of their inefficiency, keeping Bardon off the scoreboard and inching into a 4-3 lead. Despite the limited chances from the field, La Indiana shot over 50% in the game, giving them the narrow edge with two chukkas remaining. Bardon came alive in an exciting fifth chukka, utilizing a balanced offense that resulted in a goal each from Machado, Rodrigo Andrade and Santiago Laborde. The sudden offensive outburst tied the score at 6-6, leaving the outcome to the final chukka to decide the last semi-finalist in the Copa de Oro. Seizing the opportunity, La Indiana's Michael Bickford scored on the opening throw-in of the sixth chukka and took that momentum through the rest of the chukka to add a second goal and lead La Indiana to the 9-6 victory and advancing to the semi-finals.