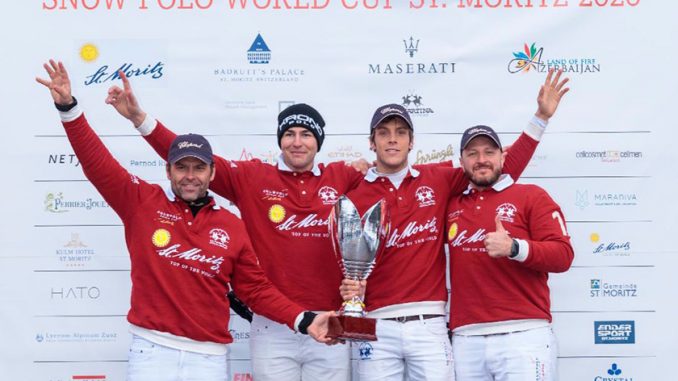 37th Snow Polo World Cup (29 – 31 January 2021) postponed to 2022
St. Moritz, 5 October 2020. Upon careful consideration of the matter, attentively monitoring the course of the worldwide COVID-19 pandemic and the figures published by the Swiss Office of Public Health (FOPH), whilst looking for ways to implement the protective measures and directives imposed, the Board of Directors has decided to postpone the Snow Polo World Cup 2021 by one year. The Board has reached this conclusion heavy-heartedly and in full concertation with the partners and team sponsors of the tournament. The event that was to be held at the end of January 2021 will now take place from 28 to 30 January 2022.
Several factors all contributed to the decision to cancel the tournament. Above all, the organisers of the Snow Polo World Cup take their responsibility towards visitors, partners, players, their staff and volunteers very seriously, all the more so in these difficult times marked by the pandemic. The global uncertainty surrounding the freedom to travel adds to the complexity. Sound planning has become all but impossible given the ever-changing entry restrictions and quarantine regulations, which would have rendered it equally difficult for friends, partners, sponsors and guests from around the world to travel to St. Moritz for the tournament. Shifting consumer patterns and a marked booking reluctancy combined with unprecedented planning insecurity make it impracticable for the organisers to stage this major event as envisaged – this has repercussions on the entire region, which is set to lose one of its flagship events in the coming season. The room for manoeuvre to stage the 37th Snow Polo World Cup St. Moritz in a setting and to the standard this unique lifestyle event has set over the years has been constricted by the rules and regulations put in place.
Keeping an eye on the ball
Founder and organiser Reto Gaudenzi believes the world's only high-goal polo tournament on snow is not in jeopardy: "We have been delighted to note that the response to our tournament from sponsors and partners, players and VIP guests has steadily increased over the years. The Snow Polo World Cup St. Moritz enjoys an unrivalled reputation around the globe." As befits a sportsperson, Gaudenzi and his team are now focusing their energy and attention on the next objective: the Snow Polo World Cup 2022, to be held once again in the magnificent Engadine mountain valley from 28 to 30 January. The 2022 edition pulls off a coup: for the first time, six instead of four teams will be competing on the frozen Lake St. Moritz. Newcomers Clinique La Prairie, the traditional champagne house Perrier-Jouët, and a lifestyle fashion brand will be challenging the existing team sponsors Badrutt's Palace Hotel, Azerbaijan Land of Fire, and St. Moritz Top of the World.
The Board of Directors would like to take this opportunity to thank the representatives of the town of St. Moritz, the Engadin St. Moritz Tourism Organisation, the Canton of Grisons, and all its partners warmly for their continued support of the organising committee. Gaudenzi goes on to emphasise: "We are extremely fortunate to have received the unwavering support of everyone involved. We are honoured and immensely motivated by the confidence shown, which is also a big compliment to St. Moritz and the efforts of the entire organisation."