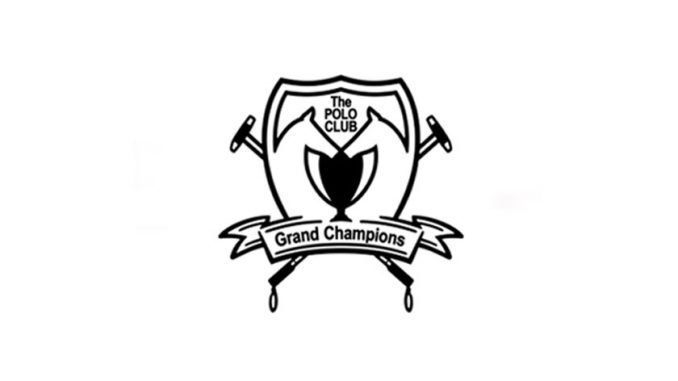 St. Moritz Captures Inaugural Reto's Birthday Cup; Morgan Van Overbroek Named MVP
On a perfect day for polo, St. Moritz and Aspen Valley Polo Club played in the Reto's Birthday Cup honoring Reto Gaudenzi, one of the sport's greatest visionaries.
By Sharon Robb
It was only fitting St. Moritz (Morgan Van Overbroek, Pablo Dorignac, Mariano Gracida, Reto Gaudenzi) won the fun, four-chukker game with a 5-4 victory over Aspen Valley Polo Club (Sebastien Le Page, James Rogerson, Juan Bollini, Tito Gaudenzi) Friday at wind-chilled Grand Champions Polo Club.
Reto's Birthday Cup finalists St. Moritz and Aspen Valley Polo Club.
"I am really good at making things look good, but this was really tremendous," Gaudenzi said. "This was absolutely fantastic for me. It was the best birthday day gift I have ever had in my life.
"Melissa Ganzi and her family made this possible," Gaudenzi said. "We came over with some friends from Europe to play here at Grand Champions. It was a fun polo game and I am very, very happy because I haven't played in a long time. I was once three goals and now I have zero goals. I have reduced my handicap and increased my advertising space in my belly."
Belgian-born Morgan Van Overbroek scored a career-high five goals and was named Most Valuable Player. Van Overbroek started playing at Polo Park and Country Club Zurich in Switzerland five years ago. She and her husband Frenchman Simon Le Page, who competed against her on Friday, bought the club four years ago.
"I was never a horse woman before I started to play polo, my first nickname was potato bag," Van Overbroek said.
"Today was amazing," she said. "For me this is the first time I am playing at a club I don't know with horses I don't know. To be here is such an honor and to be invited by Melissa for Reto's birthday. The club is just magnificent. The horses were really easy. It was a great pleasure. Maybe this is why I scored so many goals because I was so excited and happy to be here."
MVP Morgan Van Overbroek scores one of her career-high five goals.
Van Overbroek was thrilled to be on the same field and team as Reto Gaudenzi.
"It was so much fun to play with him," she said. "He is not use to grass polo anymore. The first chukker he had difficulty hitting the ball. But after that the old Reto came out. You could see he is a really good player because he started to hit and hit long. He just needed one chukker to get back."
Reto's Birthday Cup was part of a tripleheader (along with the USPA National 20-Goal tournament) to honor the "godfather of snow polo." The game featured family, friends and some pretty good polo players, too, which made for a fun game.
Gaudenzi has been a polo visionary for the last four decades. He founded the Snow Polo World Cup on the frozen lake of St. Moritz in 1985, the first polo game on snow in the history of the sport.
Gaudenzi organized the world's first FIP tournaments outside Argentina, invented the modern-day version of beach polo in Miami Beach and established another milestone in the history of the sport in form of the Grass Arena Polo World Cup Azerbaijan. Gaudenzi started playing polo in 1978, reached three goals and founded the Swiss national team and polo association.
Reto Gaudenzi of St. Moritz drives downfield.
"In 1978, I was running hotels in Spain and was introduced to polo by a friend," Gaudenzi said. "And then in 1980, I won the Gold Cup with my team in Sotogrande."
For his son, Tito Gaudenzi, following in his father's footsteps as a player and promoter in polo, it was a special game.
"It was fun to play this," Gaudenzi said. "And it was nice to play against him. I don't play with him anymore, I stopped that in the 90s. He had a great time. He hit some good balls and it's good to see him out there.
"Having him here with us finally playing in Wellington I think is beautiful and Melissa made this happen," Gaudenzi said.
Grand Champions is finishing up one of its most successful fall medium goal seasons with the eighth annual Pedro Morrison Memorial on Sunday at 11:45 a.m.
Casablanca (MVP Mariano Gracida, Juancito Bollini, Julio Gracida, Grant Ganzi) won the season-opening Tackeria Invitational; Sebucan (Pablo Pulido, Juancito Bollini, MVP Whistle Uys, Carlitos Gracida) won the US Trust Cup; Sebucan (MVP Pablo Pulido, Whistle Uys, Mariano Gracida, Julio Gracida) won the Fall Classic; and Sebucan (Pablo Pulido, Pablo Dorignac, Whistle Uys, MVP Julio Gracida) won the Fall Plates Tournament; and Whitehall Ranch (Bill Lane, Sugar Erskine, Pablo Dorignac, Whistle Uys) won the Polo Gear Challenge Cup.
Reto Gaudenzi playing in the opening chukker for St. Moritz.
World-reknown polo announcer Jan-Erik Franck is calling the action during the fall season, St. Regis World Snow Polo Championship in Aspen in December and winter season featuring the World Polo League at Grand Champions. Franck, popular among fans, makes it both entertaining and educational. He has been a polo announcer at various tournaments around the world for more than 20 years. Franck is also a polo player, HPA instructor, La Martina ambassador and polo columnist. He was recently the featured cover story in POLO+10 magazine.
Grand Champions is one of the few USPA-sanctioned clubs that offers fall polo. The fall season is a good tuneup for the winter season for players and green horses. The winter season features the debut of the highly-anticipated 26-goal World Polo League at Grand Champions and Valiente Polo Farm featuring 10-goalers Adolfo Cambiaso, Pablo MacDonough, Pelon Sterling and Juan Martin Nero.
In addition to Sunday's USPA National 20-Goal at 10 a.m., the season-ending marquis event is next week's doubleheader featuring the Legends of Polo Carlos Gracida Memorial and International Cup on Thanksgiving weekend.
| | |
| --- | --- |
| | |
| | Reto Gaudenzi talking to teammates in the players, tent before the game. |
This year's Nov. 24 International Cup  will feature defending champion Team USA against Azerbaijan. This year the U.S. team will put its six-year winning streak on the line against Azerbaijan, known as the Land of Fire and Ice, and one of the most improved polo teams in the world. Recently, Azerbaijan finished runner-up to Italy in the FIP European Championship.
Last year Team USA ( Grant Ganzi, Carlitos Gracida, Julio Arellano, Mike Azzaro) defeated Brazil, 9-7, to capture the sixth annual International Cup event. Arellano was named Most Valuable Player for the third consecutive year. Since 2012, Team USA has defeated England, Chile, Mexico, South Africa and Uruguay in International Cup history.
The well-organized fall tournaments attract players from all over the United States and world including Azerbaijan, Argentina, Brazil, Canada, Chile, Ecuador, England, France, India, Mexico, New Zealand, Nigeria and South Africa.
Grand Champions is the only club in the nation to stage two USPA-sanctioned 20-goal fall tournaments.
The Grand Champions Fall Invitational League is geared toward improving a player's polo skills at every level. Roster lineups change from tournament to tournament with evenly-matched teams featuring pro and amateur players.
Club owners Marc and Melissa Ganzi, both accomplished players, take pride in teaching and sharing the exciting sport of polo with anyone interested in learning.
The fall league features: stick-and-ball sessions during the week; two medium tournament games every weekend; ambulance and USPA umpires for all tournament games; world-class polo fields; club-sponsored social events every weekend for all players; and top-of-the-line trophies for all teams every weekend.
Wellington-based ChukkerTV is live streaming most of the fall season. ChukkerTV's state-of-the art technology also features team challenges and instant replay which made their debut at Grand Champions in January, 2014.
James Rogerson of Aspen Valley Polo Club hits downfield with teammates Tito Gaudenzi and Juan Bollini backing him up. Photos by ChukkerTV