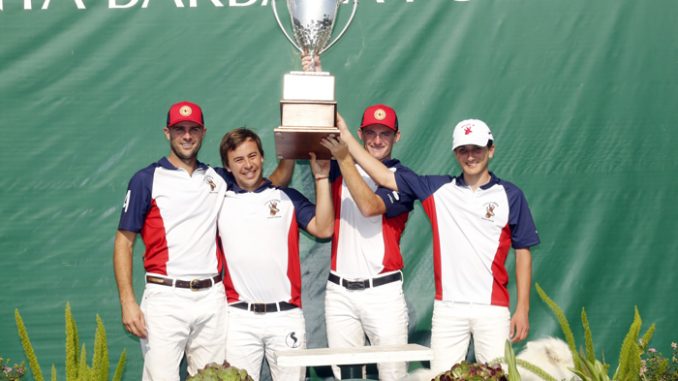 The 2019 Folded Hills Pope Challenge
The final of the 2019 Folded Hills Pope Challenge was a rematch of last year's tournament as both Antelope Jr. and Klentner Ranch faced each other once again in front of the grandstands.
Antelope claimed their spot in the final with three strong wins during bracket play. Klentner Ranch took the difficult route with two narrow wins and a shoot-out victory against FMB to secure their position to play for the trophy against undefeated Antelope Jr. Klentner Ranch took home the trophy in 2018, however, this weekend Antelope Jr. came to the field looking for revenge.
During the first chukker Klentner Ranch started off strong scoring the first 2 goals of the game. Shortly after, Felipe Vercellino scored a penalty 3 for Antelope, his first of 10 goals for the team. At the beginning of the third chukker the game was close with Antelope Jr. only leading by 1 until Vercellino jumped onto the Best Playing Pony "Que Va" and scored 3 goals to expand their lead.
MVP Jim Wright scored the next 3 goals for his team from the field to lead by 6 at the end of the 5th chukker.
Klentner Ranch fought back in the sixth chukker with three goals from the field, but it was not enough to restore the deficit. Klentner Ranch caption Jesse Bray said "It was a hard loss but we know what we need to improve and we have our sights set on the next tournament."
The final score ended 16-12 for a well deserving team Antelope Jr. Jim Wright was named MVP. Jim credits the success of the team to their chemistry and experience they have developed by playing multiple seasons together. Felipe Vercellino's "Que Va" was named Best Playing Pony for her outstanding performance in the 3rd and 6th chukker.
May 2019 SBPRC 12 Goal Rosters
Antelope 12
Geoff Palmer A
Santi Trotz 5
Hilario Figueras 3
Maco Llambias 4
Antelope Junior 12
Grant Palmer A
Jim Wright 3
Felipe Vercellino 6
Herndon Radcliff 3
Dundas Polo 12
Sarah Magness A
Alonso Andrade 1
Jason Crowder 6
Mariano Fassetta 5
Farmer & Merchants Bank 12
Lucitas Criado 1
Danny Walker 2
Lucas Criado 7
Matt Walker 2
FMB Too! 12
Omar Mangalji A
Juan Monteverde 5
Santiago Wulff 5
Henry Walker 2
Klentner Ranch 12
Luke Klentner 1
Patrick Uretz 4
Jesse Bray 6
Justin Klentner 1