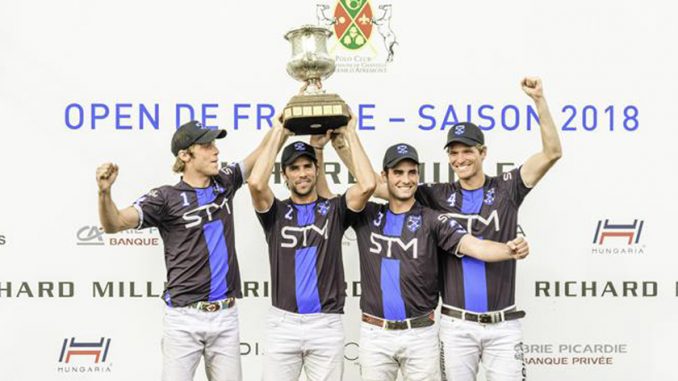 Polo News from France
For the 2019 season, the Chantilly Polo Club and its partners endowed the Charity Cup with € 12,000 for the final (€ 8,000 to the winner and € 4,000 to the finalist). FROM THE 14 TO 30 OF JUNE, 2019
Save the date : Three tournaments from May 11 to June 30, 2019, 50 days of matches and the return to Chantilly of the great Argentinian, French and European professionals.

PGH Cup 10/12 Goals from 11 – 19 May 2019
Bourbon Trophy 10/12 Goals from May 25 – June 9, 2019
Charity Cup 10/12 Goals from 15 – 30 June 2019
The summit of the French season !
September 7 to 22, 2019
6 days after Sotogrande and Deauville in August, the best polo in France returns to Chantilly for the Open de France from September 7 to 22, followed by federal competitions of the FFP. Many prices, parties and a big show !
Women's French Open 12/16 Goals : 17 – 22 September 2019
French Open 14/16 Goals – Castel Trophy 6/8 Goals – Captain Trophy 0/4 Goals : 7 – 22 September 2019
The mixed French Open (16 goals) was born with this century. This is the most important tournament played in Europe in this era. Between six teams will be struggling for a tournament spanning over three weeks.
The Open de France matches are always exciting, fast, Usually fiercely contested (many matches ended with a goal last year, sometimes during the period of extra time).
Sunday 7 April – The long-awaited grass polo season begins in April with a seductive first date: The Aumale Rally and the Aumale Rally Cup.
It is a gathering of old cars, whose final rallying point is the Polo Club of Chantilly. This Rally for the benefit of the Institut Curie, fighting against pediatric cancer, had gathered 120 collection cars for its first edition in 2015, there will be more than 200 this year! The day ends with the first final of the season with a field of honor surrounded by these magnificent cars. The encounter of two passions. Like all events of the Polo Club, access to this day is entirely free for the public.