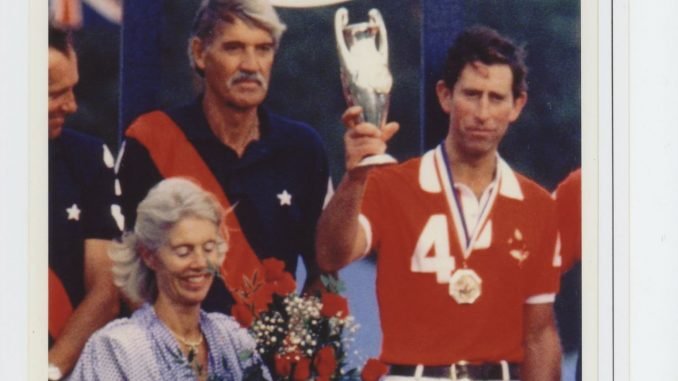 The Honorable Michael Butler
November 26, 1926 – November 7, 2022
Michael Butler, famed producer of the musical Hair: The American Tribal Love-Rock Musical, passed away peacefully November 7, 2022 in Los Angeles, CA. He was born November 26, 1926 in Chicago, Illinois.
Butler is best known as the force who brought Hair from the Joseph Papp's New York Shakespeare Festival/Public Theatre to Broadway in 1968, where it ran for 1,750 performances. Hair's famous tribe brought drugs, anti-war politics, rock 'n roll music and even the audience onto the stage for the first time. At that time Hair changed everything: theater, Broadway, politics, film, music. By the 1970s, the show had played in more than 25 countries, in 14 languages, and had been seen by over 25 million people; today it is estimated that over a billion people have seen some version of the musical.
Butler's involvement with theater included work on Lenny, The Golden Apple, West Side Story, The Trial of the Catonsville 9, and Reggae on Broadway. He was also the producer of the Hair film and You Are What You Eat. Butler also founded with partners a number of discoteques including Talisman, Inferno, Ondine, Hippopotamus and LeBison.
His interest in athletics led him to an active participation in many sports including polo, tennis and yachting. He served in many positions including Whipper-In Oak Brook Hounds, Chairman U.S. Equestrian Trials Committee, Vice Commodore Talisman Corinthian Yacht Club, President SkiClub 10, Governor United States Polo Association, Chief Umpire of U.S., Chairman of the Oak Brook Polo Club, Chicago Polo Club, Captain Oak Brook Polo Team and the Warfield Polo Team.
Butler is the son and grandson of the founders of the Oak Brook Polo Club in Illinois established in 1922. Butler managed the club for many years and with his sister Jorie, invited His Majesty. King Charles III (then H.R.H. Prince Charles) to Oak Brook to play in 1986, at which time His Majesty served as captain of the British Team. Michael played polo all around the world, primarily in the US, UK, Jamaica and Mexico. He was a member of Guards Polo Club (UK), the All-Ireland Polo Club, National Steeplechase & Hunt, United States Polo Association and Hawaii Polo Club.
Butler was also a life member of Explorer's Club, The Art Institute of Chicago, Oceanographic, National Geographic, the Knickerbocker, Racquet & Tennis, (NY) and the Bears.
His interest in his community and world affairs led him to fill civic roles in both local and national politics. He served as Special Advisor to Senator John F. Kennedy on the Middle East, and was appointed by Robert F. Kennedy to manage Governor Otto Kerner's campaign for re-election as Governor of Illinois. He was the first Chancellor of the Lincoln Academy and was decorated as Laureate with the Order of Lincoln.
He was Commissioner of the Port of Chicago, President of the Organization of Economic Development in Illinois, P.A. to Governor Otto Kerner, President of the Illinois Sports Council, and a Democratic Candidate in Du Page County for the State Senate. He was on the Advisory Board of Global Youth Action Network. In the business world, Butler served as V.P. of General Sales for the family's Butler Paper Company. He worked with Butler Overseas, Overseas Bank Ltd., Basic Investment Corporation, Vision, Rand Hotel Corporation, Dugda I and Dugda II, Patherdi Coal Washeries, and on the reconstruction of Hejaz Railroad in the kingdom of Jordan. He also participated in numerous real estate projects including work with Talisman Development, Sugarbush, Oak Brook Development Company, Old Oak Brook, and Oak Brook Hills Hotel and Golf Course.
Michael Butler was born in Chicago, Illinois to Paul Butler and Marjorie von Stresenreuter. His Anglo-Irish family first arrived in America in the early 1600s, and his first American born Butler ancestor, Lt. Wm. Butler, was born in 1653 in Massachusetts. In 1841, Michael's great great uncle Oliver Morris Butler built a paper mill on the Fox River in Illinois which produced fine printing paper, the first such mill ever built west of Pittsburgh, and a Butler paper mill produced the first American made paper used in the U.S. Senate. In 1857, Oliver's brother Julius Wales Butler became the agent and subsequently the owner of what became the J.W. Butler Paper Company, which also had warehouses on State Street in Chicago, IL. It was the oldest family owned business in Chicago. The family were at one time were the largest private landowners in Du Page County.
He is survived by his son Adam Butler, Adam's wife Michelle, and his grandson Liam. He is also survived by his sister Jorie Butler Kent and her daughter Reute Butler as well as his half sister Wendy Dunaway and her two daughters Missy West and Jorie Waterman. In lieu of flowers the family would appreciate contributions to his favorite charity, Jorie and Reute's Friends of Conservation, of which he is a founding director.
http://www.friendsofconservation.org