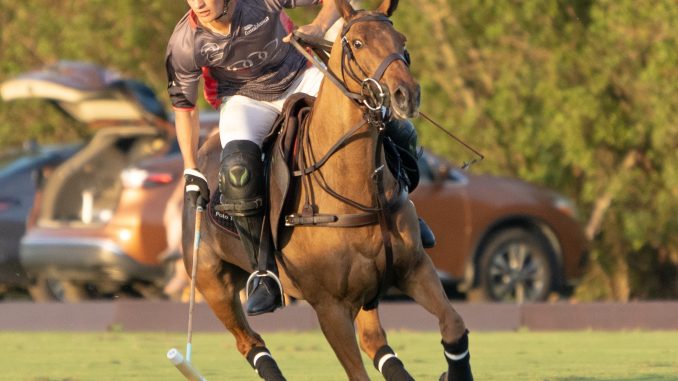 Adolfo Cambiaso, the greatest polo player of all time, and his son Poroto, will make their 2023 winter polo season debut in the Sterling Cup at Grand Champions Polo Club.
By Sharon Robb
Photos by Candace Ferreira
The four-team tournament gets underway Sunday at 11:30 a.m. with Valiente (Bob Jornayvaz, 0, Adolfo Cambiaso, 10, Peke Gonzalez, 6, Lucas Criado Jr., 6) taking on rival Audi (Marc Ganzi, 1, Grant Ganzi, 3, Barto Castagnola, 9, Jeta Catagnola, 9). The two teams are the most successful high goal teams in the last 15 years in U.S. polo history.
The two other Sterling Cup teams Tamera (Alejandro Poma, 1, Segundo Saravi, 5, Pedrinho Zacharias, 7, Diego Cavanagh, 9) and Scone (Cable Magness, 0, Cody Ellis, 4, Poroto Cambiaso, 9, Pelon Stirling, 9) open play on Monday at 3 p.m.
The father and son duo are coming off a historical 129th Argentine Open where they led La Dolfina Saudi (Adolfo Cambiaso, 10, Pelon Stirling, 10, Poroto Cambiaso, 9, Juan Martin Zubia, 10) to a 13-9 upset over defending champion La Natividad (Jeta Castagnola, 10, Pablo Pieres, 10, Barto Castagnola, 10, Nachi du Plessis, 9) which Cambiaso called "a dream come true" winning with his son. And now, the Castagnola brothers will be seeking their first win over Adolfo Cambiaso since their Argentine Open loss.
The last time a father and son won the world's most coveted polo trophy was in 1983. Colonel Suarez II, with Horacio Araya and his then 17-year-old son Benjamin, won the Cup. 
Poroto Cambiaso is the youngest player to win the Argentine Open at 17 years and 6 days. Benjamin Araya was 17 years old, 3 months and 11 days.
Cambiaso will make more history when his handicap is raised to 10 goals in May becoming the youngest 10-goal player in the U.S. His father currently holds the record at 17 years, eight months and 15 days when he was ranked 10 goals in 1993 and has held ever since.
The Sterling Cup was resurrected seven years ago after a 22-year absence. It was brought back by Grand Champions President Melissa Ganzi in hopes of recapturing polo's glory days.
It was the second tournament of the 22-goal season at the old Palm Beach Polo and Country Club after the January Challenge Cup and last played in 1995. It was considered the 22-goal championship and attracted as many as 18 teams including Saniva B.G.K., Pegasus, C.S. Brook, Grant's Farm Manor, Revlon, Calumet Farm, Pony Express, Isla Carroll, White Birch and Catamount.
"It's a great trophy, one of the great 22-goal trophies," Ganzi said. "When you came here in the early '90s and 2000s, you wanted to win the Sterling Cup. It was one of the premier 22-goal tournaments before you warmed up for the U.S. Open."
Last year's winner was Seminole Casino Coconut Creek (Melissa Ganzi, 0, Gonzalito Pieres, 10, Juan Martin Zubia, 8, Alejandro Novillo Astrada, 7) with a 16-12 win over Casablanca (Pablo Spinacci, 6, Tomacho Pieres, 6, Nacho Novillo Astrada, 8, Juan Bollini, 4). Zubia was MVP and presented with a new Jeep Renegade.
In the 2021 final, Scone held off La Indiana, 14-13, to capture the prestigious trophy. Adolfo and Poroto Cambiaso, Peke Gonzalez and Australian patron David Paradice came from behind to defeat La Indiana (Nico Escobar, Jeff Hall, Polito Pieres, Milo Dorignac) in a battle of unbeaten teams. For the second consecutive year, Adolfo Cambiaso was named Most Valuable Player. 
The father and son have won the title three times. In the 2018 Sterling Cup tournament Adolfo, Mia and Poroto Cambiaso made history by winning their first-ever high goal tournament together. Along with teammate Magoo Laprida, Valiente knocked off pre-tournament favorite Audi, 10-4, in the final. Mia Cambiaso was MVP.
Grand Champions, the nation's largest  polo club celebrating its 16th anniversary, and Santa Rita Polo Farm is the largest and most unique private 102-acre polo facility in Wellington with 212 stalls in nine self-contained barns, two tracks, five climate-controlled tack rooms, vet room, staff quarters, guest house and four polo fields with state-of-the-art underground irrigation and short work arena. The club has 13 well-manicured fields including nine world-class fields at GCPC and four at Santa Rita. 
During the winter polo season, Grand Champions, the nation's largest and most innovative USPA-sanctioned polo club, nestled in the heart of the world's winter equestrian capital, is hosting  tournaments: 6, 8, 12, 20, and 26-goal leagues, WCT Finals, women's weekly league play and 26-goal World Polo League tournaments at both Grand Champions and Santa Rita.
Grand Champions tournaments attract a large international field of players from all corners of the world including Argentina, India, Mexico, New Zealand, Costa Rica, Canada, Ecuador, Brazil, Switzerland, France, England, Germany, Uruguay, Azerbaijan, South Africa, Venezuela, Chile, and England.
Season highlights for 2023 are the  Sterling Cup, $50,000 National 12-Goal Tournament, Sieber Memorial, John T. Oxley Memorial, the inaugural Richard Riemenschneider Memorial Cup and $100,000 World Cup Tournament, a unique 0-40-goal, winner-take-all single-elimination tournament and special events including World Polo League Polo Pride and Sunset Chukkers & Cocktails.
The biggest highlight of the season is the fifth season of the World Polo League, the nation's only 26-goal league featuring some of the world's top players including 10-goaler Pablo MacDonough and team sponsors at Grand Champions. The WPL has been filling  the void created when the U.S. Polo Association, the sport's governing body, announced it was lowering high goal polo to 18-22 goals and would not have 26-goal polo.
The winter season will be live-streamed locally and worldwide on Wellington-based ChukkerTV (CTV Sports).
Grand Champions Polo Club caters to men, women and youth polo players at all levels. Its' expert staff can customize a complete playing experience including horses, pros and certified umpires in addition to lessons and practice sessions as part of its' Polo On Demand program.
The Polo School, now located at the former Pony Express facility, operates in Wellington January through May and September through November. The stand-alone USPA-sanctioned polo club, is thriving. It is dedicated to teaching polo to all ages, particularly grass roots youth. Its mission is to provide individuals opportunities in polo at every economic and ability level. November. The Polo School has nurtured several junior, men and women polo players now playing in the pro and amateur ranks since its inception.