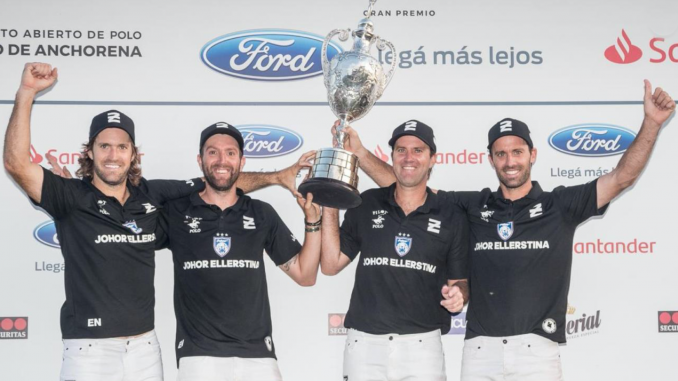 Ellerstina Wins Tortugas Open in Memorable Final
Nearly a month since the 2019 Tortugas Open final was postponed due to wet field conditions, Ellerstina and La Dolfina met once again in a final to remember, with Ellerstina emerging victorious, claiming the thrilling 12-11 victory at Tortugas Country Club.
Facing a 2-0 deficit carried over from the opening two minutes on October 17th, Ellerstina faced a difficult task against 40-goal La Dolfina and had difficulties in matching the proficiency of La Dolfina's attack in the opening half. Finishing 10 for 17 from the field, La Dolfina held the advantage throughout much of the game, but Ellerstina gained momentum from the penalty line to mount a comeback. Behind the efforts of Polito and Nico Pieres, who contributed two goals and an assist each in the final two chukkas, Ellerstina captured the thrilling one-goal victory.
After Gonzalito Pieres opened the scoring to bring the score to 2-1 after the opening chukka, La Dolfina overwhelmed Ellerstina by taking advantage of each opportunity in the second chukka. One goal each from David Stirling, Pablo MacDonough and Juan Martin Nero in a fast-paced second chukka extended La Dolfina's lead to three behind their perfect 3 for 3 shooting. Held to shooting from distance, Ellerstina saw their deficit grow to four, unable to get behind the organized defence led by Nero. The fourth chukka proved to be a crucial chukka in the match, as Ellerstina needed to swing the momentum in their favour to match the potent offense of La Dolfina. Four of La Dolfina's six fouls in the game occurred in the chukka, resulting in two penalty goals for Facundo Pieres as Ellerstina trailed 7-4 at halftime.
A thrilling start to the second half saw end-to-end action with the two teams combining for six goals, with zero missed shots from the field. Adolfo Cambiaso highlighted the La Dolfina offense in the chukka, scoring a goal while adding an assist during a run of three unanswered goals, but Nico and Polito Pieres responded with consecutive goals, including a deft steal from Polito Pieres off of Nero to restore the three-goal deficit. A penalty 3 conversion for Pieres to begin the sixth chukka signalled the end of the umpire's whistle, as no further fouls were committed over the final 12 minutes leaving the result to open play. A steal from Gonzalito Pieres in the attacking half was quickly run in for a goal, while an uncharacteristic error on a backhand from Nero was picked up by Facundo Pieres to end the sixth chukka, leaving Ellerstina trailing by just one.
La Dolfina struggled to find the goal, missing a couple of chances from distance, with Ellerstina completing an impressive passing play from their own defensive end line that was completed by a run from Nico Pieres to tie the game at 11-11 with four minutes remaining. The excitement around Tortugas Country Club as Ellerstina continued to pressure La Dolfina until Polito Pieres scored from a difficult angle to give Ellerstina their first lead of the game. Time expired shortly after leaving Ellerstina to celebrate their Tortugas Open title, dethroning six-time defending champion La Dolfina with the thrilling 12-11 victory.