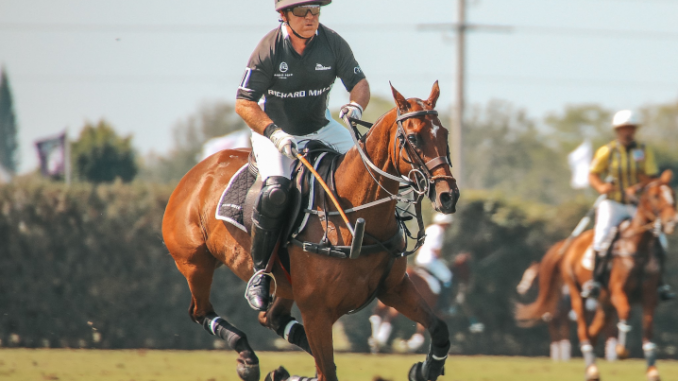 Richard Mille and Orea Polo Team Tally Wins In Triple Crown of Polo; Play Continues Today With Doubleheader
WELLINGTON, FL, April 12, 2021— Richard Mille defeated Santa Rita by 11-8 in Sunday's first match while Orea edged out White Birch 10-9.
By: Rebecca Baldridge
Photos by: ChukkerTV
Richard Mille (Marc Ganzi, Jeta Castagnola, Pablo Mac Donough, and Paco de Narvaez) took on Santa Rita as play continued in the World Polo League's Triple Crown of Polo. Richard Mille, rated at 26 goals, ceded two goals to Santa Rita on handicap.
Both teams started the match feeling each other out and it was three and half minutes before the first goal, by Santa Rita's Clemente Zavaleta, went up on the board. Jeta Castagnola and Pablo Mac. Donough got down to work and compensated for the two-goal advantage on handicap and ended the chukker trailing Santa Rita by 3-2. Richard Mille went on the offensive in the second period with Castagnola and Mac. Donough each scoring a pair of goals. Playing a powerful defense as well, they succeeded in keeping Santa Rita off the board. The third chukker offered Santa Rita more frustration, as Richard Mille continued to win throw-ins and dominate the field. Goals from Marc Ganzi and Castagnola ended the half with Richard Mille in the lead 8-3.
Santa Rita came back to play more cohesively and aggressively in the third chukker, with Zavaleta and Robert Strom both contributing goals while Ganzi put Richard Mille's only score on the board. The team in white dominated the fourth chukker as well, keeping Richard Mille away from the posts as Zavaleta converted a Penalty 2 and Strom knocked the ball through the posts with 15 seconds left on the clock and brought Santa Rita within striking distance at 9-7.
Richard Mille, feeling Santa Rita breathing down their collective necks, dialed up the intensity. De Narvaez and Mac Donough took the score up to 11 within the first two minutes of play. Nacho Figueras made a beautiful shot that missed the goal by a hair, and several other potentially decisive shots for Santa Rita went just wide. Zavaleta converted a Penalty 2, the last goal of the match, and Richard Mille won by 11-8.
In the second match of the day, Orea (Sugar Erskine, Justin Daniels, Torito Ruiz, and Nacho Novillo Astrada) met White Birch (Chris Brant, Facu Llorente, Mariano Aguerre, and Santi Tocalino). Both teams played off a 23-goal handicap.
The match got off to a quick start but Orea managed to give away two goals on penalties, with Santi Tocalino convertaing a pair of Penalty Fours. Sugar Erskine knocked in the first goal of the day for Orea, with Justin Daniels following up. The second chukker started with a foul in favor of Orea, but Daniels' shot bounced off the post. Orea fouled almost immediately, sending Santi Tocalino to the line to convert a Penalty 2. Erskine took the ball downfield to score, and Nacho Novillo Astrada made an impressively angled shot from 52 yards to put Orea in the lead by one.
Mariano Aguerre tied the score up at 4, but with 10 seconds on the clock Toro Ruiz swept the ball through the posts to put Orea back in the lead at 5-4. Mariano Aguerre made a fantastic lofted shot from 80 yards out to put White Birch back in the lead briefly, but a pair of goals from Sugar Erskine ended the half with Orea leading 7-5.
Both teams battled to little effect in the fourth chukker with neither able to score. The back and forth continued in the fifth chukker and it wasn't until 3:12 that Toro Ruiz was able to knock the ball in for Orea and take the score up to 8-5. With one minute left to play, Aguerre scored for White Birch and the period ended with Orea leading 8-6.
The final chukker started with Aguerre taking the ball from the throw-in and making a coast-to-coast run to score. Less than a minute later, Santi Tocalino put the ball through and tied the score at 8-8. Daniels offered a quick answer, putting Orea back in the lead and Penalty 3 conversion from Ruiz put the score at 10-8. With 1:17 on the clock, Aguerre made another spectacular shot to put White Birch within one. With seconds left to play, Aguerre attempted another shot from a distance but it was intercepted by Ruiz. Orea defeated White Birch by 10-8.
Bracket play continues today, Monday April 12 with Seminole Casino Coconut Creek meeting Tamera at 11am. Casablanca takes on Pampa Norte at 3pm, after their game on Sunday was rescheduled due to inclement weather.