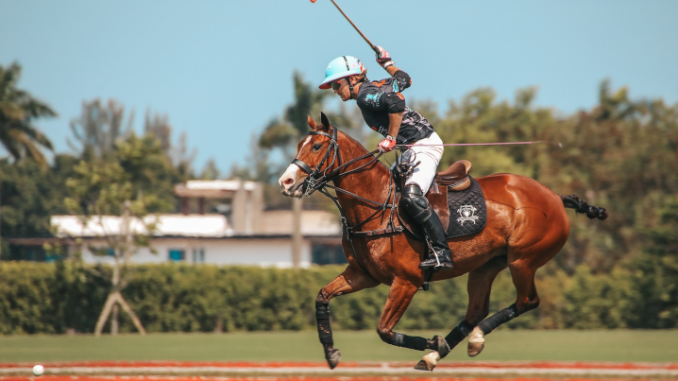 Tamera, Casablanca, Richard Mille and Orea Polo Team Advance To Semifinals of The Triple Crown Of Polo
WELLINGTON, FL, April 13, 2021— The semifinals of The Triple Crown Of Polo are set after Tamera scored a narrow 9-8 victory over Seminole Casino Coconut Creek Monday morning while Casablanca defeated Pampa Norte by 11-9 in the afternoon match. Richard Mille will face off with Casablanca and Orea Polo Team will meet Tamera in the semifinals set for Wednesday April 14th.
Photos by: ChukkerTV
Seminole Casino Coconut Creek (Melissa Ganzi, Nic Roldan, Francisco Elizalde, and Alejandro Novillo Astrada) met Tamera (Ale Poma, Santi Torres, Diego Cavanaugh, and Jejo Taranco) on Monday morning. With both teams rated at 25 goals, the match was played on the flat.
Tamera was playing a defensive game out of the gate and marking up well, but Seminole Casino Coconut Creek managed to disarm their efforts with some quick plays. Alejandro Novillo Astrada drew first blood for Seminole Casino Coconut Creek and Nic Roldan outran Jejo Taranco with slightly more than a minute left on the board to end the first period with Seminole Casino Coconut Creek up 2-0. Tamera continued to press hard, but Francisco Elizalde, substituting for Juan Martin Zubia, meshed well with Roldan and Novillo Astrada and the trio held Tamera off. Novillo Astrada converted a Penalty 4 and a Penalty 3, and with 1:28 left on the clock Elizalde sent a backshot to Roldan, who put it through the posts.
Just as it was looking like Tamera would end another period without scoring, Jejo Taranco took the ball to goal just as the 30-second horn sounded to get Tamera on the board 5-1. Starting to click in the third chukker, Tamera kept Seminole Casino Coconut Creek away from the posts while Santi Torres scored back-to-back goals to end the half 5-3, gaining on Seminole Casino Coconut Creek.
Seminole Casino Coconut Creek's frustration continued in the fourth period as they fought unsuccessfully to get on goal. Tamera's offense was growing stronger, and Diego Cavanaugh got out in front to score just over a minute into play. Ale Poma got the equalizer and with 36 seconds left on the clock Cavanaugh put Tamera into the lead for the first time in the game.
Cavanuagh made another successful shot on goal at the beginning of the fifth chukker, putting Tamera ahead by two, but Novillo Astrada answered by evading Jejo Taranco and scoring for Seminole Casino Coconut Creek. With 53 seconds on the clock, Ale Poma drew on some heavy horsepower to get out in front and run the ball downfield, scoring what was surely the most impressive goal of the day. Novillo Astrada and Roldan scored to tie the game back up, and with just over 3 minutes left to play it was anyone's game. Ale Poma came back with a quick answer, putting Tamera ahead at 9-8 and it looked like the outcome would come down to possession. With 1:29 on the clock, Seminole Casino Coconut Creek knocked the ball over the boards, losing possession and their chance for a victory. Tamera defeated Seminole Casino Coconut Creek by 9-8. Alejandro Novillo Astrada was the high scoring player of the day with five goals to his credit.
At 3 pm, Casablanca (Grant Ganzi, Juancito Bollini, Barto Castagnola, and Juan Martin Nero) took to the field against Pampa Norte (Waqqas Al Siddiq, Santiago Loza, Magoo Laprida, and Pedro Falabella). Casablanca, a 26-goal team, ceded four goals to Pampa Norte on handicap.
Pampa Norte found themselves stymied by Casablanca's defense from the get-go in the first chukker and were unable to get on the board. Grant Ganzi and Juancito Bollini chipped away against Pampa Norte's four-goal lead on handicap and the chukker ended with Casablanca down 4-2. Pampa Norte ramped up their defense in the second period, limiting Casablanca to a Penalty 6 conversion from Barto Castagnola.
Waqqas Al Siddiq put the first goal on the board for Pampa Norte, which maintained their lead of two goals going into the third chukker. Another conversion on a Penalty 6 from Castagnola plus a goal from Juan Martin Nero tied the score at 5-5. Magoo Laprida got out in front to put the ball in, but Nero scored his second equalizer to end the half in a 6-6 tie.
Barto Castagnola put the first ball through the posts in the second half, but Waqqas Al Siddiq got out in front to pick up the ball and send it through the uprights in answer. Another goal from Nero put Casablanca back in the lead at 8-7. The fifth period saw both teams battling to keep possession and get goals on the board. However, it was a replay of the first chukker for Pampa Norte and Casablanca kept them off the goal while Juancito Bollini took the ball through to put his team ahead 9-7. Al Siddiq scored his third goal of the match, putting Pampa Norte within striking distance at 9-8, but a pair of back-to-back shots from Grant Ganzi gave Casablanca a difficult-to-overcome three goal lead. Pedro Falabella scored a final goal for Pampa Norte, but the match ended with Casablanca victorious by 11-9.