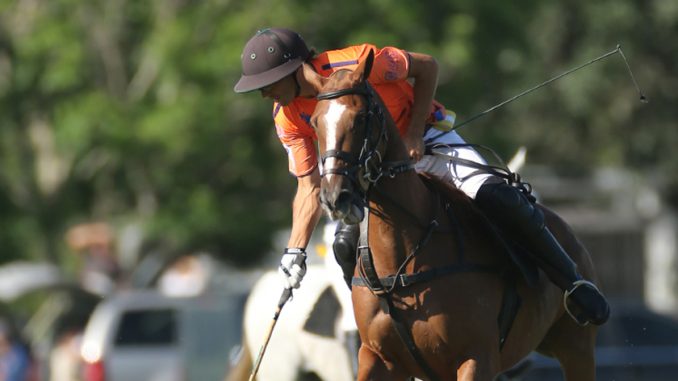 Semi-Finals Set in CaptiveOne U.S. Open Polo Championship®
One spot remained in the CaptiveOne U.S. Open Polo Championship® semi-finals after Sunday's last quarter-final between Las Monjitas and Equuleus was postponed in the fourth chukka due to rain. Play resumed with Las Monjitas maintaining their lead to claim the 8-4 victory at the International Polo Club Palm Beach.
Beginning on Sunday in front of the grandstand on Field 1, Las Monjitas and Equuleus produced a defensive battle that produced little offense on both sides of the ball, with a low number of fouls leaving the ball in open play. Las Monjitas focused on limiting the time and space for both Ignacio and Magoo Laprida in the game, holding the duo to just two goals on seven shots. A scoreless opening chukker saw Equuleus provide more pressure and generate more scoring chances but were unable to convert any of their four shot attempts to remain off the scoresheet. The usually potent Las Monjitas offense was held to zero goals for the second consecutive chukka to begin the game, but Equuleus managed a lone field goal from Mariano Gonzalez in a slow-paced back and forth game that was primarily played in the middle of the field. Hilario Ulloa and Francisco Elizalde found their stride over the third and fourth chukkas, with Ulloa directing play with three assists, while Elizalde completed a run of four unanswered goals to give Las Monjitas the 5-2 lead.
Heavy rain postponed the final two chukkas to Monday as the two teams fought to claim the final spot in the semi-finals. Equuleus generated their first multi-goal chukka of the game, with Mariano Gonzalez and Magoo Laprida converting their shots from the field, but Las Monjitas responded with two goals of their own to maintain the lead. Held to zero penalty shots in the game, Equuleus was forced to try and beat Las Monjitas from the field, but couldn't get past the organized Las Monjitas defence, kept off the scoresheet in the sixth chukka to finish with just four goals. A six-goal performance from Francisco Elizalde led Las Monjitas to the 8-4 victory, securing their place in the semi-finals, where they will face Tonkawa on Thursday. The first semi-final sees Iconica square off against Pilot on Wednesday at the International Polo Club Palm Beach.