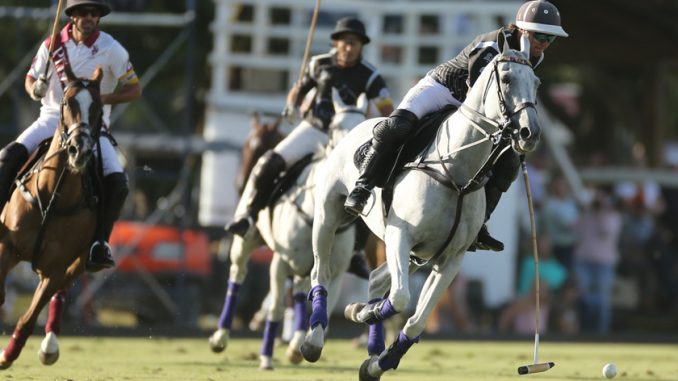 Pilot Reaches Final of CaptiveOne U.S. Open Polo Championship®
The first semi-final in the 2019 CaptiveOne U.S. Open Polo Championship® featured a dominant start from Pilot in the 13-6 victory over Iconica, to move just one game away from an undefeated season in the Gauntlet of Polo™ and the $1,000,000 prize at the International Polo Club Palm Beach.
Determined to continue their exceptional season, Pilot set the tone of the game in a perfect opening chukka that saw them score an impressive seven goals in seven and a half minutes. Maintaining a strategy of ball control and prolonged possessions, Pilot dominated open play behind the two-man game of Facundo and Gonzalito Pieres, who also utilized Matias Gonzalez as a receiver downfield. A low foul count for both teams resulted in the pace of Pilot overwhelming an Iconica defence that entered the game conceding the fewest goals per game. From the opening throw-in, Pilot attacked relentlessly, scoring seven unanswered goals using an accurate and efficient attack in 100% shooting from the field. Winning 5 of 7 throw-ins in the chukka kept possession with Pilot as they raced past the Iconica defence, led by four goals from Facundo Pieres to build the commanding seven-goal lead. Facing a difficult task in mounting a comeback, Iconia responded with a three-goal second chukka to cut the deficit to five, with two goals coming off the mallet of Peke Gonzalez.
The momentum slowed for Iconica's offense over the following chukkas with Pilot protecting their lead by sitting back defensively and keeping their opponent in front of them. While Iconica continued to fight in an attempt to reduce the lead, Pilot was content trading goals throughout the second half, scoring at least one goal in each of the final five chukkas. Gonzalez pressured the ball carrier for Iconica forcing the pass, with the elite duo of Facundo and Gonzalito Pieres jumping on passes to generate interceptions and thwart Iconica's comeback attempt. Matias Magrini and Sebastian Merlos added a field goal each in the fifth chukka, but Pilot maintained their five-goal advantage heading into the final chukka. Limiting Iconica to just two shots and zero goals in the sixth chukka, Pilot claimed the 13-6 victory for their 15th consecutive victory, leaving them one win away from capturing the Gauntlet of Polo™