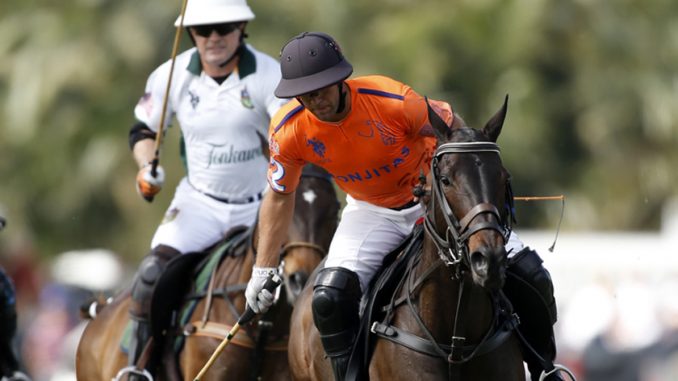 Las Monjitas to Meet Pilot in CaptiveOne U.S. Open Polo Championship® Final
The second semi-final in the 2019 CaptiveOne U.S. Open Polo Championship® featured a thrilling 14-12 victory for Las Monjitas over Tonkawa at the International Polo Club Palm Beach, setting the scene for Sunday's final against undefeated Pilot, with the winner claiming the $250,000 prize.
A match-up between two high profile offenses did not disappoint, with Las Monjitas and Tonkawa converting over 67% of their shots from the field in a back and forth affair. A balanced team attack from Las Monjitas saw their elite duo of Hilario Ulloa and Francisco Elizalde combine for 12 goals, while Matt Coppola contributed with a strong performance on both sides of the ball. Tonkawa excelled behind an eight-goal performance from Sapo Caset, running the ball to goal with accuracy, but it was Las Monjitas' ability to make shots from distance that provided little opportunity for Tonkawa to slow their attack in the narrow two-goal victory.
The fast-paced game began with both teams scoring effectively from the field, as Caset scored a goal from the field and the penalty line, while Coppola led the Las Monjitas offense with a goal and an assist. Las Monjitas' dynamic offense was on full display in the second chukka, highlighted by a goal from 80 yards out by Elizalde, immediately following a goal run in by Ulloa. Facing a slim one-goal deficit, Tonkawa brought the game back into a tie by halftime after consecutive field goals from Caset. The pace slowed in the fourth and fifth chukkas as the defensive intensity increased, with a spot in the semi-finals on the line. The possession attack of Tonkawa led Las Monjitas into committing six fouls over that span, resulting in three penalty goals for Caset to give Tonkawa the one-goal lead. A high scoring final chukka saw Ulloa score back-to-back goals to restore the tie, with the teams remaining deadlocked inside the final two minutes. Scoring an impressive goal from outside 60 yards, Coppola gave Las Monjitas the lead leaving Tonkawa scrambling to tie the score. A penalty conversion for Elizalde as time expired sent Las Monjitas into the finals with the exciting 14-12 victory.