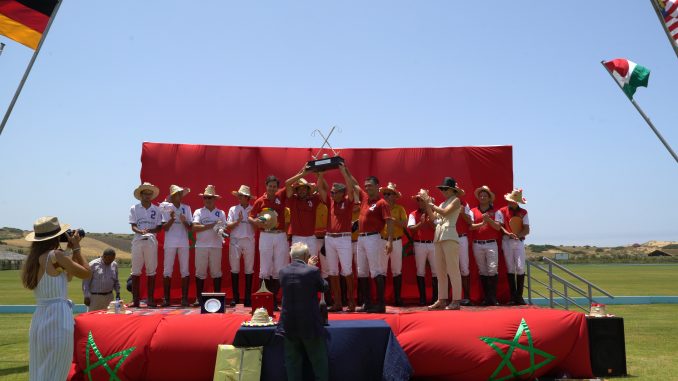 Ambassador's Cup 2019
Massimo Baggi, Ambassador of Switzerland to Morocco, and his colleagues won the first edition of the Ambassador's Polo Cup, a polo tournament organized at the PGH polo club named for the owner Fouad Guerrand-Hermés. It is situated next to the Sidi Mghait beach, south of Tangier.
The Swiss team was composed of his excellency Massimo Baggi, his excellency Michele Cattadori, Atty Attila Tanzi, and Ignacio Tegerina. They participated in two days of competition from 29 to 30 June.
This first edition of the Ambassador's Cup featured four courses: Switzerland, CONSULT IT, Jnan Ammar, and PGH.
Switzerland has made a clean sweep. Indeed, Massimo and his company beat CONSULT IT (7 goals to 5) during the inaugural match, before victory against the team Jnan Ammar (8 – 5).
On Sunday, the final was also dominated by the Swiss, after a thrilling match. Final score: 8 goals to 5.
The other duel of the day decided the third tournament, with the victory of the Moroccan team CONSULT IT, coached by Morocco's former professional player Khalid Lakhmiri against the team PGH (7 – 2).
"It was a great polo weekend," said Mehdi Nsiri, associate general manager of CONSULT IT. "The tournament organization was really perfect, nothing was left to chance. The level was very competitive. It's really a great opportunity to have sponsored this event. Thank you to Mr. Guerrand Hermès, owner of the Palmeraie Polo Club, as well as His Excellency Massimo Baggi, Ambassador of Switzerland to Morocco, for their excellent work as well as their wonderful welcome. "