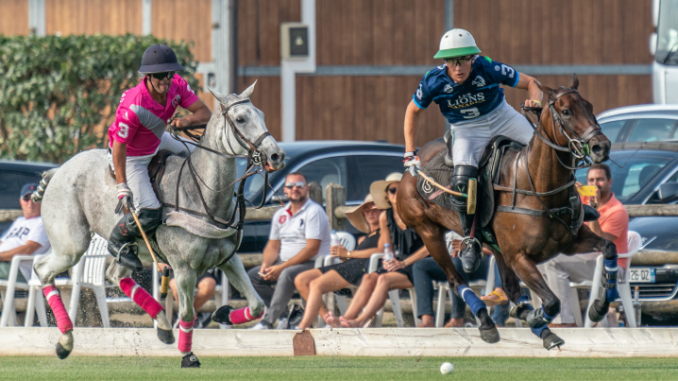 The 2020 French Open will forever remain a noteworthy classic with great teams, great organizations and exceptional Argentine players who went on to shine during the Argentine high season. The momentum seems to be continuing! So far, ten teams have already signed up for the 2021 edition of the most prestigious competition in France, the third step of the French Triple Crown.
We still have wonderful memories of those magic moments on the grounds of the Chantilly Polo Club last September 2020. Those very high-level games that brought together some of the best players of the international circuit.
Some of these great players will be back this September, starting with the young prodigy Jeta Castagnola, who has remained loyal to Edouard Carmignac's French team Talandracas, along with Chilean-Irish Tommy Beresford, winner of the 2020 French Open and finalist in the Copa Camara last December.
So far, eight players of the Argentine "alta temporada" have already confirmed their presence.
While the entries are not yet final, the ENGEL & VÖLKERS 2021 French Open will already feature at least seven players from the great Argentinean season. Thus, in addition to Jeta Castagnola and Tommy Beresford, the public of the Open will discover Jero Del Caril (in the French team Kazak) and will see Martin Aguerre Jr (Marquard Media, SUI), Clemente Zavaleta (Sainte-Mesme, FRA), Rufino Bensadon and Juan-Gris Zavaleta (Le Pommeraye, FRA) Tito Ruiz Guiñazu and Facundo Llorente (La Magdeleine, FRA). Great players and fighters, who will light up the games! And the list is not yet finalized!
Respectable French presence
Fifteen French players appear on the list, including seven captains, the two French handicap 6: Brieuc Rigaux (Britanny Polo) and Pierre-Henri Ngoumou (Mungo), the handicap 5: Patrick Paillol (Kazak) and Clément Delfosse (for the German team Schockemöhle who will, like La Magdeleine, return from the English Gold Cup). The professional Caroline Anier, (Le Pommeraye) best French women player of all time who was handicap 4 (mixed) a few years ago. Another French team, with the young French hopeful Sam Sztarkmann, Majoa Polo Team, will tip the odds having teamed up up three Argentinean handicap 5.
BRITTANY POLO CLUB 16
Jean-François DECAUX CAP 1
Brieuc RIGAUX 6
Rodrigo RUEDA 6
Thierry VETOIS 3
KAZAK 16
Sébastien AGUETTANT CAP 0
Patrick PAILLOL 5
Jero DEL CARRIL 7
Santiago IRASTORZA 4
MAJOA POLO TEAM 16
Sam SZTARKMAN CAP 1
Jota CHAVANNE 5
Martin JOAQUIN 5
Nicolas CORTI MADERNA 5
MARQUARD MEDIA 16
Ignacio KENNEDY 5
TBA 4
Martin AGUERRE H 7
Tommy RINDERKNECHT CAP 0
MUNGO 16
Patrick EINSENCHTETER CAP 1
Juan José STORNI 5
Simon ZAVALETA 4
Pierre-Henri N'GOUMOU 6
LA MAGDELEINE 16
Alexandre GARESE 0
Lucas NOTTIN 2
Facundo F.LLORENTE 7
Tito RUIZ GUINAZU 7
SAINTE-MESME 16
Robert STROM CAP 5
Clemente ZAVALETA 7
TBA 4
TBA 0
TALANDRACAS 16
Edouard CARMIGNAC CAP 0
Hugues CARMIGNAC 1
Tommy BERESFORD 7
Jeta CASTAGNOLA 8
LE POMMERAYE 16
Victoria SMITH 0
Rufino BENSADON 7
Juan GRIS ZAVALETA 7
Derek SMITH CAP 1
Clément SMITH 0
Caroline ANIER 1
POLO TEAM SCHOCKEMOHLE 16
Daniel DEISTLER CAP 0
Antonino MENARD 5
Clément DELFOSSE 5
Patrick MALEITZKE 5