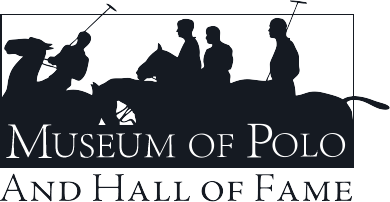 31st Annual Museum of Polo and Hall of Fame Induction and Awards Dinner Gala Commemorates Polo's Greatest Contributors
Some of the most prominent figures in the polo community gathered together the evening of Friday, Feb. 14, to celebrate the 31st Annual Museum of Polo and Hall of Fame Induction and Awards Dinner Gala. On that milestone occasion, six elite human and equine athletes were honored for their achievements in the sport of polo: Joey Casey, Cyril Harrison, Pat Dix, George C. Sherman Sr., and polo horses Wembley and Gargantilla. A highlight of the polo community's calendar, the evening was one to remembered by inductees, their families and friends, players and patrons, and fans alike.
Bob Jornayvaz accepted the "Horses to Remember" award on behalf of polo pony, Wembley. Photo: Alex Pacheco
Following the cocktail hour, guests were invited to a lavish three course meal featuring filet mignon and salmon while enjoying music from a live band, thanks to Jan Pamela Polo Ranch, as they savored their dinner. The dinner celebration was graciously underwritten by Melissa and Marc Ganzi, Digital Bridge Holdings, LLC and the Grand Champions Polo Club. The Museum of Polo and Hall of Fame was thrilled to welcome two new supporters to the festivities in 2020: US Polo Assn., made possible by USPA Global Licensing and Michael Prince, and Jetcraft, thanks to Matt Brandon and Charles Ward. These benefactors all played a significant role in the evening's activities and making it a fundraising success. During the celebration, guests were gifted the Poloart Gift book, a commemorative piece produced every year by acclaimed artist Melinda Brewer, which was graciously underwritten by Maureen Brennan's Iconica Foundation, Martin and Amanda Cregg and Mike Egan.