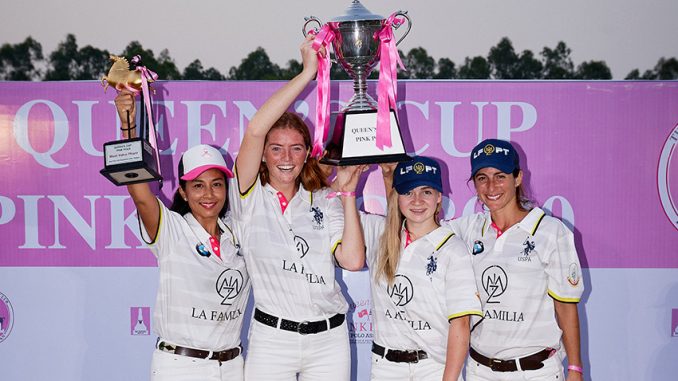 Queen's Cup Pink Polo
The original and biggest Queen's Cup Pink Polo took place at Thailand's Thai Polo Equestrian Club on Saturday 23rd of February 2020 in support of the Queen Sirikit Centre for Breast Cancer Foundation attended by its Founder & Chairman.Dr Kris Chatamra.
The tournament started a week earlier with four teams playing (Thai Polo, Marenga, Ethiopian Airlines and La Familia), with intense matches throughout the the week. Saturday's final was between Marenga and La Familia with the play-off match between Thai Polo and Ethiopian Airlines.
The day's event started at 12 pm with a large crowd arriving early to enjoy the many offerings and experiences on hand. The food was included in the ticket price and saw everyone enjoying themselves especially on the Oysters and Caviar being served to guests.
The entertainment kicked off with a display of Bagpipes, followed by the Yorkshire Terrier Club Dog Show and a fashion show on horse back.
The play-off started at 3 pm, between Thai Polo and Ethiopian Airlines, a match with very equal play and a result of 4-3.5 to Thai Polo.
Traditional stomping of the ground took place at 5 pm with the whole field being filled with many guests and had to be asked a few times to clear the pitch as they where enjoying themselves so much before the final match could take place.
La Familia's team whose patron was Nurul Noor Ajala (Nana), and Marengo's patron's Marie Godiner and Sonia Pim brought a large number of supporters to the event, with both team's supporters being very vocal at each play, it was a great atmosphere and for those that couldn't attend the match was broadcast live on Pololine TV for everyone to watch.
The match kicked off with a great first goal for Marenga, played by Milly Hine (6 goal) from one end of the pitch to the other, quickly followed by a goal for La Familia from Olivia Jauretche (2 goal). And another goal for Marenga by Rebecca Walters (6 goal), back to La Familia's Lia Salvo (9 goal) and a final goal by Rebecca all in the first chukker. 3-2 to Marenga and the stage was set for a classic game.
The second chukker saw just one goal from Lia Salvo for La Familia bringing the scores to an even 3-3.
Beanie Bradley scored the next goal in the third chukker with a flying run down the field, worth watching the replay for this goal from an up and coming young lady, coached by the UK's Hazel Jackson (9 goal, soon to be 10 goal from March), one to watch. Another goal came from Lia Salvo taking the match to 5-3 and giving La Familia the edge. This chukker wasn't over yet with another goal from Milly Hine for Marengo.
Lia Salvo scored the next in the final chukker, taking it to 6-4 with her teaming looking to have the edge, followed by another goal for Beanie, 7-4. With less than 2 minutes to go it looked like it was all over for Marenga but Milly Hine came back with a last minute goal taking the final score to 7-5, a good win for La Familia and a very entertaining match to watch.
After the presentation of the awards, the crowd was entertained with fireworks at dusk as the heat of the day slowly ebbed back down, the players and supporters stayed on to enjoy a Thai style Asardo by the pool with a DJ and live music. A very enjoyable day with some great polo being played.
FINAL QUEEN'S CUP PINK POLO: LA FAMILIA 7-5 MARENGO
La Familia: Nurul Noor Ajala 0, Olivia Jauretche 2, Beanie Bradley 3, Lia Salvo 9. Total: 14.
Marengo: Sonia Couling 1 (Rosie Lawrance 1), Marie Godenir 0, Milagros Sánchez 7, Rebecca Walters 6. Total: 14.
Umpire: Alex Roldan.
BPP: Facha. Played by Lía Salvo.
MVP Patron: Nurul Noor Ajala.
SUBSIDIARY FINAL THAI POLO 4-3.5 ETHIOPIAN AIRLINES
Thai Polo: Anne Krag 0, Tengku Uzma Uzira 1, Milly Hine 6, Clara Cassino 7. Total: 14.
Ethiopian: Victoria Rueda 1, Daryl Yeap 3, Maitena Marre 4, Verónica Magnasco 4. Total: 12.