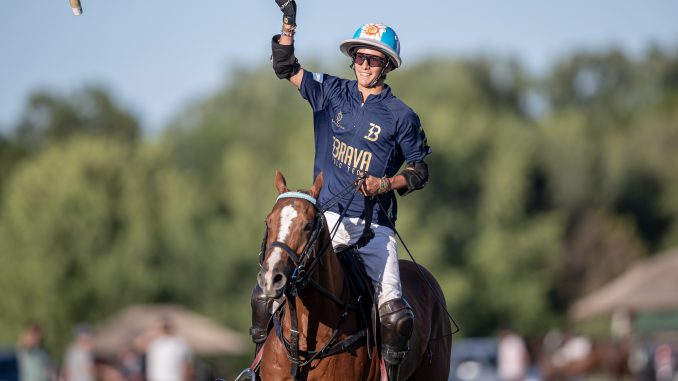 On field 1 of the Alfredo Lalor, Pilar Headquarters, the match between the 8th ranked team of the Open- Cría Geté, and the recent winner of the tournament for the Camara, Brava was played on December 20th.
For the first time since this "promotion" match was played, the victory corresponded to the team that won the Camara. thanks to an excellent match by Brazilian Rodrigo Ribeiro de Andrade, the solidity of Isidro Strada as well as the talented "Poroto" Cambiaso and "Pedrinho" Zacharias, Brava achieved a victory over the Laprida brothers (who could not count on "Lerín" Zubiaurre) by 13 to 8. Brava will pre-qualify to the Triple Corona 2021, along with the 7 teams that had already have: Ellerstina Johor, La Dolfina Saudi PT, RS Murus Sanctus, La Natividad Monjitas, LD Polo Ranch, La Ensenada La Aguada and Los Machitos. La Dolfina will have 3 teams in the 2021 Open!
Congratulations to Brava, who had a memorable season by winning the Pilar Cup, the Camara and the pre-qualification to the Triple Crown 2021!
Teams and progression:
Brava: Pedro Zacharías 7 (2 goals), Adolfo Cambiaso (n) 6 (2), Rodrigo Ribeiro de Andrade 8 (5) and Isidro Strada 7 (4, three from penalties). Total: 28.
Cría Geté: Tomás García del Río 7, Cristian Laprida (h) 8 (1), Joaquín Pittaluga 8 and Ignacio Laprida 8 (7, six from penalties). Total: 31.
Brava: 1-2, 4-3, 7-3, 9-6, 10-7, 11-8 and 13-8.
Judges: Gastón Lucero and Gonzalo López Vargas. Referee: Matías Baibiene.
Photo credit: Matías Callejo / Prensa AAP