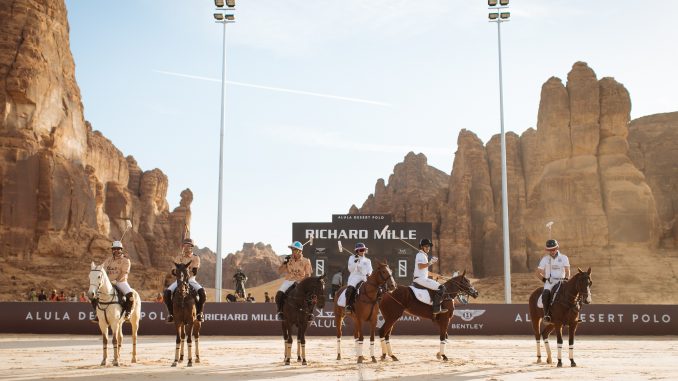 Richard Mille AlUla Desert Polo returns
Tournament to be played against the breath-taking backdrop of the AlUla landscapes.
Richard Mille AlUla Desert Polo will see four teams compete between February 11-12, 2022, in a specially built desert arena that lies close to the ancient site of Hegra, Saudi Arabia's only UNESCO World Heritage Site. Adolfo Cambiaso and La Dolfina Polo team members are confirmed to lead one team each, alongside a mix of invited patrons and professional players drawn from the global polo community.
The event is organised by the Royal Commission for AlUla in partnership with the Saudi Polo Federation.
Recently the Royal Commission for AlUla and the La Dolfina Polo Team announced the establishment of a long-term partnership as a step towards the implementation of AlUla equestrian strategy and development of polo in Saudi Arabia.The aim of this partnership is to make the historic city the premier destination for horse enthusiasts from around the world.
Adolfo Cambiaso, founder of La Dolfina Polo and considered to be the best polo player in history has become a destination advocate for AlUla.
"We are excited to return to AlUla and play with fellow patrons and players from all over the world. Since the first edition of Desert Polo, it's been great to see the interest in Polo grow in the Kingdom, and we look forward to developing the sport in newly explored regions such as AlUla," said Cambiaso.
Amr F. Zedan, Chairman of the Saudi Polo Federation, said: "We are very excited to welcome back La Dolfina Polo stars and leading polo patrons, this year from the US, France and UK. The Saudi Polo Federation is working closely to support the Royal Commission for AlUla in developing a new equestrian strategy to continue build on the Arabian horse heritage of the region. With daily flights to AlUla we hope to see new polo enthusiasts grow in the Medina region and across the Kingdom."
AlUla's equestrian events are key pillars of what is a longer term strategy to share with the world the monumental beauty of AlUla as a place that is unique in the Arabian Peninsula, and perfect for exploring on horseback. The RCU vision includes significant infrastructure and facilities, more riding trails and itineraries for visitors to immerse themselves in the majesty of the cultural landscape.
The experience of horseback riding amongst the desert splendour and rock formations, in the footsteps of past civilisations, will create unforgettable memories.
Tickets to attend the event can be purchased at www.experiencealula.com