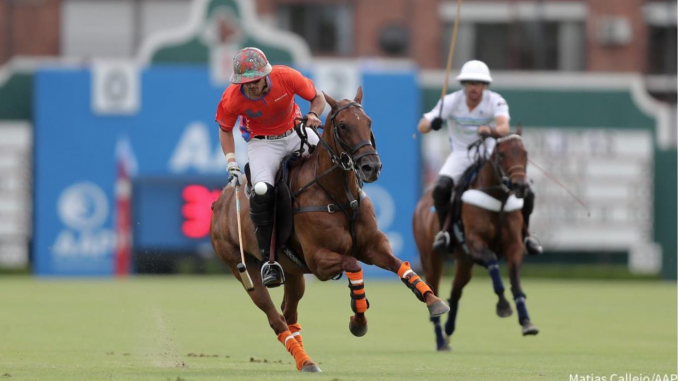 Las Monjitas and La Natividad Victorious on Day 2 of Abierto Argentino de Polo
The second day of the 126th Abierto Argentino de Polo featured a successful debut for qualifier La Natividad in a convincing 13-7 victory over La Albertina Abu Dhabi, while Las Monjitas finished strong to defeat Cria Yatay 17-9 at Palermo.
Entering the tournament with the lowest team handicap at 28, La Natividad provided an intriguing storyline in a dominant victory over La Albertina Abu Dhabi. Highlighted by the play of brothers Camilo and Bartolome Castagnola, who combined for nine goals and six assists, La Natividad overwhelmed La Albertina Abu Dhabi in open play, consistently going on open runs to goal and taking advantage of mistakes from their opponent's defence. With very few fouls in the game, La Natividad's efficiency from the field, shooting 59% led them to the six-goal victory.
From the opening throw-in, La Natividad attacked goal with the Castagnola brothers and Matias Torres Zavaleta all moving forward at different times to pressure La Albertina Abu Dhabi. A stretch of three unanswered goals from the trio over the second chukka stunned La Albertina Abu Dhabi as they struggled to generate offense of their own. Converting just 2 of their 11 shot attempts in the opening half, La Albertina Abu Dhabi saw their deficit grow as La Natividad continued to produce an impressive offense, finishing the half with a five-goal lead behind 78% shooting.
Often the case throughout the game, one of the Castagnola's or Zavaleta broke free to goal with the fifth chukka providing a statement, with each player once again scoring one goal each to extend the lead to seven. Facing a nearly insurmountable deficit, La Albertina Abu Dhabi pushed in the seventh chukka by keeping La Natividad off the scoreboard and receiving back-to-back goals from Alfredo Cappella and Ignacio Toccalino, but it wasn't enough to overcome the performance from La Natividad in the 13-7 defeat.
Never trailing in the second game, Las Monjitas received significant contributions from Facundo Sola and Sapo Caset on the offensive end with the duo often assisting on the other's field goals. Outshooting Cria Yatay 23-14 while also attempting three more penalties, the extra opportunities for Las Monjitas allowed them to separate themselves due to a strong passing attack in the 17-9 victory.
Scoring three goals inside the first four minutes, all from different players, Las Monjitas instantly built a lead that forced Cria Yatay to chase from behind. Sapo Caset set the pace with accurate passes to goal, while Cria Yatay struggled to generate a counterattack, managing just three shots at goal over the first three chukkas. Trailing 6-1, Cria Yatay gained momentum before the end of the half thanks to Lerin Zubiaurre, who scored two goals in quick succession, including stabbing a penalty shot out of the air to send it through the goal. Cutting the deficit to three, Cria Yatay slowed Las Monjitas' quick start to trail 8-5 heading into the second half.
Opening the second half with a field goal, Ignacio Laprida brought Cria Yatay within two goals, leaving the outcome in doubt as Las Monjitas found themselves in a fight over the final four chukkas. Foul trouble proved to be problematic for Cria Yatay, conceding four penalty attempts in the second lf, three of which were converted by Caset. With Las Monjitas' lead back up to five, the game was secured due to a dominant finish from Sola, who scored four goals with perfect 100% shooting in the eighth chukka on a flurry of runs to goal. Completing the 17-9 victory, Las Monjitas captured a victory in their debut of the tournament as they fight to challenge Ellerstina and La Dolfina for the title.